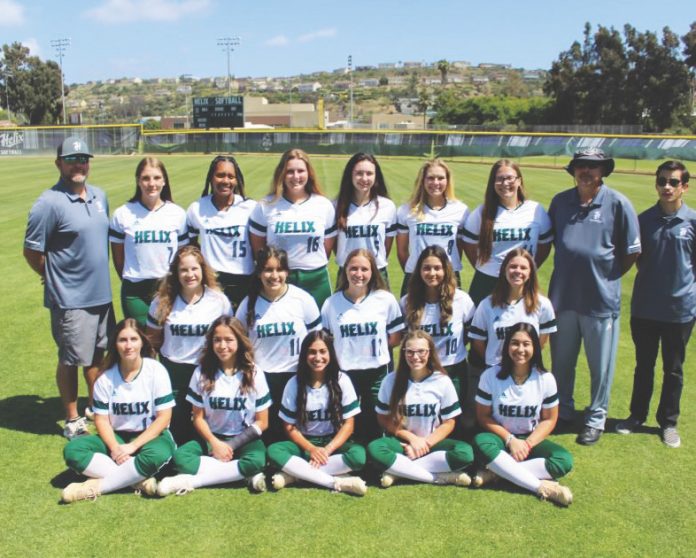 Helix Charter High School softball coach Darren Emery called the 2020-21 campaign an "amazing season" even though his team fell short of its goal of winning a San Diego Section championship.
The Highlander ladies, reigning Grossmont Hills League champions, earned the top seed in this year's Division II playoff field and advanced to last Saturday's championship game on the Helix Charter campus by out-dueling the fifth-seeded Del Norte Nighthawks in a double-elimination contest.
But Emery's squad could not get past the second-seeded Otay Ranch Mustangs in the division finals matchup as Otay Ranch, the fourth-place finisher in the Metro-Mesa League standings, posted a 4-0 shutout victory.
Helix Charter ended its season with a 10-0 league record and otherwise outstanding 26-6 overall mark.
The 26 wins denote a new school record, surpassing the former record of 22 wins.
The Highlanders finished the season by winning 14 of their last 16 games, including playoffs.
"It was a good run," Emery summarized.
Final conflict
Helix defeated Hilltop, 3-1, in a first-round playoff game on June 9 and then added a 7-2 victory over league rival Steele Canyon, seeded fourth, in the second round on June 11 to advance to the fourth round on June 17.
Del Norte handed the Highlanders, riding a 13-game winning streak, an 8-1 loss to set up a double-elimination rematch on June 18 — with the winner advancing to the championship game the next day on little rest.
Junior Kori Jonilonis, who made several great defensive plays in right and left field, came through with the clutch two-run single that spurred Helix to a 2-1 win over Del Norte and a berth in the finals.
Meanwhile, Otay Ranch needed one less round to advance to the final.
The Lady Mustangs defeated seventh-seeded El Capitan, 8-3, in first round play, and topped third-seeded University City, 10-7, in the second round to advance to the fourth round. The Lady Mustangs defeated University City, 7-0, in the double-elimination game to earn a berth in the championship game with a day of rest.
Junior Maya Loper fired a one-hitter with 14 strikeouts in the championship game for Otay Ranch while also collecting one RBI. Sophomore Isabel Vinluan drove in two runs while junior Sarah Loper, Maya's twin sister, collected one RBI.
The Loper twins served as battery mates with Maya in the pitching circle and Sarah behind the plate as the team's catcher.
The Lady Mustangs (18-7) rapped out 11 hits in the final — two each by Vinluan, junior Michaela Mau and freshman Isabel Cintron.
"It was disappointing to lose in the finals, but Otay Ranch is an outstanding team and we just couldn't get the timely hit we needed to gain the momentum," Emery said. "Still, we are very proud of what our girls accomplished this year and consider this a very successful season for Helix High School."
Steele Canyon defeated Del Norte, 3-2, in the opening round. Following the loss to Helix in the next round, Steele Canyon ended its playoff run with a 5-0 loss to Del Norte in third-round play on June 15.
El Capitan defeated eighth-seeded Mission Bay, 17-7, in the play-in round on June 8. The Lady Vaqueros could not advance in the double-elimination bracket, however, following losses to Otay Ranch and 11th-seeded La Costa Canyon (10-0 in second-round play).
Going the distance
The Highlander ladies won with the same formula all season long: outstanding pitching, solid defense and just enough timely hits.
"It wasn't always pretty but somehow our girls regularly found a way to come out on top," Emery said.
Junior Sophia Ramuno keyed the team in the pitching circle. She earned East County Pitcher of the Year honors for the second time and was a dominant force.  She started the season by throwing a perfect game against Central Union in a 10-0 victory on March 26 with 12 strikeouts.
Following a 13-3 non-league loss to Patrick Henry on March 29, Helix reeled off eight consecutive wins to reach the championship game of the Slugger Madness tournament.  The Highlanders defeated Santana, 9-0, for the title, a game in which Ramuno notched 14 strikeouts.
Ramuno's season high for strikeouts in a game came on April 15 when she fanned 16 Our Lady of Peace batters in an 8-4 Helix victory.
Over the course of the season, Ramuno compiled a 12-0 record in 23 game appearances with a 0.98 earned-run average and 198 strikeouts in 129 innings.
The Highlander offense was led by four equally quality players: senior Bella Bordine, senior Jolene Giles, Jonilonis and senior Audrey Kull.
Bordine, a four-year starting catcher, provided the slugging power by leading the team with six home runs and 32 RBI.
Giles, an outfielder/first baseman, proved to be a consistent hitter with a .381 batting average with 21 runs scored and 15 RBI.
Kull, a shortstop/outfielder, served capably in the lead-off spot and led the team with eight steals and a .459 hitting average.
Jonilonis led the team with 22 runs scored and ranked second on the team with 16 RBI and two home runs.
All four players earned all-league honors.
Senior Nicole Hernandez, another four-year starter, earned Defensive Player of the Year honors. Her play at third base in both the semifinals and finals was "truly outstanding," according to Emery.
Hernandez tied for second on the team with 16 RBI.
Said assistant coach Michael Minjares: "We had great support from our parents and fans and benefitted from some important contributions from our JV call ups at the end of the season, including sophomore Kamryn Evans tossing four scoreless innings against Steele Canyon in the second-round playoff win when we were missing four starters including Sophia.  That win was a total team effort and showed that our competitive fire ran deep."