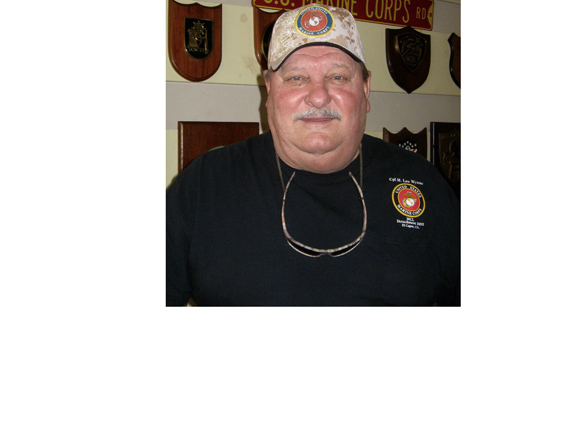 Usually nothing distinguishes them from others we see in our routine day-to-day activities. Perhaps there is an emblem or patch on a ball cap, if even such is noticed. They can be of any age from around 20 and up. When standing behind one in the grocery checkout line, there is no large label or sign on his back. When shooting the breeze during casual conversation at the coffee shop, waiting in the jury pool at the County Courthouse, waiting for your car at the garage, or when walking along in the local mall, these people are indistinguishable.

Usually nothing distinguishes them from others we see in our routine day-to-day activities. Perhaps there is an emblem or patch on a ball cap, if even such is noticed. They can be of any age from around 20 and up. When standing behind one in the grocery checkout line, there is no large label or sign on his back. When shooting the breeze during casual conversation at the coffee shop, waiting in the jury pool at the County Courthouse, waiting for your car at the garage, or when walking along in the local mall, these people are indistinguishable. They neither spontaneously nor effusively recount their combat experiences with strangers or new acquaintances. Generally they walk among us in relative anonymity if not obscurity. It actually takes deliberate effort to find one and get him to open up and talk. My effort led to sitting down with Marine Corps veteran Frank Pedersen at VFW Post 2275 in El Cajon.
After shaking hands with Pedersen, we found table. Sitting across from one another, he opened up a notebook filled with photos, memorabilia, certificates, and the like from his time in the Marine Corps, saying he had collected all of it so that his grandchildren would have some of his military history. On this occasion, the Marine Corps seal adorned his ball cap and T-shirt. His story is not unique, but it also is not readily apparent. Humble and self-effacing, he was not sure where to begin, but after gentle encouragement he offered his story.
Pedersen came from a small town of about 450 people in North Dakota, which he described as "very patriotic, not like out here in California." In July 1965, he enlisted in the Marine Corps at the age of 17, the first guy from his hometown to join the Corps, and was sent to boot camp at Marine Corps Recruit Depot (MCRD) San Diego, which he described as not that hard. Explaining he had attended Catholic schools and had demanding nuns and some "pretty harsh" uncles, "So boot camp really wasn't that bad. The Catholic nuns were worse than the DIs in some ways." After boot camp, he went through infantry training at Camp Pendleton and upon completing it was not immediately sent to Vietnam because of his age. But as soon as he turned 18, he received orders to Okinawa, Japan and ended up being assigned to Third Battalion, Fourth Marine Regiment, the Thundering Third, as they are known. A member of the battalion's India Company – a rifle company — Pedersen boarded the USS Paul Revere and transited to Vietnam, where they landed in Phu Bai in March 1966.
As Pedersen describes it, the initial combat operations were mainly patrols and ambushes. Continuing, he said, "Later on we really got it. That's when we hit the 324B [North Vietnamese Army] Division out of North Vietnam. That was Operation Hastings. That was pretty bad." The battalion later fought in Operation Prairie, "that was another bad one," according to Pedersen. When asked how he defined a "bad one," Pedersen recounted how they were fighting the regular North Vietnamese Army, not two or three guys in an ambush.
Helicopters had landed the Marines into the middle of the enemy, with Pedersen saying, "Choppers were shot out of the air." According to one written account of the battalion's combat history, so many were shot down that the valley became known as "Helicopter Valley." Pedersen briefly spoke of continuously fighting for three days, with constant flights of hueys into and out of the battle, air strikes coming in, and essentially being. Speaking of helicopters lifting bodies out in nets, he voice waivered, his eyes moistened, and he took a big breath. "It was bad…lots of casualties," he said. According one account, during Operations Hastings and Prairie, hundreds of Marines from the participating infantry battalions were killed and well over 1,000 were wounded.
Just a young 18 year old, he made all his promotions in Vietnam: Lance Corporal, Corporal, and Sergeant, in part due to the number of combat losses. After Vietnam he came back to the states, here to San Diego and was initially a MP (Military Policeman). Then some orders popped up, for Rota, Spain or Hawaii, so he chose Hawaii. "What the heck, you can't beat that," he said. As luck would have it, he was assigned to another unit that was being formed in Hawaii to go to Vietnam. As the unit was standing up, Pedersen was one of maybe 20-25 Marines who were combat vets. In 1968, he was back in Vietnam.
After that second combat tour, he was ordered back to Hawaii, where one of his assignments was as an orderly for Admiral McCain (yes, that Admiral McCain, father of Senator McCain), who was CINCPAC (Commander-in-Chief, Pacific). After reenlisting, Pedersen came back to San Diego, where he was a drill instructor at MCRD San Diego. He related one humorous encounter from his time on the drill field.
Standing with his platoon during the third phase of training, he spotted another platoon nearby, one in its first phase of training. At the rear of that platoon was a young recruit, waving his hand and calling out, "Hey, Frank! Hey, Frank." Walking over, he saw it was a young gent from his small hometown, who was pretty excited about seeing someone he knew. Hometown or not, Privates do not call Sergeants by their first names, as Pedersen quickly instructed the young man, in a manner befitting a Drill Instructor. Years later, according to Pedersen, he was at his mother's house when a knock came on the front door. Opening it, it was the same guy, who (in the humorous way known to vets) related that he had been really taken to task by his own Drill Instructor for calling him Frank all those years past on the drill field.
In 1972, Pedersen separated from the Marine Corps. When asked why, he said they were going to send him back to Vietnam. Professing he loved the Marine Corps, he said, "That's enough of this stuff." He had met a local girl and gotten married, so he decided to take his discharge rather than return to Vietnam. Two weeks after separating from the Marine Corps, Pedersen was hired by the City of La Mesa as a temporary employee under a program where the government was subsidizing hiring of folks. He was assigned initially to a concrete crew, but then was picked to go out patch up holes in the streets. Six months later, when others were being laid off, he was hired permanently and assigned to the parks department. A good deal according to Pedersen, saying it was "like someone telling you to have a new car and it has to be a Cadillac."
Over the years, Pedersen worked his way up in the organization, including on the mowing crew, then lead worker, then as Parks Superintendent, during which he built Aztec Park and Harry Griffin Regional Park. And, though it all, he went to college at night to finish his education. By his hard work, be rose to the position of Superintendent of Public Works. After 34 years, he retired.
He now works on the Board of Directors for VFW Post 2275, Vice Commander for VFW, and Commandant of the local Marine Corps League for five years, and volunteers at the San Diego Zoo. Part of this volunteerism includes sending packages to the troops overseas. And, decades after leaving the Marine Corps, Pedersen says his battalion gets together every two years for a reunion, although fewer and fewer are attending, as death and illness take their toll. Chuckling, though, he relates how all the war stories get bigger and bigger over time, with the stories getting better and better, though they are more down to earth recently. But some of the bigger and better is based on fact, as three of those with whom he served were presented the Medal of Honor for their actions in combat. Recalling the Thundering Third, he lifted his right sleeve to reveal the faded tattoo of the battalion's crest.
Asked if he thinks his time in the Marine Corps contributed to his success later in life, Pedersen said, "Oh my God yeah. They instilled pride and can do attitude. There I was an 18 year old, calling in air strikes and MEDEVACs. 18 year olds back in North Dakota were still playing basketball in high school and stuff. You grew up a lot faster and had that 'I can do it' attitude." When he went to work for the city, he started to square the stuff away. "The Marine Corps got me on the right track. Without the Marine Corps I don't know where I'd be."
He spoke, not bitterly or angrily, of the challenges working with the Veterans Administration as he pursues benefits and healthcare. Expressing his understanding of "making sure you're legit," though also describing having to go to rather unusual lengths, including travelling to Santa Ana for a hearing test. He thought that it would be something really special, since they were paying him mileage to go all the way up there, but the test was the same, basic one he had experienced before. Talking about the way the country treats its military and veterans in general, "It's a shame," he said, "that a guy in the military has to be on food stamps to support his family. That's pretty bad."
As the conversation shifted to advice he would give high schools seniors, it was simple and direct. Stay in school. And not only the "conventional" schooling, because he observes that we need "more people who are hands on." Electricians. Mechanics. Carpenters. Plumbers. "We need people who can do something." Regarding the military, if it were up to Pedersen, everyone would serve two years in the military to "get some kind of idea about what is really going on." And for the younger Iraq and Afghanistan vets, he encourages them to join organizations like the VFW. In expressing this encouragement, he noted that he did not join until he was 50 years old, saying he was out of the military and did not want to have anything to do with it. He was trying to forget about it. But now he gets satisfaction from helping people, like sending packages to the guys over in Afghanistan; and enjoying the camaraderie with his fellow veterans, who understand, because other people do not understand. Almost as an aside, Pedersen noted the recent parades and other celebrations as our warriors return from Iraq and Afghanistan, stating when he and his comrades came home, they "did not get #$%@! We got nothing!"
Frank Pedersen was just an average young man from a patriotic small town in North Dakota, who joined the Marines and became a grunt, a rifleman who completed two tours of duty in Vietnam. He experienced ground combat up close and personal, while his infantry battalion participated in two major operations during that first tour. After a subsequent tour of duty shaping young recruits into Marines as a Drill Instructor, he took his discharge and settled down into our community with his wife to raise their family. Working for the City of La Mesa, he rose from patching streets and mowing the grass to retire as the Superintendent of Public Works. Later in life, after essentially avoiding all things military and perhaps avoiding his own experiences, he joined the VFW and other similar organizations. Regardless, he attributes his success to applying the lessons he learned in the Marines to his work in the civilian world.
You might see Pedersen at the grocery store, at a ball game, maybe in a local eatery and it is very unlikely you would recognize him, let alone see him as that 18-year-old Marine rifleman fighting in the Song Ngan River Valley of Vietnam in 1966. He is like most veterans who simply return from their war, whatever war it might be, and reenter civilian life to contribute greatly to our nation. Even if noting an emblem on a ball cap or T-shirt, most will not be aware of or appreciate the veteran's military experience. These heroes walk among us in virtual anonymity.