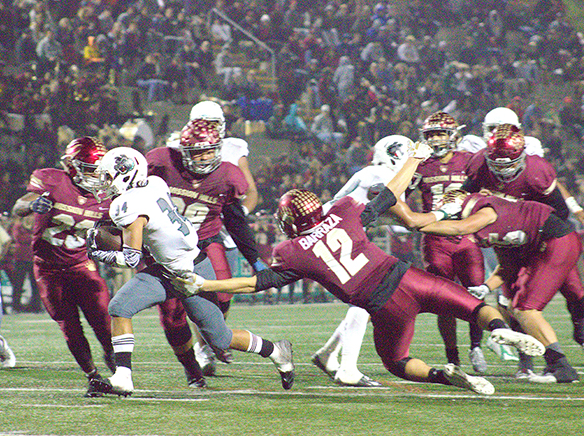 Helix football is headed to the state championship.
Helix football is headed to the state championship.
It has been quite the season for the Highlanders (13-1-0), who were undefeated in conference, losing only one match early in the year to Lancaster Paraclete at the Honor Bowl. Their 26-19 victory over Mission Hills sealed their claim on the Open Division Championship, their ninth CIF title and Robbie Owens' first as head coach of the program.
Thrust into the Division 1-AA 2017 CIF State Football Championship Bowl Games, the Scotties won their semifinal game on Friday, Dec. 8 against the Oak Christian Lions with a sound 28-13 victory.
They are set to play Folsom (15-0-0) on Friday, Dec. 15 at 8:00 p.m. at Hornet Stadium in Sacramento for the state championship.
It has been six years since Helix has had the state title, when Troy Starr coached the Highlanders in 2011. They had a 13-1-0 record that year, a feat unmatched by the program until this season with Owens at the helm.
The Scotties are ripe for a repeat win.
No matter the outcome of this weekend's game, it will be a bittersweet night as the team says goodbye to the 25 seniors in Highlander green, including standouts like wide receiver Rashad Scott and quarterback Carson Baker.
Owens, who began coaching the Scotties in 2016, said this team welcomed him into the program in a way he had not expected.
"I mean this from the bottom of my heart," said Owens. "I love this group and I don't want this to end."