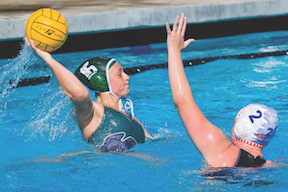 The Granite Hills High School girls water polo team completed a perfect season in Grossmont Valley League play by posting an 8-0 league record to repeat as league champions and advanced as far as the San Diego Section Division II semifinal playoffs.
The Lady Eagles finished with a final 23-6-1 record, including a season-ending 10-9 triple-overtime loss to La Costa Canyon.
"The season went well as back-to-back undefeated league champions," Granite Hills head coach Page Small said. "The team showed a lot of fundamental skill improvement from the previous season."
The Lady Eagles earned ample recognition on the 2019-20 all-league team with three players named to the first team, including player of the year Nia Payne, and two additional players named to the second team.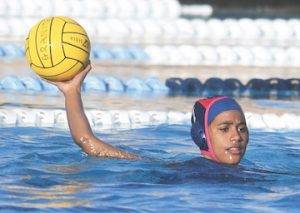 Joining Payne, a senior goalkeeper, on the first team were freshman Chloe Morgan and senior Audrey Laskey.
Second team selections included seniors Skylar Hanzal and Chase Dowling.
Payne set a new school record with 1,103 career saves (2017-20).
"Nia had a fantastic season in the cage, she's very athletic and blocks a lot of shots," Page said.
Morgan racked up 105 goals, 38 assists and 78 steals while Laskey collected 77 goals, 14 assists and 25 steals.
"Freshmen Chloe Morgan had a tremendous season," Page noted. "She led the team in many statistical categories and will be a fixture of Granite Hills for the next three years."
Dowling had 14 goals, 18 assists and 16 steals; Hanzal had 10 goals, 18 assists and 22 steals.
Each team in the league had two honorable mention selections.
Granite Hills' all-league honorable mentions included juniors Aidyn Gaeir and Kora Alvernaz.
Gaeir had 18 goals, seven assists and 17 steals while Alvernaz recorded seven goals, 13 assists and 23 steals.
"I know it's only been two seasons for me at Granite but I am really going to miss this senior group," Page said. "They had really bought into my process and were a joy to coach."
The Grossmont Valley League was comprised of five teams for the 2019-20 season. Besides Granite Hills, El Capitan, Monte Vista, Steele Canyon and Mount Miguel were also league members.
El Capitan finished 6-2 in league play, 18-6 overall, with an appearance in the quarterfinal round of the Division II playoffs.
El Capitan's two league losses both came against Granite Hills — 10-6 and 11-6.
The Lady Vaqueros received recognition with five players named to the all-league team, including three players on the first team: seniors Taylor North and Cheyenne Loftis and sophomore Hailey Mulligan.
Second-team all-league selections included senior Stephanie Beville and junior Sarah Dunne.
El Capitan's all-league honorable mentions included seniors Chelsea Schoonderwoerd and Lana Bledsoe.
Monte Vista finished 4-4 in league play, 20-7 overall. The Lady Monarchs received the No. 1 seed in the Division III playoffs and advanced to the championship game before settling for a runner-up finish following a 7-6 setback to Santa Fe Christian.
Monte Vista had two players named to the all-league first team: junior Patricia Ramos and senior Kay Kowalewski. The Lady Monarchs had three players named to the all-league second team: seniors Daisy Diaz and Faith Hinkley and junior goalkeeper Isabella Gaddie.
Honorable mentions included seniors Naidelyn Cruz Garcia and Keala Macias.
Monte Vista coach Kimmy Keach earned honors as the GVL Coach of the Year.
Steele Canyon finished 2-6 in league play, 7-16 overall, while Mount Miguel finished 0-8 in league play, 1-18 overall.
Junior Fallon Butterfield represented the Lady Cougars on the all-league first team while juniors Hannah Lincoln and Serena Ingram earned recognition on the all-league second team.
Steele Canyon's all-league honorable mentions included sophomores Sophia Pich and Brenna Kenney.
Mount Miguel's all-league honorable mentions included junior Eveleen Martinez and sophomore Gerilynne Laraya.
Granite Hills and El Capitan both qualified for the Division II playoffs while Monte Vista qualified for the Division III playoffs.
Granite Hills received the No. 2 seed in the division and eliminated 10th-seeded Santana, 11-9, in a quarterfinal-round game before ending its season with its triple overtime loss to sixth-seeded La Costa Canyon in the semifinals.
El Capitan received a bye to the quarterfinals but was unable to advance following a 10-5 upset loss to 12th-seeded Classical Academy.
Santana upset seventh-seeded Scripps Ranch, 12-8, in the opening round before ending its season with a loss to the Lady Eagles in the next round.
Monte Vista represented the league in the CIF finals The Lady Monarchs defeated eighth-seeded Otay Ranch, 14-8, in the quarterfinals and slipped past fifth-seeded Valley Center, 8-7, in the semifinals to draw second-seeded Santa Fe Christian in the championship game.
Monte Vista made an exciting comeback but finished runner-up by a 7-6 score.
"We played well," Keach said. "They got up on us 4-1. We came back. We were determined. We just didn't get that last one. They got the better of us."
Grossmont Hills League
This season's Grossmont Hills League lineup included Grossmont, West Hills, Helix, Valhalla and Santana.
Helix finished 8-0 in league play to record its first league championship in school history, 19-11 overall, en route to a semifinal finish in the Division I playoffs.
Grossmont finished 5-3 in league play, 11-13 overall, while Valhalla finished 4-4 in league play, 12-17 overall.
Santana finished 3-5 in league play, 14-13 overall, while West Hills finished 0-8 in league, 9-12 overall.
Helix and Grossmont both had four players named to the all-league first team. The Lady Highlanders finished with eight all-league selections overall, including four second team and honorable mention picks.
Helix's all-league first team selections included seniors Shelby Pletcher and JoJo Reincke, freshman Sadie Henry and junior Alex Moye.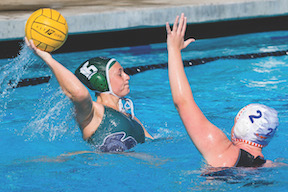 Second-team all-league picks included sophomore Kaya Eaton, freshman Mia Barkett and junior Sinalei Schwagler while junior Jolene Giles earned all-league honorable mention recognition.
Pletcher received recognition as the league's player of the year while Helix coach Lenelle Wiley received recognition as the league's coach of the year.
Pletcher racked up more than 320 career goals en route to earning a first team all-league honors the last three seasons.
Pletcher led Helix in assists this season and scored in every game she played for a total of 64 goals.
"It would be hard to understate the impact that Shelby has had on the success of our water polo team," Wylie explained. "She was a leader both in and out of the water. She organized team huddles, cheers and even as well as worked with players on the sidelines to increase their understanding or develop their skills. In the water she forced other teams to have to adjust their play to her physical strength and skills.
"She has played water polo year-round since before high school and her passion for the sport shows in every game she played. This season she stepped into a new role as our primary defensive guard. With her able to guard the center position, we were able to open up more offensive opportunities for others and allowed her to be in the game longer.
"When Shelby was guarding, teams had trouble doing anything out of the center."
Pletcher scored more than three goals in 10 games with seven goals against both El Camino and Fallbrook.
"She finished off her senior season with an amazing game, scoring six goals in our semifinal game against Poway," Wylie said.
"Shelby was critical to both our offense and defensive play and she is well known in our league for being a tough player to match up against."
The league championship was especially gratifying for Wylie, who played on Helix's first recognized girls water polo team in 1994 (when she was known as Lenelle Dorfi). "I am so proud to coach a team to the school's first league title in girls water polo," she said.
Grossmont's all-league first team selections included Erica Neri, Katie O'Laughlin, Kristen Furuholmen and Amelia Brown.
Second-team all-league picks included Isabella Nuñez and Raquel Berk while Haili Fellbaum and Kimmy Bond earned all-league honorable mention status.
Valhalla had three first-team all-league picks: Kaia Jennings, Sierra Neilpovich and Devyn Ruffer. The Lady Norsemen had three second-team all-league selections: Bailey Munch, Sarah Puffinburger and Annika Prado.
Valhalla rounded out its eight all-league picks with honorable mention selections Caitrin Hansen and Chloe Bell.
West Hills was represented on the 2019-20 all-league team by three players: Korinne Ballon on the second team and Jules Fossing and Tayler Philpott as honorable mentions.
Helix, Grossmont, Valhalla and West Hills all qualified for the Division I playoffs.
Helix received the No. 4 seed and a first-round bye before defeating fifth-seeded Clairemont, 7-3, in the quarterfinals. The Lady Highlanders ended their season in the next round with an 11-8 loss to top-seeded Poway, the eventual division champion.
Valhalla received the eighth seed in the bracket and defeated ninth-seeded Vista, 9-7, in the first round before engaging top-seeded Poway in a 14-2 season-ending loss.
Grossmont received the No. 10 seed and ended its season with a 6-2 loss to seventh-seeded Westview while West Hills received the No. 11 seed and ended its season with a 13-8 loss to sixth-seeded Canyon Crest Academy.
El Capitan head coach Robin Sanchez provided some insightful closing comments on the season.
"As I have talked to the coaches over the past few weeks, we are grateful the we made it though our girls polo season before the world turned in a different direction with the pandemic," he said. "On a whole, most of our thoughts are split between feeling bad for our seniors and how the end of the school was changed for them and trying to get ready for what the future holds for all sports in general for the upcoming summer and fall seasons.
"Looking back, it was nice to see so many of our conference teams not only making it into the playoffs, but many going deep into the CIF tournament.
"We were all excited to see Mount Miguel being able to field a varsity team again. Most of our schools had solid numbers of girls playing polo, fielding varsity, junior varsity and most of the teams having a novice program. We have come a long way from when it was just El Capitan fielding a girls club team in the early 1990s or a handful of girls playing on the boys teams.
"On the Valley League side, there was a tremendous amount of parity with most games being decided by only a few goals.
"We are all crossing our fingers with the hope that it will be safe to return back into the water this summer."