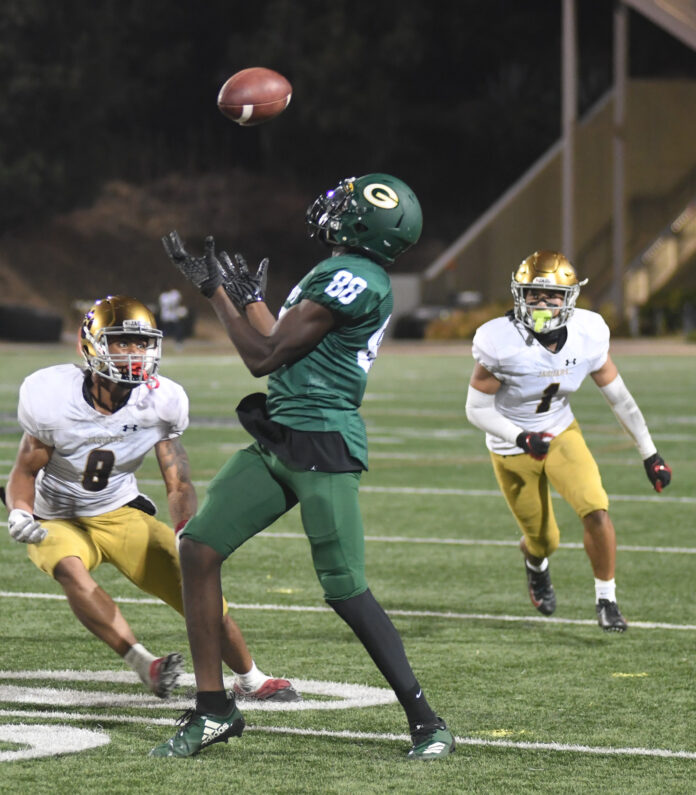 When the final whistle sounded on the Grossmont College football team's season opener Sept. 4 at Southwestern College's DeVore Stadium, Griffins head coach Michael Jordan was visibly disappointed following his team's last-minute 10-7 loss to the Jaguars.
"We're a better team than we showed," said Jordan while mixing some optimism into his post-game comments. "But it was the first game, and it happens sometimes. We have a lot more wins in our future. I think we have a lot better team than last year."
The 2019 Griffins finished just 1-9 — a huge motivational tool for this year's rebuilding squad.
Jordan was correct in his assessment that the Griffins would top the last completed season's win total.
Grossmont College has already doubled that following non-conference victories against Citrus College (42-39 on Sept. 18) and Moorpark College (55-21 last Saturday at Grossmont High School).
Kick-off
Most of the opening game's action took place in the final five minutes of the non-conference contest.
The Griffins out-gained the Jaguars 228-192 in total offensive yards and led until the final 4:36.
Grossmont opened scoring in the first quarter as sophomore quarterback Brady Abt (Northland Christian) hit sophomore receiver Payton Monson (Kennewick, Wash.) for a 32-yard passing touchdown.
The Griffins led 7-3 at halftime following a 50-yard field goal from 24-year-old freshman Asher Booth to put Southwestern on the scoreboard.
A 20-minute delay caused by failure of the stadium lights may have contributed somewhat to a momentum shift. The Jags certainly performed better under sophomore quarterback Stevie Orr (Davenport, Okla.) in the second half.
Orr connected with sophomore receiver Christian Jourdain (New Orleans, La.) on a 26-yard pass play that stood up as the game-winning touchdown.
The Jags also benefitted from some luck as Grossmont missed two field goals in the game, including a 50-yard attempt to tie game with 51 seconds remaining in the contest.
The Southwestern defense also had a say in the outcome. The Jags recorded five sacks, one interception and one fumble recovery.
The lightning-quick turnaround in fortunes stunned veteran Southwestern head coach Ed Carberry.
"Wow!" Carberry simply uttered with an understandable loss for words. "Just wow!"
He wasn't the only one in the stadium left wondering how Southwestern won despite trailing in nearly every category during the game.
Robert Whitehead (Steele Canyon) and Ajani Shelton (Mt. Carmel) both had interceptions for Grossmont, which also received a sack, forced fumble, four sacks and two quarterback hurries from Madison alumnus Demanual Talauati.
Colton Guerrero (Steele Canyon) had two fumble recoveries while Rock Gonzalez (Olympian) added a pair of sacks. Chance Lovato (El Capitan) recorded 11 tackles, including six unassisted stops.
Abt passed for 175 yards — 83 of those which went to Monson.
The game was originally scheduled at Grossmont College, but a faulty scoreboard initiated the venue switch to Southwestern College.
Making the grade
Abt passed for 407 yards with three touchdowns and two interceptions in the win over Citrus. Monson (six catches, 148 yards) caught two TD passes while Perry Steele (seven catches, 115 yards) had the other.
Monson caught scoring passes of 65 and 12 yards while Steele (Steele Canyon) reeled in a four-yard touchdown pass.
Abt (eight carries, 14 yards) also scored on a one-yard touchdown run.
Treyvion Davies (Olympian)rushed 15 times for 40 yards, scoring on a 13-yard run.
Abt's TD run with 36 seconds left on the game clock erased a 39-35 Citrus lead.
Nathan Hughes (Santana) was successful on all six extra-point kicks. Chris Carter (Steele Canyon) boomed a 74-yard punt in the game.
Lovato keyed the winners with 10 tackles, including eight unassisted stops, while Arturo Torres (Helix) registered two of the team's four sacks.
Abt threw for 490 yards and four touchdowns without an interception in last Saturday's win.
Carter (seven catches, 165 yards) and Monson (seven catches, 102 yards) both caught two scoring passes while Davies (10 carries, 75 yards), Steele (one carry, nine yards) and Mikey Bozeman (one carry, 21 yards) all scored on touchdown runs. Steele also caught eight passes for 125 yards.
Hughes added seven extra-point conversions.