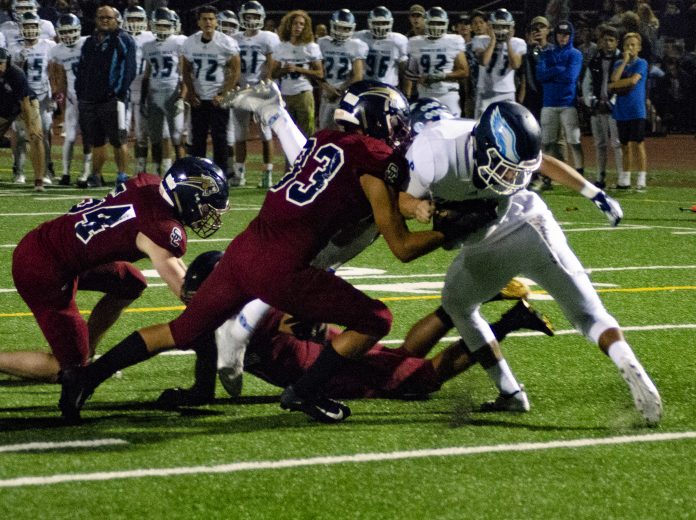 Cristopher Ostreng could have taken all the credit.
The senior quarterback led Granite Hills (6-0, 1-0 Grossmont Hills) with 222 passing yards and 33 rushing yards against Steele Canyon (4-2, 0-1 Grossmont Hills). He passed for two touchdowns and scored two more on the ground, including the go-ahead 5-yard touchdown run with 48 seconds left. He even punched in the the two-point conversion that put the Eagles ahead 30-27.
But Ostreng had someone else on his mind.
"This game meant more to us than any game — a CIF ring, a state ring," Ostreng said. "This game is what determined our season for us. We just wanted to get 'em back from last year getting us out of the playoffs. This was the game for Will."
William Burton was a senior on last year's Granite Hills team named to the CIF All-San Diego first team as a defensive lineman. He died in a car accident Dec. 11, 2017 on his way home from the Eagles' team banquet.
Burton played a pivotal role in Granite Hills-Steele Canyon rivalry. Last September, he caught the go-ahead touchdown with less than 3 seconds left in the Eagles' 43-41 win over the Cougars. Burton's last football game was a 28-27 playoff loss — a rematch against Steele Canyon.
"This team being the team that knocked us out of playoffs, it just means more," Ostreng said. "This was the game Will worked his ass off for, so Steele Canyon is the game we wanna win."
After Ostreng's late touchdown, Steele Canyon still had a chance to take back its homecoming night. Cougars senior quarterback Nathan Barnett connected with senior receiver Valon Martinez on a 44-yard bomb down the left sideline to set up first-and-goal from the seven yard-line with nine seconds remaining.
Granite Hills called timeout to set its defense. Senior defensive end Noah Medeiros burst off the line and dragged down Barnett for a sack.
Time expired before Steele Canyon could run another play.
"It's like beating up your brother," Medeiros said. "It's a good rivalry and we're both good teams and we both fought hard tonight."
The win moved Granite Hills up to No. 9 in the Union-Tribune's high school football rankings, much to the dismay of head coach Kellan Cobbs.
"I haven't heard anybody talk about Granite Hills and I like it that way," Cobbs said. "Hopefully we can stay out of the top 10 and keep that little chip on our shoulder because they obviously play with it."
But motivation will not be difficult for Ostreng and his teammates — the chip on his shoulder might better be described as a hole in his heart.