Levi Knobloch, 18, a recent graduate of Granite Hills High School in El Cajon, was inducted into the Naval Academy class of 2024 on June 25 and is reporting at the plebe (freshman) summer on June 30. After an extensive application, Knobloch was one of approximately 1,200 candidates selected out of the U.S. Naval Academy's 16,000 applications.
"I've always wanted to be an officer in our U.S. military, but it wasn't until recently that I decided I wanted to be a part in the Navy," said Knobloch. "I took challenging courses and I'm really good at math, so I took higher educational courses for that. I just tried to do the best that I could. Math and science are important subjects, and luckily I am good at both. It takes persistence. It's not going to be easy, but if you keep at it, you'll eventually get it.
Knobloch said the application process was long, but like everything else, you just have to get through it. He said the most challenging part of the application was needing a congressional reference, but he was able to obtain his reference from Congressman Duncan Hunter before he resigned. Other than that, he said the application process was like many others, "wanting to know everything about yourself and your family." Knobloch's hopes are to major in aeronautic engineering.
"I'm very excited to start plebe summer at the academy," said Knobloch. "Being selected out of so many applications is really exciting."
He said his participation in sports was a large factor in his application process. Knobloch grew up playing soccer, baseball and football, but in high school he found his calling in track and field.
Knobloch has earned a 4.17 GPA through all of his work in junior and high school. Also an athletic scholar, he said his participation in sports has made a great impact on his life and in his application to the academy. Since May, he has been in touch with coaches from the academy who are "excited to meet him and look forward to him running for the academy."
Knobloch competed in track and field all four years at Granite Hills High School. He regularly participated in four events in each trip to the oval.
An accomplished competitor in the 110-meter high hurdles and 300-meter intermediate hurdles, he also helped score points for the team in the 4×100- and 4×400-meter relay events. He set a personal record in the 110-meter high hurdles with a time of 16.50 this past spring. His strongest event is the 300-meter intermediate hurdles, an event in which he qualified for the state championship meet to conclude his junior year and holds the top time in the school record book.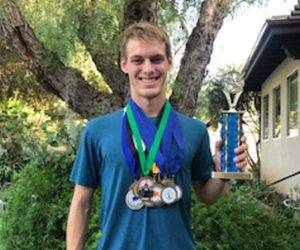 Knobloch had a highly productive 2019 season.
He placed first in the 300 hurdles event with a time of 40.21 at the Grossmont Conference finals and followed that with a second-place finish at the San Diego Section finals with a personal record time of 39.28.
He qualified for the state meet, placing 22nd with a time of 40.28 in the prelims.
During the season he also competed in the 110 high hurdles, placing fourth at the Grossmont Conference finals with a time of 16.71.
Knobloch also competed in the 4×100 and 4×400 relay events during the 2019 season. His relay units placed fifth in both events at the conference finals. He advanced along with teammates Elijah Jordan, Cameron Jones and Yousuf Georgees to the section prelims, where the quartet finished 11th overall.
"I'd like to thank my family, friends, teachers and coaches who have helped me with all of their support," said Knobloch.
He competed at the junior varsity level his freshman and sophomore years.
Plebe summer is a challenging six-weeks of basic midshipman training. According to the academy, the program is carefully designed to help plebes prepare for their first academic year at the academy and the four years of challenges that await them as they work toward their degrees of study.
It also provides them with basic military skills in seamanship, navigation, damage control, sailing, handling yard patrol craft, military laws and infantry skills.
Other daily training sessions involve moral, mental, physical or professional development and team-building skills. Activities include swimming, martial arts, basic rock climbing, obstacle, endurance and confidence courses designed to develop physical, mental and team-building skills. Forty hours are devoted to the instruction of infantry drill and five formal parades.
Sports editor Phillip Brents contributed to this story.