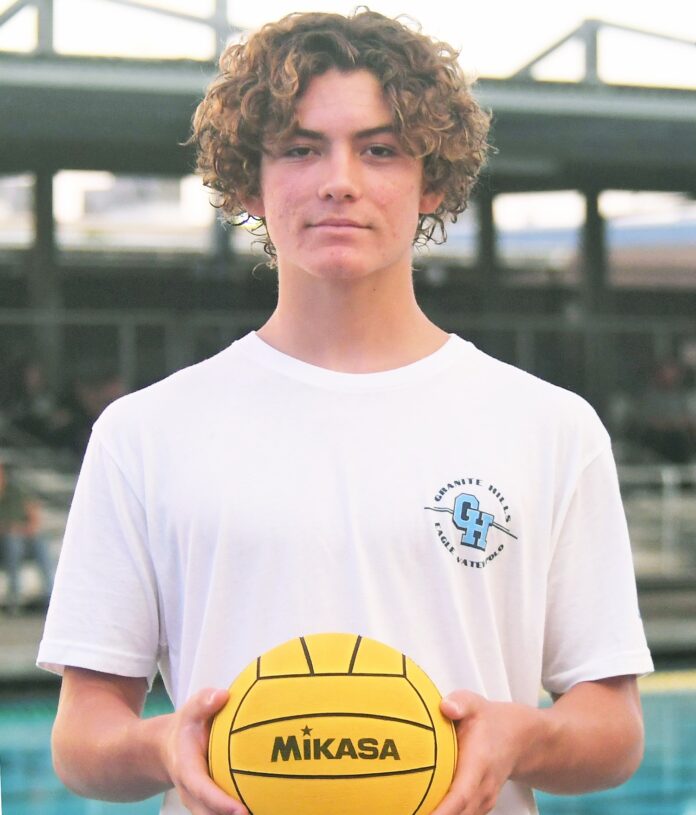 The Granite Hills High School boys' varsity water polo team turned in a ferocious 2021 campaign with a commanding 22-5 regular season record. However, the Grossmont Valley League champion Eagles failed to advance past the first round in the ensuing San Diego Section Division II playoffs, dropping a 10-7 contest to fifth-seeded Mission Hills.
The Eagles are back flying high during the 2022 fall season with a 17-2 overall record following a 21-5 victory against the visiting Mt. Miguel Matadors on Oct. 6.
The win over the Matadors upped Granite Hills' league record to 4-0 following previous wins over El Capitan (16-3 on Sept. 20), Monte Vista (13-2 on Sept. 29) and West Hills (16-2 on Oct. 4).
Players and coaching staff are hoping for a better postseason showing this time around. If the Eagles have one bugaboo, it has been closing out games when possessing a lead.
The team's 8-7 non-league win over Rancho Bernardo on Sept. 27 was a big confidence boost in that regard, as was a 5-0 showing in bracket play at the recent East County Invitational. As a result, Granite Hills moved up to the No. 2 spot in the Division II power rankings behind Del Norte (6-1). Following the Eagles are No. 3 Rancho Bernardo (15-7), No. 4 Helix (11-7) and No. 5 Mission Bay (6-3).
"Since COVID, we've gained more players and have started to become more together with team chemistry," said senior Joseph Alvernaz, who is playing in his fourth year on the team. "That's helped us beat harder teams we couldn't last year."
Top players on this year's team include Aidan Keane, Vaughan Clark and Alvernaz, primarily a two-meter defender. Goalies Brayden Johnston and Luke Knierim switch off in the cage.
Jovan Sears-Baker keyed the hosts with six goals in the win over Mt. Miguel while Gabe Jenson and Jacob Haddock both scored four goals.
Alvernaz is a multi-sport athlete at Granite Hills, participating in swimming, water polo, wrestling and lacrosse. He has earned second-team all-league honors in both wrestling and lacrosse. He said he likes water polo the best because of the team camaraderie.
The team is very close, it's enjoyable to be here with all the positive energy on the pool deck," Alvernaz said. "Our team goal is to make it farther in CIF than last year. I want to end the season feeling we accomplished something, I want to feel we did the best we could. I don't want to leave my senior year having regrets."
The section playoffs are scheduled to start Nov. 1.
Grossmont (9-6), Valhalla (12-5) and Santana (11-3) entered the week ranked fifth, sixth and seventh, respectively, among Division I teams.
Valhalla defeated Helix, 12-7, on Monday to improve to 4-0 in Grossmont Hills League play.
Santana defeated Helix, 14-12, on Oct. 4 to improve to 3-1 in league play.
San Diego Section Boys' Water Polo Rankings
(Through Oct. 10)
Division I: 1. La Jolla 13-2, 2. Bishop's 12-7, 3. Poway 15-6, 4. Vista 12-4, 5. Grossmont 9-6, 6. Valhalla 12-5, 7. Santana 11-3, 8. Torrey Pines 11-6, 9. Coronado 8-10, 10. Mt. Carmel 9-7
Division II: 1. Del Norte 6-1, 2. Granite Hills 17-2, 3. Rancho Bernardo 15-7, 4. Helix 11-8, 5. Mission Bay 6-3, 6. San Dieguito Academy 9-6, 7. Oceanside 8-3, 9. Classical Academy 7-9, 10. Eastlake 10-5