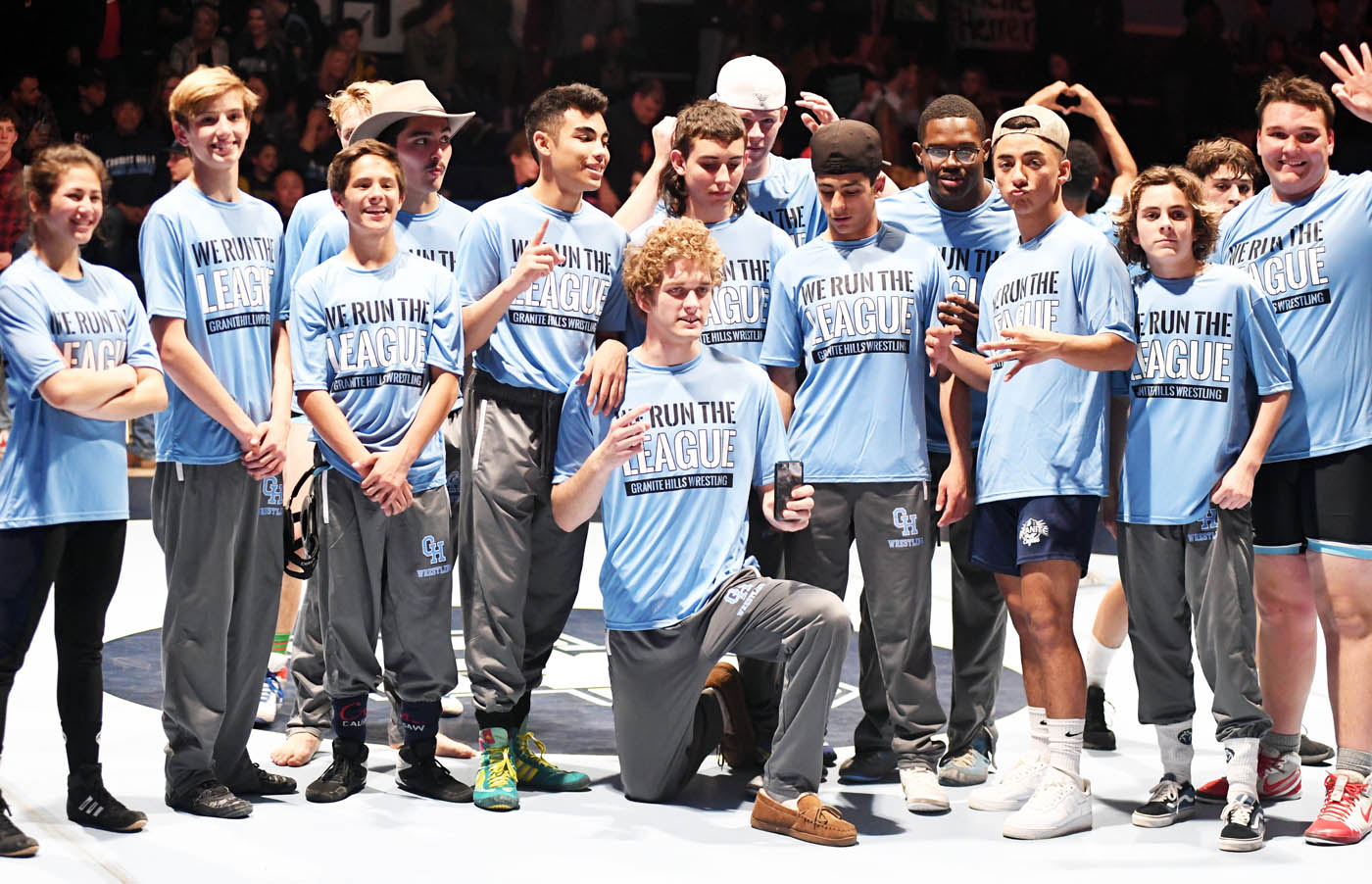 The Granite Hills High School wrestling team can measure its success this season by last Thurs­day's history-making Grossmont Hills League dual meet victory against visiting Steele Canyon. The Eagles defeated the Cou­gars, 60-17, on Senior Night to sew up their third consecutive league championship.
The feat matches the pro­gram's only other league three-peat from 1992-94.
"It's pretty awesome," an obvi­ously proud Granite Hills head coach Jesse Sheard explained. "The kids put in all the work. I give credit to all the kids for working hard at the practices to get better. That's the goal at the end of the season.
"I give credit to all the kids for grinding through the season and never giving up. The seniors are leaving a legacy; it's basically the group I started with four years ago."
The Eagles honored five seniors prior to the dual against Steele Canyon: Ivan Miramontes (145), Michael Herrera (145), Josh Run­ge (152), Skyler Hillberg (170) and Jeremiah Satberry (195).
Runge, Hillberg, Satberry and Herrera have part of the latest three-peat, joining teammates Kailey Smith, Justin Carroll and Izak Arredondo.
Hillberg has been on the team four years.
"We won only one dual my freshman year," Hillberg said. "We worked hard; we all pushed the pace."
"It's pretty cool," Runge added. "I'm proud of my team. It's im­pressive we could do this."
Steele Canyon did not field a full lineup, spotting Granite Hills 36 points on the score­board due to six forfeits. While the outcome was somewhat anti-climactic, the packed gym savored the opportunity to cheer on their history-making three-peat champions.
The Cougars gave their fans something to cheer for as well af­ter opening up an early 14-6 lead.
Colton Watts reversed Steele's Liam Johnson for a pin with 17 seconds left in the third period of their 106-pound match for a 6-0 Eagles lead.
But Cougar mat men Logan Robinson (113 pounds), Emilio Bilbo (119) and Randy Lockwood (126) strung together consecu­tive win to put the visitors ahead by eight points.
Robinson (18-7) won by a sec­ond-period pin while Bilbo (10-6) won by an 18-3 technical fall.
Lockwood (20-12) out-pointed Granite's Ian Brown by a 9-6 de­cision.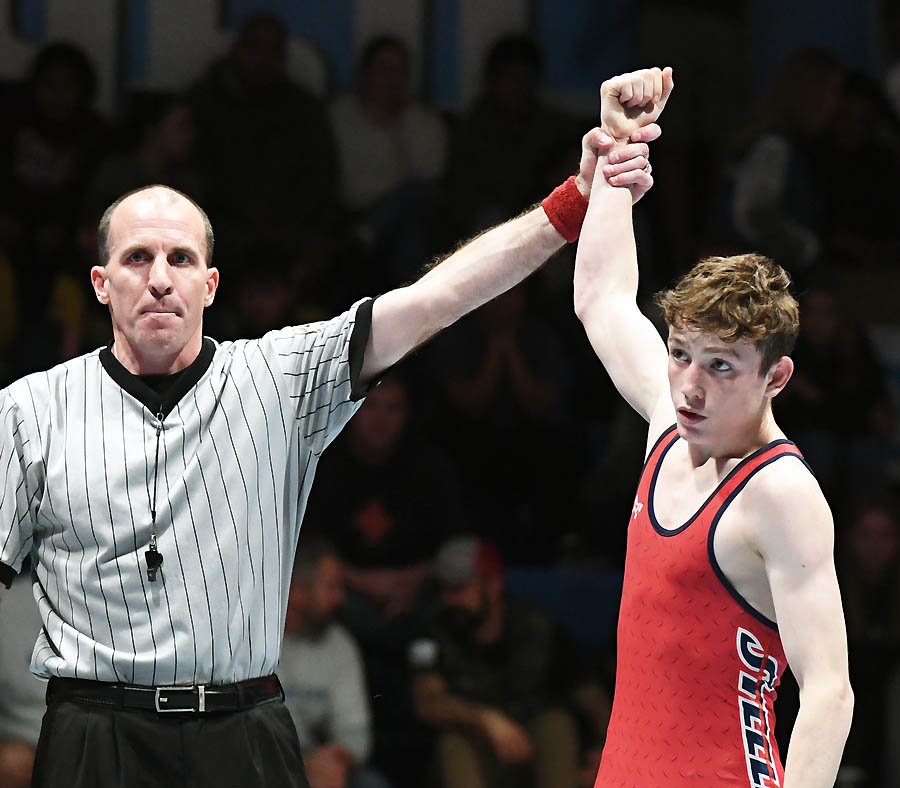 Steele Canyon actually won four of the first five matches contested on the mat when Ezra Cardenas (26-6) scored a 6-0 decision over Joel Corella at 138 pounds.
But the visitors could not over­come the inevitable.
Granite Hills picked up forfeit wins by Carroll (132), Miramontes (145), Carson Boehm (160), Hill­berg (170), Arredondo (182) and Satberry (195) to tip the balance in the Eagles' favor.
The teams each won four matches on the mat.
Runge, Tanner Vielguth (220) and Logan Ransdell (285) all re­corded second-period pins.
Carroll is 26-8 on the season.
Granite Hills set up last Thurs­ day's championship-clinching win by topping host West Hills, 40-25, on Jan. 30. The Wolf Pack had finished ahead of the Eagles at the Monte Vista Invitational two weeks earlier.
"I was really proud of how we came out and wrestled," Sheard said. "There were some key matchups we had to win, and we did, and there were also some we could not get pinned and we didn't get pinned. I was nervous at first because we started at 132, so that meant our last three weights were 113 (sophomore), 120 (freshman), and 126 (fresh­man), but it all worked out.
"Spencer Earp at 113 secured the dual meet win with a pin, 113 we lost by decision, and 126 we won by pin. Overall it was a great night. I love coaching this group of kids. No matter the task they always go out there and give it their all."
The Eagles finished the sea­son 4-0 in league duals; the Cou­gars finished 1-3.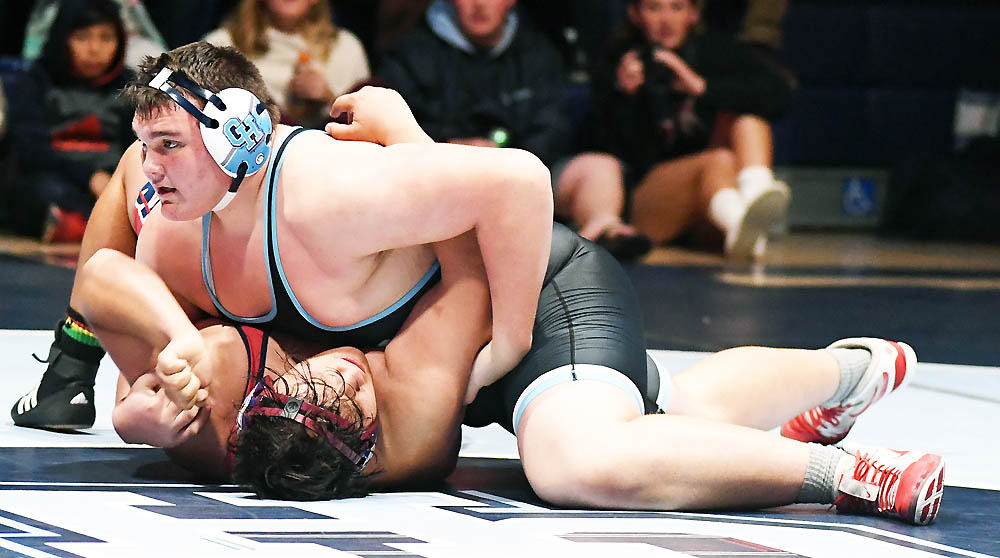 The teams will clash again at Saturday's San Diego Section Division II championship tournament at Steele Canyon High School. Wrestling is scheduled to start at 9 a.m., with finals to take place approximately at 5 p.m.
Grossmont and Valhalla will compete at the Division II finals while Helix will compete at the Division I tournament at Mis­sion Hills High School.
The Division III tournament at Brawley High School will in­clude El Cajon Valley, El Capitan, Monte Vista, Santana and West Hills on the mat while Christian, Mt. Miguel, Mountain Empire will compete at the Division IV tournament at Army-Navy Academy.