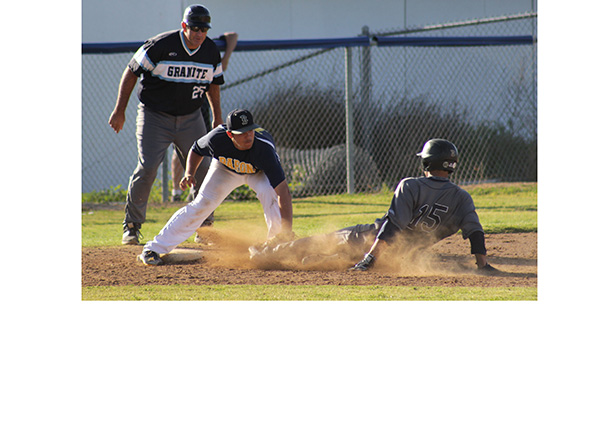 After six and a half innings of stolen bases and second-base pickoffs, Granite Hills and Bonita Vista entered a shaky bottom seventh, with the Eagles leading 3-1. The chatter on the field, in the dugout and around the stands increased as the Barons loaded the bases and positioned themselves to tie up the game. Then everything went quiet. A pop-fly lit off the bat of Bonita Baron Isaac Burow. It was caught and thrown to second base where Trevor Omahen snatched it up for the double play, ending the game and putting the Eagles one step closer to repeating their glorious run last year to the CIF Division I Baseball Championship.
Any team coming into the new year with a previous season title has extra pressure on its shoulders, but Granite Hills head coach James Davis said the team is operating with short-term memory.
"That was last year," he said. "This is a new team with brand new individuals. You tell them that and, really, it's never brought up. And you play the old cliché, you know, one game at a time."
The Eagles are currently 6-2, handing out one of their only losses to the new-in-conference Santana Sultans in a tournament game. Grossmont Hills is a ferocious league where baseball is concerned. Right behind Granite Hills are Helix (5-4) and Grossmont (4-4).
Davis said the league will not be giving out easy wins. Moreover, the Eagle's are missing two key players who paved the way to CIF last year.
"We have a number of returning positions but we don't have a lot of returners on the mound," said Davis. "Andrew Brown and Dillon Shrum really carried us last year, so we're a little young on the mound, but hopefully we'll find a few guys."
Eagle senior Josh Verdon, who won the game against Bonita Vista, shows a lot of promise, as do outfielders Sean Ross and Trevor Hazelhurst.
Verdon said the veterans of the team are rising to meet the standard set buy last year's team.
"We didn't lose too many seniors," said Verdon. "We did lose some big pieces, but so far this year we've had some guys who have been able to step up, so hopefully we'll be able to make it to the same place as last year."
Even the greener members of the team are showing potential, said Verdon.
"There is pressure in every game, every situation," he said, "but I think our seniors handle that well and I think our younger guys have the ability to step up, and they have already. I think they'll continue to do that all year."
And stepping-up will be a must if the Eagles plan to maintain their lead in conference.
Helix head coach Cole Holland said he thinks his team has a good chance at CIF, after they smooth out their pre-season wrinkles. Holland said the early season schedule has been especially rigorous on the team, but that they are shaping up.
"I think we have a good shot at winning the open division championship if we figure it out, and we will," he said. "To be honest, I think we're underachieving. We need to work on being good teammates and getting that part of it under control. Once we do that, we come together as team, we'll be very successful."
Like Granite Hills, Helix is looking for leadership on the team, someone to take the helm. Holland said he has every faith they will find it.
"Hopefully, you'll be looking for typical Helix baseball this season," he said, "where we're grinding at bats, doing the little things right and winning baseball games."