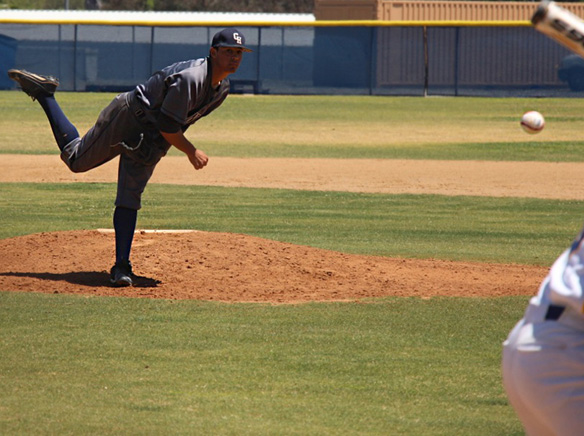 The Eagles of Granite Hills sank their talons deep as they laid a good old fashioned beating on the reigning CIF champion Grossmont Foothillers on May 16. With a lopsided final score of 10 to 1 in favor of the visiting Eagles, the match-up itself was more fascinating on paper considering that both of these schools produced some of San Diego's finest baseball talent. The list includes former major leaguers Brian and Marcus Giles, Barry Zito and current major leaguers Kevin Correia of the Minnesota Twins and A.J. Griffin of the Oakland Athletics. These schools also boast an impressive pedigree of CIF prowess. They have each taken home multiple titles, including ten by Grossmont.
Saturday told a different story.
Jayson Rose, a recent commitment to the University of Utah, led the Eagles on the mound. He had every pitch working for him with ample movement and started strong, striking out five of the first six batters he faced. He pitched six dominant innings, struck out 10, and only surrendered one unearned run on three lonesome hits.
At the plate, he contributed a base hit and two RBI on the day, to which he said was just an "OK" day in a nonchalant tone.
The offensive onslaught started early as the Eagles put up a two-spot off the bats of the two, three and four hitters, Stafford, Vernon and Rose.
They scored runs in the majority of the innings with a solo homerun by Stafford in the third and a manufactured run in the fourth. It started with a triple off the bat of first baseman Dillan Schrum.
Just as the game looked like it was going to go on cruise control, the Eagles pressed down on the pedal and scored six more runs in the top half of the sixth on a rally started with two bunt singles and a walk.
Coach James Davis of the Eagles felt they "did a lot of things well" on the day and "executed" on both sides of the ball. Granite Hills already clinched its division and sits at a dominating 20-6 total for the season, with an even more impressive 10-1 league record.
They are currently "getting things lined up" for playoffs according to Davis. They are the clear favorites to run away with the Grossmont Conference and will be a force to reckon with when it comes time for CIF playoffs.