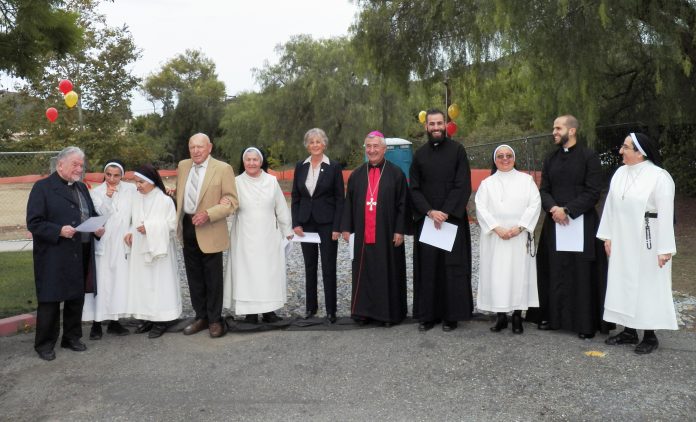 Sister Alexandra Matti, director of El Cajon's Good Samaritan Retirement Center, has a longstanding dream. That dream of five years is coming to fruition. She and other nuns of The Chaldean Sisters Daughters of Mary Immaculate Conception broke ground for construction of a Memory Care Center on Tuesday, Dec. 3.
The Memory Care Center will be built near the existing retirement center buildings at 1515 Jamacha Way.
Construction in earnest is set to begin in January. The new facility, with 22 planned rooms, will provide care for those diagnosed with Alzheimer's and other dementias. If all rooms are shared, the new center can accommodate 44 residents.
The brief groundbreaking program included singing of hymns, recitation of psalms and prayers for the building project. Bishop Emanuel Shaleta provided the blessing prior to cutting of the red ribbon marking entryway to the planned facility. Bishop Sarhad Jammo and other Chaldean Catholic clergy attended.
County Supervisor Dianne Jacob wielded one of the golden shovels to participate in breaking ground.
Jacob addressed the assembled Chaldean sisters.
"You're all angels in my book," Jacob said, further thanking the memory care center donors present at the ceremony. "Thank you for the work you do. God bless you all."
Sister Alexandra thanked Jacob in return.
"We would not have had a permit without Dianne," she said.
Sister Alexandra also thanked those in attendance for braving the chilly unsettled weather conditions to be there.
In short remarks after the groundbreaking, Jacob focused on the importance of the planned facility.
"This will meet a great need and be a real blessing," Jacob said. "This will mean a lot to East County. We are always looking for facilities like this."
At a September fundraising gala, Susan Sorensen, administrator at Good Samaritan, offered remarks about the need for the expansion.
"What's nice about our community is once residents move in, they stay in the same room for the different levels of care. The only thing we can't keep is wandering residents," Sorensen said. "Most of the time when they do move, they don't do well -– and sadly pass soon after. This is why the Memory Care Center is needed."
The timeline for completion of the Memory Care Center is an estimated 18 months, with opening expected in mid-2021. Total cost for the project is estimated to be $4.5 million, with fundraising still in progress. According to Vicky Mammo, accountant for Good Samaritan, the Memory Care construction money brought in to date from a recent Gala and other donations is $1,750,000, so the need is to raise another $2.75 million.
Good Samaritan Retirement Center occupies nine acres at 1515 Jamacha Way, including a park and the planned memory care center.
The Chaldean Sisters Daughters of Mary Immaculate Conception own and operate the senior living center. Good Samaritan currently offers independent living, assisted living and hospice care. The center is Catholic-based but open to seniors of other beliefs, described as "a loving place to live."
Information on the center can be found at www.goodsamretirement1.org.