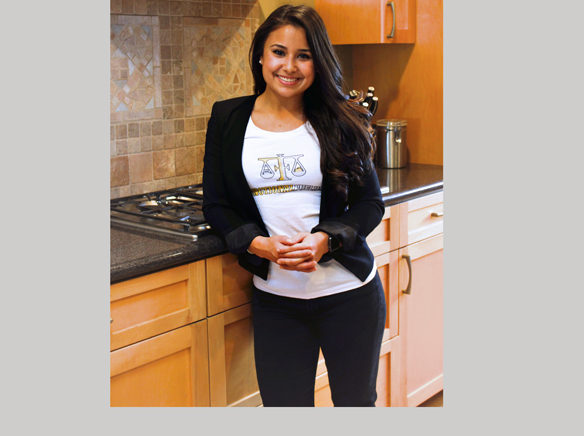 January is Shape Up U.S. month, a time of year dedicated to improving the health and wellness of children, and the education to children, families and educators. Why? Because 16 percent of children 6-19 are overweight or obese and approximately 60 percent of this age group has at least one cardiovascular risk factor, with 25 percent having two or more risk factors.
January is Shape Up U.S. month, a time of year dedicated to improving the health and wellness of children, and the education to children, families and educators. Why? Because 16 percent of children 6-19 are overweight or obese and approximately 60 percent of this age group has at least one cardiovascular risk factor, with 25 percent having two or more risk factors.
Based out of El Cajon, local licensed and registered dietician Lauren Papanos, MS, RD, LD is the Founder and CEO of Functional Fueling Nutrition, helping people of all ages gain a healthier lifestyle. Her goal is to approach that is functional with your lifestyle and believes in providing the highest level of individualized care to maximize success in your own health. Papanos said she believes that nutrition is a personal matter with each individual needing a personal program that fits their dietary needs. As part of her one-on-one practice, she provides consulting, nutrition coaching, meal planning and more.
Active in sports and a cheerleader, her practice specializes in wellness and sports nutrition, but in founding Functional Fueling, she also believes that serving any individual that wants to live a healthier lifestyle is what her business is all about. She said she believes in creating relationships rather than clients, and that nutrition need to be tailored to an individual's lifestyle, functional and manageable.
A nationally recognized nutrition expert, Papanos said her interest in health and nutrition came with first hand experience growing up as a competitive gymnast and cheerleader. She earned a cheerleading scholarship at Stephen F. Austin University's 12x National Cheerleading program and became active with its Student Nutrition Association, graduating with both her bachelor's and Master's Degrees in Nutrition Sciences. In her graduate work she was lead author on a research study looking at the effects of weight requirements in sports on athlete's nutritional intake, supplement use and body image, publishing at the Texas Academy of Sports Medicine Conference. She worked in providing therapeutic nutrition in ICU and outpatient settings working with people that dealt with chronic health issues and as a dietitian through the Gatorade Sports Nutrition Fellowship at Texas A&M University. Now her individual services cover clients from San Diego County and Los Angeles, also working as the Assistant Sports Dietitian at UC Los Angeles.
Papanos said that she also provides DNA testing, something that is important in looking at long-term health as it can detect if a person has a genetic history or at high risk of heart disease, diabetes, Alzheimer's disease or other genetically passed health concerns. This allows her to create a program that not only meets current nutritional needs, but also preventive nutritional needs depending on the DNA findings. This is a tool in her business that she considers essential when planning out an individualized nutritional diet plan.
Starting good nutrition at an early age is essential in a lifetime of healthier living, beginning with the introduction of healthy foods at the baby, toddler stages. This can be difficult at times because many times the very young will immediately refuse food and many times there is no comprehensive understanding of why they are rejecting it. It could be taste, texture or even looks of food that cause it, but she said not to let that discourage parents in continuing to try and introduce healthy foods at a very young age. It takes a child 20 times to taste something before they recognize the flavor. She said the best way to introduce food is in smaller portions, in a variety of ways along with the normal comfort foods that you know that they will eat and enjoy. She also said that as children grow up it is important to realize that the taste buds change every seven years, so what a child might not eat now, can be introduced later with better results.
She also discourages parents from punishment for not eating certain foods with the example that if you deny a child dessert for not eating this can lead to compulsive binging as the child grows older. She also said that there are many desserts that can provided much needed nutrition, so in many cases, the key ingredients needed for healthy living does not always have to be on the dinner plate, but can be spread through meals, snacks and desserts. This gives parents several options for young children, especially those that are picky eaters.
Nutrition is just as important throughout a person's entire life, but starting a healthy diet from the beginning means greater success as a teenager, adulthood and into the senior years. Papanos said healthy nutrition is ever changing as our bodies nutritional needs change throughout life.
But she said there are some standard practices, regardless of age that can help a person lead a healthier, thus happier life. One is to stay away from fast foods, processed and packaged foods. For the most part, even power and nutritional bars have little to no lasting healthy nutrition in them and cause distress to the body as inflammatory foods. Sugars, snack bars, baked sweets, coffee drinks, fried foods and certain cooking oils cause inflammation in the body. Inflammation is when certain foods trigger the body's immune system responds to foods that it considers unhealthy and potentially harmful to the body. When eating a lot of inflammatory foods, the body builds up a resistance that can lead to weight gain, lethargy, skin and digestive issues and many life threatening diseases. It is anti-inflammatory foods that lead to a healthier diet and lifestyle. Papanos pointed out that we use cooking oils for many reasons, not just frying food and that most vegetable, canola and other cooking oils are inflammatory. The best oils to use with food are coconut, avocado and olive oils. The reason is because other oils have a high concentration of the inflammatory fat omega-6 and low in the anti-inflammatory fat omega-3.
For example, if you eat three servings of salmon and an egg (yolk) each week, you are giving your body a healthy amount of omega-3. Although dairy products in moderation actually help decrease inflammation, dairy is also a high source of inflammation inducing saturated fats, especially in adults.
With packaged foods, artificial ingredients not found in nature means that your body does not have a way to process, something that effects people of all ages and implicated in a plethora of health issues during life.
There are many foods out there that combat inflammation. Tomatoes, green leafy vegetables, nuts, fatty fishes and particular fruits such as blueberries, strawberries, cherries and oranges are high in natural antioxidants and polyphenols, protective compounds found in plants.
As we get older, appetites get weaker, the digestive system slows down, physical activity decreases and this is a time when looking into supplements may be necessary.
These are just a few simple tips that Papanos suggested, but she reiterated that every individual has their own dietary needs and seeking the advice of your doctor and your nutritionist in tandem is the best way in leading a healthier lifestyle. She also said that it is never too late to change eating habits and that good nutrition does not have to be burden or chore. There are many sources of good foods that promote a healthier life, and programs can be individualized to suit a person's health needs, food likes and even work around the foods you do not like.
Papanos said Functional Fueling Nutrition is there to help anyone at any level that wants to improve their diet for a healthier life. For more information about Functional Fueling Nutrition and Lauren Paponos visit www.functionalfueling.com, email to ffueling@gmail.com or call (619) 379-2416. You can also find Functional Fueling Nutrition on Facebook and Instagram.