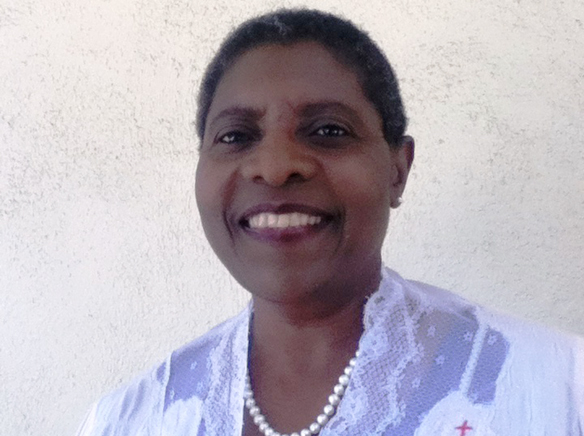 Isabella Jeso's story begins in Rhodesia, in what is now Zimbabwe. It was a segregated country then consisting of African and European nationalities. In the rural area where she was raised, missionaries built schools like the one she attended. At age fourteen in boarding school she became a "voracious reader," she said, with "a hunger for knowledge no one could satisfy." She thought beyond the books, beyond the borders of her country, and has been the picture of a successful immigrant in America for most of her life. Education was the key to her adaptation to the United States, but what defines her as an immigrant, educator, and now author is her quest to keep learning, to help herself as well as others.
From boarding school in Zimbabwe to Cottey College, a school for women in Missouri, Jeso's educational ambitions took off and have yet to stop. She earned her Masters in Vermont and continued on with her Ph.D. Now, after seeing her son off to college, Jeso wants to go back to graduate school to study business.
For her, writing is serious business. Jeso wrote a faith-based children's book called the "Bitney Adventures," a book that combines mythical themes and metaphors, "to engage imagination, which isn't scientific," that centers around finding purpose in life through what Jeso describes as "spiritual warfare." The story of Bitney, a gifted horse who wants to be ordinary before finally embracing his special gifts, was created when Jeso's son was young. She searched in vain for faith-based stories to read to him at night. She was still teaching at the time and raising her son alone, and although her life was full and busy, she ended up writing her own stories for her son. The first "Bitney Adventures," book was accepted upon submission by Tate Publishing in 2012. It was released January of this year.
A resident of El Cajon, Jeso keeps busy with her full-time job in the city of San Diego, where she works with refugees. "I haven't given back enough," she said of her church and the Catholic Diocese "and what have I done with those gifts?" With her faith, education, and experience, she continues to do a lot, locally and briefly back in Zimbabwe where she taught at the University of Zimbabwe. She also helped to found Zimbabwe Catholic University with church friends from Oklahoma and the Diocese of Harare. San Diego is where she ultimately chose to lay down roots. In 1980, she met a friend in college who brought her to San Diego for the holidays, and Jeso has "been drawn back to San Diego and the tropics," since. She has studied and taught literature in Oklahoma, Vermont, Missouri but "I wanted to raise my son here," she said of tropic-like San Diego.
"America has given me so much" she said. Undoubtedly grateful about each opportunity she found or made, Jeso came to this country on scholarship, was sponsored and accepted by American families, and has not slowed her pace of achievement. The American spirit was detectable in her identity when she discussed working towards another degree as a path towards another professional venture.
Like many others who have done the same and more who try every day, Jeso arrived here with nothing but optimism in a foreign place that had a reputation for providing opportunity. Admittedly, her faith and education have landed her in a place where she hopes to reciprocate on a community or international level. No longer teaching literature but reading her own written work to others – children – is where her new chapter has begun.
Her other dream, she mentioned, is to continue to improve life in Africa. "It's a dream to build an African traditional foods business not just in Zimbabwe but in all of sub-Saharan Africa," she said. Jeso envisions a grocery business in the inner cities there, empowering women in the process. "I would know how to encourage them, to train them, to give them greater confidence," Jeso said. "I would like to give back at the level of food, because I think that is the greatest poverty."
Considering what she has already accomplished, her ambitions do not seem so lofty. Assimilation is too small a word for her life as an immigrant in America. One of eleven children, she hasn't forgotten all that she imagined when she was young and hopeful.
"From when I was very young, I wanted to be a writer," Jeso said. "Bitney Adventures" is a story with faith-based symbols, written on faith while becoming a symbol of the hard work that prefaces success.
Jeso does readings of "Bitney Adventures" at churches and is reaching out to local religious schools to schedule more. Part of her book profits is given back to the institutions at which she reads. To purchase the "Bitney Adventures" contact her directly at 858-242-6393. "Bitney Adventures" is also sold online at Amazon and barnesandnoble.com.