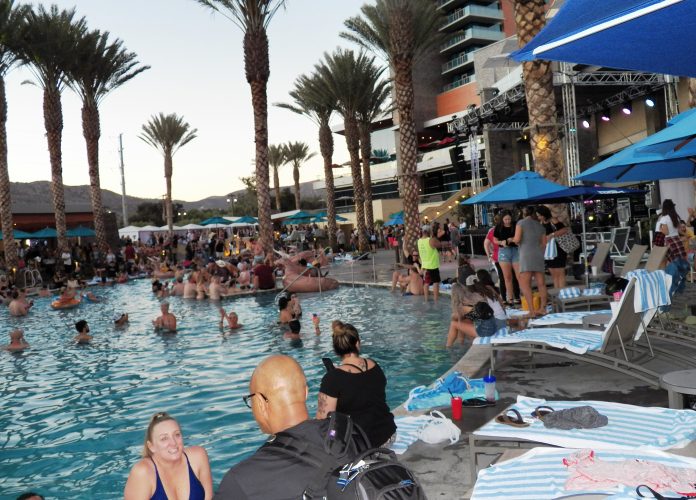 Sycuan Casino Resort's 2019 springtime grand opening expansion proceeded as planned and announced, with doors opened at the enlarged facility two years after groundbreaking in March 2017. It has already been deemed a success.
On Thursday, Aug. 15, the facility was awarded the coveted AAA Four Diamond Rating for exceptional standards in hospitality, including top-notch accommodations, décor and furnishings, impressive architectural design, amenities and full-service restaurants. Only 6.3 percent of the AAA Inspected & Approved hotels garner the Four Diamond designation.
After announcement of the outstanding award, John Dinius, general manager at Sycuan Casino Resort, said, "Receiving the AAA Four Diamond Rating for our new hotel is an incredible honor and we are thrilled to be recognized for our artistic and detailed design, variety of new amenities and superior level of guest service."
Now, four and a half months along at the expanded resort, organizational leaders are not resting on the laurels of such accolades and awards. Sycuan leaders and managers continue fine tuning events and offerings from new venues at the resort complex – many of which serving not only out-of-town visitors at the resort complex but also local residents around East County and nearby.
Facility venue manager Brittany Bertich oversees the Retreat poolside food and beverages services, the high-end cocktail and appetizers Elicit Bar & Lounge and the Bull and Bourbon Steakhouse. Bertich recently provided a backroom tour and interviews with the lead chef and lead bartender at Bull and Bourbon, to inform San Diego County residents about what to expect as delectable upcoming culinary experiences at the restaurant.
Dave Underwood, sous chef, kicked off the tour in the meat dry-aging room. A delicious nutty aroma pervades the tiny space, which features unobstructed glass windows for diners to view beef, pork, lamb and duck being aged.
Underwood noted that restaurant is the only venue in East County performing the particular "lost art" style of dry aging, with meats purchased from Newport Meat Company in Irvine. The cool, temperature-controlled room was designed to modulate the molds that under this "old technique" break down meats with enzymes, to increase intensity of the meat flavors.
Salt in the room extracts water from the meats. All meats are dry aged for at least two weeks. Underwood explained that 21 days is minimum for aging beef cuts. The start point is high-quality beef with intramuscular fat called "fleck."
Asked about what prime steak novice diners should order from the menu, Underwood recommended the 18-ounce Delmonico Ribeye, as a robust choice. Seafood, chicken and vegetarian menu options are also available.
Bartender Sean Brown gave his companion recommendation, that an excellent bourbon pairing with the Delmonico Ribeye would be the Woodford Reserve Double Oaked Bourbon which would partner robust premier steak with robust whiskey.
Brown further described his favorite top-of-the-line whiskeys, including summer whiskeys from Japanese distillery Suntory.
"These are the best whiskeys around now," Brown said.
Brown also has favorites among dessert whiskeys for after dinner, including the Nikka Coffey Grain Whisky.
Care instead for a brief stopover imbibing beer and snacking on small appetizers or sandwiches? Sycuan Executive Chef Paul Schwab agreed to discuss the casino resort's partnership with Thorn Brewing, which produced two recently released house brews, the Sycuan Blonde Ale and the Sycuan India Pale Ale.
Schwab has worked at Sycuan venues, beginning at Singing Hills Resort, for 15 years. He transitioned to Sycuan Casino in 2004. Schwab oversees 75 percent of the restaurants, including the buffet and the employee café.
The project brewing collaboration with Thorn started with discussions during a beer and food pairing dinner in 2017. Both beers can be ordered throughout the casino resort, including at the informal downstairs pub-fare bar Rank & File and at the unCommons open seating multiple-eatery area from Phil's BBQ, Luna Grill and Hangry Slice pizza.
Schwab went on to suggest that the spiciness of the Sycuan IPA partners well with carrot cake, with any Asian food items from House of Fortune, and especially with braised duck.
Sampling the Sycuan IPA proved out Schwab's description of the adult beverage. This craft beer is not overwhelming or overly challenging to the taste, like some IPA's can be. This brew is very well balanced and light on the palate, even at its modestly high alcohol content.
The Sycuan Blonde Ale, according to Schwab, is "Bohemian" in style, malty and less hoppy than its companion house beer, clocking in at 5 percent ABV. Schwab recommends the Blonde Ale as a great partner drink to the short ribs or anything on the sports bar Rank & File menu.
Schwab continued, observing that recently he has become more interested in beer pairing dinners than those matching food with wines.
"The carbonation of the beers is different," he said. "We have been playing with partnering beers with anything."
Schwab divulged that he has been home brewing for five years, and further that he plans to pursue distilling and extracting spirits in the near future.
Later during the evening of Aug. 15, the second in the summertime concert series at The River kicked off a high-energy country music performance from up-and-coming singer-songwriter Eric Paslay and his band. These concerts, encouraging boots and swimsuits for attendees, are staged outdoors at the Retreat Pool & Cabanas facility. The concerts are hosted in collaboration with KSON country music radio station every other Thursday through September. Tickets prices are $10 for Club Sycuan Club at the box office, $15 if purchased online.
Paslay and his band-mates ran through covers of his previous number-one singles for other performers and new material from his first album. Paslay performed his songs, "Even if It Breaks Your Heart," a number-one single for the Eli Young Band, "Barefoot Blue Jean Night" (which reached top single for Jake Owen) and "Angel Eyes" (a  standout single for Love & Theft). The dual pools and lazy river were packed with concert-going partiers.
"Eric Paslay is incredible," said KSON on-air personality Amber Rainey, who emceed the concert. "The weather is perfect. Sycuan is a great staycation, and the pool is amazing."
At 6-feet, 4-inches and with red hair and beard, Paslay is both surprisingly calming in his stage presence and high-octane energetic in his music performances.
"I love writing songs, and I love singing songs," Paslay said onstage. "I spent all day today out here at the pool. You all enjoy it."
East County resident Roger West dipped into the pool with his wife, just across from the stage.
"This is the best concert I've ever been to," West said of the evening.
Next in the concert series occurs on Thursday, Aug. 29. More information on all upcoming events and offerings can be found online at Sycuan.com.