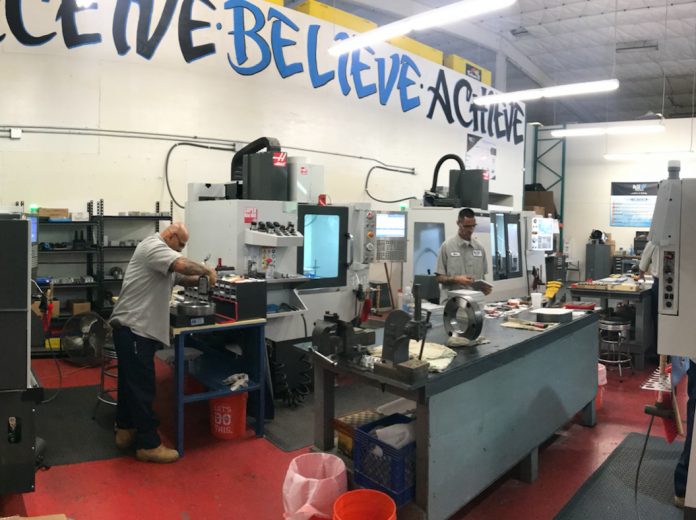 After 33 years in prison, Joe Tapia said what he really wanted was to get back to work.
Finding work can be difficult with a criminal background, especially when you have the tattoos to prove it, but even harder is finding work three decades after receiving any relevant work experience.
A book by a Los Angeles-based Rev. Gregory Boyle and a Santee-based start-up were about to make a huge difference in Tapia's chances.
The dirt drive that juts off the intersection of Prospect and Cottonwood in Santee looks unassuming enough. Mostly, it is filled with buzzing warehouses and auto mechanic shops. But occupying one corner is the Rise Up Industries CNC machining warehouse.
Rise Up, a non-profit incorporated in 2013, has three projects, the CNC machining, a coffee label and silkscreening. All three play a part in Rise Up's mission, which is to help former inmates successfully reenter the workforce and to keep local youth out of gang-related activity and prisons.
Joe Gilbreath, the current president and director, said Rise Up plays a unique role in the community as one of the only long-term programs available to ex-convicts.
"To be successfully re-entered, you need to have employment and they have many barriers to employment," said Gilbreath. "If they can't find employment, they return to the life they knew. What we want to do is provide our guys opportunities to be CNC operators on contract work. We want to create a real world work environment to give them experience."
Gilbreath said Rise Up was modeled off of Homeboy Industries after several of the men he volunteered with in a local prison ministry began questioning how to help reduce the impact of gang activity in San Diego.
Homeboy Industries, founded in 1988 by Boyle in Los Angeles, has a global network, employs 200-235 high-risk or formerly incarcerated youths and services some 10,000 people in the community, offering services such as, anger management, yoga, budgeting, art and parenting classes and tattoo removal.
Boyle's book "Tattoos on the Heart: The Power of Boundless Compassion" helped inspire Gilbreath and the other minds behind the creation of Rise Up.
It also inspired Tapia.
But Tapia said he read the book from prison, long before he heard of Rise Up. When his roommate told him about Rise Up shortly after Tapia's release, he said he decided to look into it.
"I felt that having some knowledge of Homeboy Industries, and knowing that this was modeled after Homeboy Industries, I was open to come down here and at least apply and see for myself," said Tapia.
Rise Up has been even more than he hoped it would be, said Tapia, who pointed out not only the work experience opportunities but the platforms for personal growth and development, like the weekly book club.
"For me it's not just 'OK, I have my freedom,' for me it's forcing me to grow as a person," he said. "I think the value in that is keeping us grounded, keeping us centered. We can sometimes get overwhelmed by the realities of life, not just work but home."
Gilbreath said the Rise Up intends to change the way other people view former inmates as well as the way those former inmates view the possibilities of their own futures. The program currently has six members – five of whom are former lifers – with two new members joining the ranks in the coming week. They have one graduate.
Rise Up's core beliefs are tagged on the inside wall of the warehouse: conceive, believe, achieve.
"We hope to change some attitudes," he said. "We want our graduates to be successful when we place them in employment and we want the employer to come back and say, 'wow, when you hire a Rise Up graduate, you've got a good guy on your team,' and we start breaking down this barrier to hiring ex-offenders when we can demonstrate that these guys are great employees."
Breaking down those barriers, Boyle's book also influenced another key figure in Rise Up's history and current state of operations: Dustin Greeves, machine shop manager.
"I was their first employee," said Greeves. "I tell this story when we talk about changing perceptions. I'm from a small town in Missouri and I've never met a gang member before then. I saw Rise Up's advertisement for a manager or trainer around December of 2015 and when I initially saw it I thought, 'that's really daunting' and I passed over it."
Greeves said he saw the advertisement again later and checked out the website. When he read the background on the organization, he decided to read "Tattoos on the Heart," downloading it to peruse during his bike workout.
"I got five minutes in and I said, 'I get it,'" he said. "The whole premise of his book is having boundless amounts of compassion. I got off my bike and applied for the job."
Greeves, who has been working in the industry for 25 years, the program is a challenging one, especially for these men with so little experience to build off of. After 18 months with Rise Up, the members – what the former inmates are called in the program – will have a good base, he said.
"These guys are going to have a base that they can continue to build on," said Greeves. "It takes five to 10 years to really become a journeyman machinist. There is a lot to learn. For these guys who've done 20, 30, 40 years in prison to be thrown onto these machines with all these computers, it's a testament to how hard they work."
Tapia said it is a testament to the program itself.
"I'm just a recipient of all this," he said. "The reality is that everyone who is involved in Rise Up, whether they're the shop manager, the secretary, a mentor, these people really care. I know that I'm not going to get this type of training and care for my well-being elsewhere. It's not about giving us a skill to get into the workforce, they care about us and making the world a better place."
And Gilbreath said the purpose of Rise Up is certainly to make the world a better place, in more ways than one.
"Kids are being recruited into gangs as early as age 10 and some reports say as early as age seven, and the number one reason why they join the gang is because they need a place to belong," he said. "They're coming from broken homes, they're falling behind in school, they're ostracised at school, no one's helping them withtheir homework and they look to the gang for a place to belong."
In the future, Rise Up will expand its reentry program to include prevention and intervention. Their coffee and silkscreening branches would provide work opportunities for youth and Gilbreath said he hopes some of their graduates will be able to help give back, working with younger future Rise Up members.
Youth are a concern, Gilbreath said. San Diego County has a reported 158 gangs with approximately 3,750 documented members. Last year, the city of San Diego has 794 gang-related crimes including 132 assaults with a deadly weapon.
"We've been told by gang members that 75 percent of gang members want to leave gang life, they just don't see an alternative," he said. "It becomes generational. One of our guys spent 41 years in prison. He tells us that when he was ten years old, his goal in life was to go to prison so he could link up with his father and his uncle."
Rise Up also fills a critical need in the community, said Gilbreath. The company has 34 customers, including an aerospace client.
"What we're finding from companies is that they cannot find qualified CNC operators to hire and so they're coming to us to find out when our next graduate is," he said.
Gilbreath said filling this need by gainfully employing former inmates could impact the community on multiple levels.
"If we're able to correct this situation, we're going to lower the cost to the community in terms of incarceration, law enforcement and judicial system," said of recidivism rates. "You're going to make your neighborhoods safer, and the program that we have here where we're training guys to be CNC operators, we're meeting a very critical skill need. And that gap is growing because most of your machinists who were baby boomers are retiring."
Greeves said he could not be more grateful to have a first impression proven wrong.
"For me, it's been the most amazing greatest things I have ever done professionally in my life," he said. "These guys are truly wonderful people looking for a second chance, and they take full advantage of it."
As for Tapia, his future is looking clearer.
"I'm going to be a machinist," he said. "This is a great opportunity, this is a golden opportunity. Everyone that I've shared with, that I'm training as a machinist, they have that look or expression that, 'yeah, that's a good job.'"