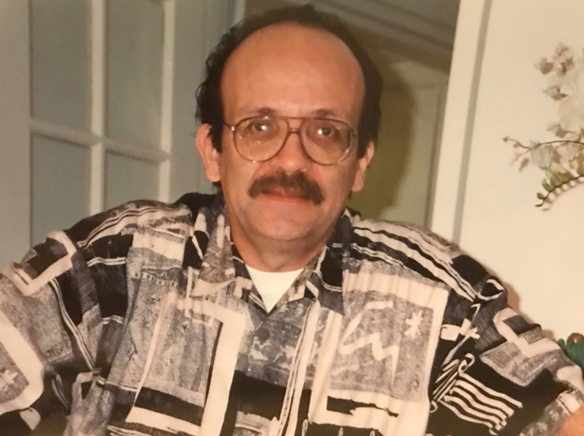 I have written countless features in my time, but when requested to write about my late father, Bill Dickens, I had mixed emotions.
William C. Dickens was born to his birth mother, Mrs. De La Valle at a local hospital in Los Angeles on March 6, 1949. He was born a little over 10 pounds. Unfortunately for young William, his birth mother had already had several children and opted to put 3-day-old William up for adoption.
I have written countless features in my time, but when requested to write about my late father, Bill Dickens, I had mixed emotions.
William C. Dickens was born to his birth mother, Mrs. De La Valle at a local hospital in Los Angeles on March 6, 1949. He was born a little over 10 pounds. Unfortunately for young William, his birth mother had already had several children and opted to put 3-day-old William up for adoption.
A young couple from Rolling Hills, California, a suburb outside Los Angeles had been waiting to adopt a boy and a girl, as the wife, Jeanne Grace Dickens, married to Charles Elmer Dickens, was unable to conceive children due to physical limitations. Jeanne Grace Door had met Jeanne while the couple both attended Duke University in Des Moine, IOWA. The couple was able to pass all the checks needed to adopt young William in under a week, as young William was approximately a week old. The young baby boy was taken home to their home in Rolling Hills, as Jeanne was working for Paramount Pictures, along such greats as the "The Three Stooges," characters which I recall Grandma saying, " They would really throw plates even off set, and I thought they really were morons. " Said Jeanne Dickens in 1994. Grandma Dickens was never one for slapstick comedy as she called it. Meanwhile, Charles, William's adopted father was working for a law firm as a lawyer.
In 1957, the couple sold their Rolling Hills home and purchased a beautiful, brand new home on Mount Helix, tucked away in one of the best locations of La mesa, California.
Bill, as he preferred was now attending Briar Patch Elementary, and was now, 8 years of age in the third grade. Bill, was also now living with a sister who was adopted, not sure of the year, as well, her name is Kathleen Mujais, and is now 66, residing in Raleigh, North Carolina. Bill and Kathleen were close as youngsters, but as Bill grew older they drifted apart.
Bill, attended all four years, and graduated from Grossmont High school, where he met his first wife, my birth mother, Barbara Jo Blank, a valedictorian, and also played as a back up catcher and caught for pitching great, Brian Sipe, who would eventually become and all star quarterback at San Diego State and then onto the NFL, to play for the Cleveland Browns.
Bill was working a part-time job as a vendor, filling up vending machines with cigarettes, and working at the sports Information desk at San Diego State, Bill also attended Grossmont College, prior to State. Bill would wed my mother, Barbara Jo Blank in 1970. Prior to that he achieved his first sports writing job for a local east San Diego newspaper, The El Cajon Daily Californian in 1968.
During his 47-year career, 24 as a sports editor for The Californian, Dickens covered three Super Bowls, two World Series, John Wooden's last NCAA Final Four, and Ken Norton's victory over Ali at the San Diego Sports Arena. He also chronicled the careers of numerous local sports standouts, including NBA MVP Bill Walton and NFL MVP Brian Sipe from the preps to the pros.
One of Dickens favorite coverage's was the San Diego Chargers' home and away games in the "Air Coryell years." I loved it myself when Dad would go to the different cities and bring home souvenirs. I had several shirts and cups from many NFL teams from the AFC WEST in particular.
Dickens also covered the San Diego Padres for 14 years, and has also been a lifetime member of the Baseball Writers Association Of America.
During his lengthy tenure, Dickens also covered San Diego State University football, and earned a reputation as " The Fearless forecaster " for his weekly East County prep football columns- first for The Daily Californian and then for East County Sports.com.
As long time Webmaster of East County Sports.com, and friend of Bill Dickens, Ramon Scott mentioned, Dickens, my father still after the years of social media came, cell phones etc., he still had a flip phone that he never set up, still using a legal pad, a landline, his memory of numbers, and a hunt and peck, typing style.
I recall late nights at The Daily Californian, after an exciting night on the sidelines with dad, we would venture off to the local Jack In The Box. As my father would type away for hour at our second home, The Daily Californian. I recall using the old Xerox copy machine, copying photos of young heroes on the field I would look up to. Names I recall, Robert Claiborne of The 1986 Grossmont Griffins football team, also, Coach Dave Jordan, Coach Jim Symington, WR Richard Zayas. Countless others, it would be 4 am before leaving the CAL, I would sleep under the orange and beige chair, with my feet under the office desk. I never complained, as I loved my father's job. I was a very proud son all my life, the respect my father received by so many in the community.
My father was definitely relentless, when it came to being ahead of the competition and would talk to each and every coach if it took him past 5 a.m. Dickens prediction column during football season became a must-read article for coaches, families, and players in the newspaper and now online for over 30 years. In memory of Bill, Dickens, my father, my publisher, fellow journalist and friend, Ramon Scott, decided to continue the infamous "Fearless Forecaster" column.
Mr. Dickens, as all the players referred to dad, was not all about the superstars, but the overlooked, up and coming players that would fly under the radar, who would end up superstars later. Dickens would spend countless hours of research to find the unsung hero of the future.
In March of 2000, after The Daily Californian folded, Dickens became a full-time writer for the San Diego Union-Tribune, covering the perps and JC sports for eight years.
In February of 2000, feeling a responsibility to the East County schools and Grossmont College coaches and student athletes, which The Daily Californian had chronicled thoroughly through the years, Dickens – along with two of his staffers, and his wife, Wanda Dickens, whom Dickens met while she was the athletic director at Grossmont College for 11 years- started the website, EastCountySports.com.
The fledgling website initially covered football, boys and girls basketball, baseball and softball, and Grossmont College football, baseball, and basketball.
The corps was initially small but very impressive, along with volunteer photographers. One of the key players of the current staff, who initially founded East County Sports.com, our Webmaster and long-time friend of my father, and co-worker of 30 years, Ramon Scott. The newer players include myself, David Dickens, "Director." Also former Santana booster and ASB head, Adam Paul, brings many years of experience to our team, our softball specialist. Also for our football coverage, we are very fortunate to have the talented, journalistic services, as a volunteer, Gene Yale. Gene is a fantastic lawyer, and statistician as well. Gene is our Valhalla coverage during football season. Our last, but definitely not least, Union Tribune sports journalist, Jim Lingren, who does a fantastic job rewriting the game story for EastCountySports.com, special to us during prep football season. Also we, the EastCountySports.com staff, are hoping to continue our proposal with the Grossmont Union
High school District, to promote sponsoring interns, from students taking journalism and media
Courses. This is a work in progress and the initial proposal has many more details to add.
In conclusion, my plan is to carry on my father's legacy for at least another 20 years, along with my staff.
Let me not forget to include two of the very best photographers, Don De Mars and Tammy Ryan. We have many plans to modernize as we already have. However these are to remain secret until the right time.
One of the last great memories I recall, that stands out in my mind was the trip purchased by a few great coaches as a surprise to my father.
Anyone who knew my father at all knew that his first love was baseball, and anything to do with the game of baseball. In May of 1999, several coaches from the Grossmont Conference prep schools, Christian High School, and Grossmont College, put together a dream trip for my father to The Baseball Hall of Fame. My father's quote at the time, " I don't know how they pulled it off, but they did. And I thank them for that." Bill Dickens Said at the time. The next few sentences are statements of gratitude and how my father reacted to such a gift. I mean how many journalists are presented with a gift of this magnitude.
In May of 1999 he wrote back publicly in the Daily Californian, May 18,1999 to be exact. "I was afraid Sunday night was going to be the dreaded session of line dancing lessons that I've managed to avoid so far," he said. "However instead of ending up at the O.K. Corral, my wife, Wanda and I took the most indirect, circuitous route driving through the streets of El Cajon, finally pulling into Marechiaro's Restaurant on Second Street. I thought to myself, they don't play country music here, and next thing I knew I was walking into a room of familiar faces. Was it a coincidence that my friends and family came to eat pizza on the same night? It just didn't compute. I hope I didn't seem ungracious as I just stopped and stared, but at least I didn't stammer. To those who contributed, but couldn't make it Sunday, a big thanks to all of you, and a special thanks to the ringleaders- Wade and Steve Vickery, Gordy Thompson and Jim Arnaiz. This tribute was five months in the making, and there were no loose lips? Unbelievable!"
There are so many memories, I could write a novel, but the only thing I will always take away from Bill Dickens, my father. Treat every single person you meet, old, young, male or female, like they were the best person in the world. I will never be Bill Dickens, but his legacy will live on through my video, photos, and writing.
Thank You William Charles Dickens, "Bill," "Mr. Dickens," "Booty," "Chas," "Bubba," Dad and "Grandpa."
Rest In Peace father.
March 6, 1949 – Nov. 15, 2017
Bill Dickens was 68.