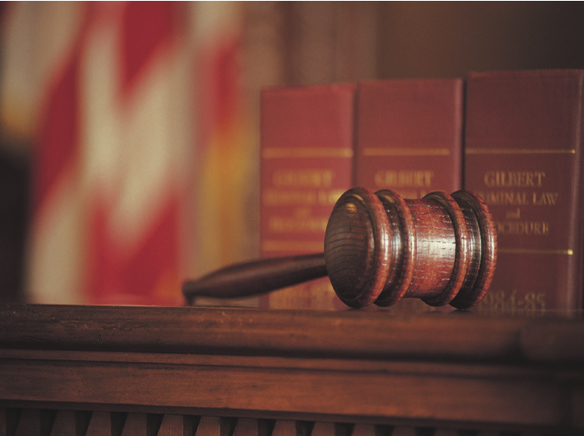 A 23-year-old former sheriff's deputy from Santee pleaded not guilty July 14 to a murder charge in the shooting death of an escaped prisoner.
Aaron Russell is believed to have posted $500,000 bond as the jail website no longer listed him as an inmate.
Russell appeared in a jail uniform wearing a mask in a room on a video feed before San Diego Superior Court Judge Francis Devaney.
He is accused of firing shots which killed Nicolas Bils, 36, who had somehow got out of a California State Park ranger's car outside the downtown jail on Front Street on May 1.
Bils had been arrested by a ranger for an incident at Old Town San Diego State Park involving threatening a ranger with a golf club.
After the courts closed due to the coronavirus on March 17, Russell then worked in the downtown jail.
He resigned from the sheriff's department four days after the shooting.
Russell was arrested July 13 on $1 million bail, which Devaney reduced to $500,000 at the request of his attorney Richard Pinckard.
"He is not a risk in any way to the community," argued Pinckard. "There are significant defenses that will be raised."
"He will make his court appearances," said Pinckard. "This is not a typical murder with a firearm."
Deputy District Attorney Stephen Marquardt said Bils was fleeing the scene and no other deputy fired any shots. He said Bils was shot in the back and the bullet went through his heart.
Bils was also shot in his torso, arm, thigh, and a fifth bullet grazed his hip, said Marquardt. He was unarmed.
"The decision to apply deadly force was not lawful," said Marquardt, who argued against reducing the bail.
Devaney said he didn't believe Russell was a flight risk. He ordered Russell to live with his brother's family in East County and will return to court on July 24.
The DA's office rarely charges someone from law enforcement with murder, but it has occurred a number of times. State law changed on Jan. 1 in which deadly force can only be used by law enforcement when "necessary" and if there is no alternative in order to save lives.
•••
A La Mesa man told authorities he was force feeding crackers to his husband, an El Cajon dentist who died from asphyxia in 2019, according to testimony on July 16.
The preliminary hearing of Thomas Wayne Zupner, 65, will conclude on July 27 in the death of Dr. Blake Synowski, 62, in El Cajon Superior Court.
Judge Robert Amador heard testimony from four sheriff's detectives and deputies remotely.  Attorneys also appeared remotely.
Synowski died on Sept. 17, 2019, and the cause of death is "obstruction of an airway and mechanical asphyxia," according to the medical examiner's office.
Zupner's attorney, Paul Pfingst who is the former District Attorney, said his client should not be charged with murder because it was an accidental death and at most the offense was involuntary manslaughter.
Det.Troy DuGal testified Zupner told him he was force feeding him because Synowski had been ill, lost 20 pounds recently, and could die from starvation.
"I was just trying to save his life," DuGal quoted Zupner as saying at least 10 times to deputies.
"I killed him," Zupner said repeatedly, according to DuGal, who added that Zupner was wailing and crying.
Det. Nicholas Hvizdzak testified he arrived at the La Mesa residence at 10:13 p.m. and determined Synowski had no pulse and was not breathing while lying on the kitchen floor.
The hearing was live streamed online with 22 listeners including the victim's family in Washington.  Zupner has pleaded not guilty and remains in jail on $2 million bail.