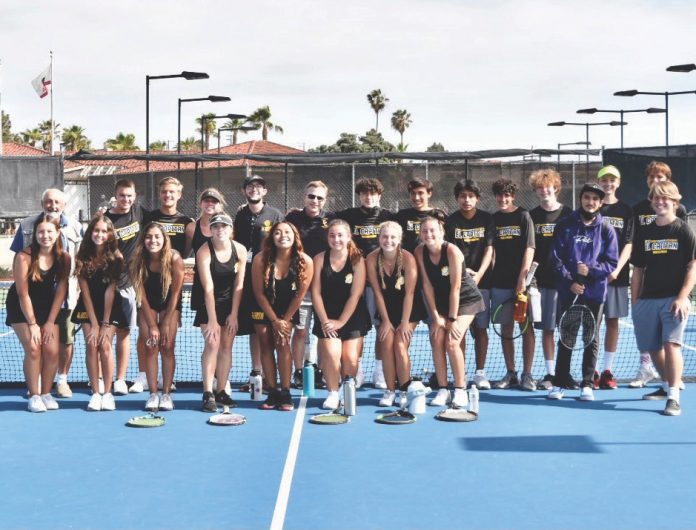 El Capitan High School has never won a section divisional championship in either girls or boys tennis but it has one now in coed tennis.
The Vaqueros downed the Fallbrook Warriors by a score of 11-6 to capture last Friday's Division III championship at the Barnes Tennis Center in the section's newly formatted response to the coronavirus pandemic.
The coed format features boys singles, girls singles, boys doubles, girls doubles and mixed doubles.
It may be a first in California high school sports. It was certainly a first for El Capitan High School.
"Coed has worked out very well and the players have loved the opportunity to play in a format that has never been done before in California high school tennis as far as I know," Vaquero coach Ethan Laub explained. "Many of them have been able to make new friends or spend more time with their old friends that would not have been possible with the normal format.
"This season was very unique and we were unsure it would even happen with COVID. But once it started, most players from the last season returned along with extremely valuable new players."
El Capitan finished regular season play and bypassed a league team tournament to proceed directly to the section playoffs.
The Division III team tournament included five rounds and 18 teams.
Four teams participated in a play-in round on May 10. Central Union defeated Frontier League champion Horizon Prep, 10-7, to earn the No. 15 seed while Kearny defeated South Bay League champion San Ysidro, 14-3, to earn the No. 16 seed.
Five East County teams competed in the Division III team tournament. El Capitan received the No. 4 seed while West Hills received the No. 5 seed, Helix Charter received the No. 7 seed, Christian received the No. 10 seed and Granite Hills received the No. 13 seed.
In opening round play on May 11, El Capitan defeated Granite Hills, 14-3, while West Hills defeated 12th-seeded Tri-City Christian by the same score and Christian upset Helix 9-8.
El Capitan eliminated West Hills by a score of 12-5 in the quarterfinals on May 12 while second-seeded Fallbrook eliminated Christian by a score of 13-4.
In semifinals on May 13, the Vaqueros defeated top-seeded University City by default to advance to meet the Warriors in the final.
The tennis championship (of any kind) was the first for the Lakeside school since it opened in 1959 — a timeline of more than 60 years.
Name of the game
In the coed format, the Nos. 1, 2 and 3 boys singles players play one set against the corresponding boys singles player on the other team — that is, No. 1 versus No. 1, No. 2 versus No. 2 and No. 3 versus No. 3.
The same thing occurs for boys doubles and also for girls singles and doubles.
Besides this, there are five mixed doubles teams comprised of one boy and one girl. Each of these mixed doubles teams plays against the corresponding mixed doubles teams on the other team.
Each player is allowed to play up to two different positions in the three categories (singles, doubles and mixed doubles). But they cannot play in all three.
El Capitan's complete coed roster included Zachary Beville, Dylan Jennings, Daniel Kluchar, Joshua Kluchar, Xavier Martinez, Timothy Mehrer, Luke Redman, Emmanuel Rodriguez Fuentes, Brandon Rogers, Trevor Tatman, Abby Burghart, Audrey Cavanaugh, Ashley Feil, Adriana Garcia Felix, Viviana Guevara, Raeann Jessee, Brittany Leyva, Abigail Lopez, Alexis McDaniel, Karely Perez, Megan Zink.
Fallbrook swept the three boys singles matches: Ethan Lenaway defeated Martinez 6-0, Nash Youngren defeated Redman 6-0 and Nolan Smith defeated Beville 6-0.
El Capitan swept the three girls singles matches: McDaniel defeated Alexandra Guadarrama 7-5, Jessee defeated Tracy Lopez 6-1 and Cavanaugh defeated Erin Rowan 6-1.
McDaniel was down 1-5 and came back to beat Guardarrama by winning six consecutive games.
The Vaqueros swept the three boys doubles matches: Rogers/Mehrer defeated the duo of Joseph Tygart/Daniel Winton 6-2, Tatman/Daniel Kluchar defeated the tandem of James Smith/Nolan Sim 6-4, and Rodriguez/Martinez defeated the duo of Julian Cardenas/Angel Leon 6-3.
El Capitan won two of the three girls doubles matches: Feil/Zink defeated Veronica Serrano/Samantha Hanlon 6-2 while Leyva/Perez defeated Lopez/Rowan 7-5. The Fallbrook tandem of Angelina Palmerin/Carly Hawkins prevailed 7-6 over El Cap's Jessee/Burghart.
The Vaqueros won three of the five mixed doubles matches: Zink/Tatman defeated Youngren/Guadarrama 6-2, Feil/Rogers defeated Winton/Hawkins 6-1 and McDaniel/Joshua Kluchar defeated Hanlon/Tygart 7-5.
The Warriors came up victorious in two mixed doubles matches: Palmerin/Lenaway defeated Mehrer/Burghart 6-3 while Smith/Serrano defeated Cavanaugh/Rodriguez 6-2.
"The coed format has been great and I'm sure it could be fun as a permanent thing but I'm not aware if there are any plans to keep it going," said Laub, who has been coaching the Vaqueros since 2017 either as an assistant or head coach (2020 onward).
Laub normally coaches the school's boys team while Luke Slinko coaches the school's girls team.
Slinko played for El Capitan from 1988-1990.
The Vaquero ladies finished runner-up to Patrick Henry in the Division II final in 2018.
"Our school has had several league championship titles over the years but not CIF titles," Slinko said.
Now it has with input from both the boys and girls teams on campus.
Tennis anyone
Grossmont Valley League champion Santana advanced to the Division II semifinals, dropping an 11-6 decision to eventual division champion Vincent Memorial Catholic, the No. 2 seed.
The Sultans, who were seeded third in the field, defeated 14th-seeded Grossmont in the opening round and topped Pacific League champion Classical Academy, 13-4, in the quarterfinals.
Valhalla received the No. 5 team in the Division II team playoffs and dispatched 12th-seeded Point Loma, 11-6, in the opening round before being eliminated by fourth-seeded Mission Hills, 12-5, in the quarterfinals.
Grossmont Hills League champion Steele Canyon received the No. 16 seed in the Division I team tournament and bowed out in the opening round by a score of 12-5 against the combined team from St. Augustine/Our Lady of Peace Academy.
St. Augustine/OLP slipped past third-seeded San Dieguito Academy, 9-8, to win the Division I championship while Vincent Memorial Catholic defeated top-seeded Pacific Ridge, 10-7, to win the Division II title.
Top-seeded Canyon Crest Academy mashed second-seeded Torrey Pines, 14-3, to claim the Open Division championship.