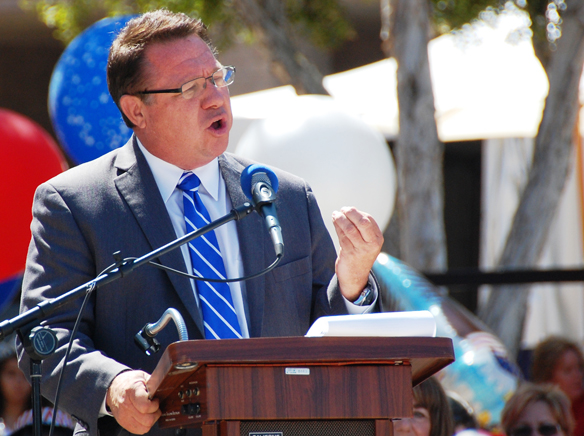 By El Cajon Mayor Bill Wells
For the past several years, our City has been focused on creating a new atmosphere throughout the community for our business community, our residents and our visitors. 2017 saw El Cajon continue to make significant progress towards this goal. New and exciting things are continuing to happen in the City of El Cajon, and more is yet to come.
By El Cajon Mayor Bill Wells
For the past several years, our City has been focused on creating a new atmosphere throughout the community for our business community, our residents and our visitors. 2017 saw El Cajon continue to make significant progress towards this goal. New and exciting things are continuing to happen in the City of El Cajon, and more is yet to come.
The City of El Cajon is taking enormous strides to improve the quality of life and livability for its residents and businesses. The City is now engaged in major economic development efforts, making our City more efficient, increasing the safety of the community, and rebranding El Cajon as a family friendly place. This State of the City will focus on these efforts.
Economic Development Efforts
El Cajon Valley of Cars
The El Cajon Valley of Cars is continuing to expand and has become of one the premier new automobile market areas within San Diego County. Several automobile dealerships are renovating their current location or building new dealerships.
Mercedes-Benz of El Cajon just recently hosted the Grand Opening for their new state-of-the-art, 73,000 square foot sales facility on Marshall Avenue. This beautiful new home for them will help ensure their success in El Cajon for the next generation.
Mercedes Benz follows in the footsteps of the equally spectacular BMW of El Cajon dealership from just a few years earlier that we can report is doing great!
El Cajon Ford, Team Kia, and Honda of El Cajon are all making or have already completed upgrades to their dealerships and we now can report the newest dealerships that will be coming to our City in 2018 – Jaguar and Land Rover, two more truly premier corporate names that have chosen to call El Cajon home!
In Downtown El Cajon:
We are now just weeks away from celebrating the Grand Opening of the new, outstanding Marriott Courtyard coming to downtown El Cajon! (January 25 is the latest target date for the ribbon cutting) It will be the first of its kind in our area and will fulfill a long need in the East County for a great business hotel that will serve families and tourists as well.
Downtown is seeing 48 very high quality new condominium homes at Park Row that are continuing construction and will finish this years, as well as the expected Groundbreaking for the beautiful 70-unit Cornerstone Residential and mixed use complex on Sunshine Avenue, that will focus on veteran's housing.
Last year the City Council also approved an exciting mixed-use development at the site of the former Salvation Army building on Main Street and we hope to see construction of that project commence this coming year.
Development and business
Hilton Hampton Hotel
Following up on our success with attracting a Marriott brand hotel to our City, we will also see in 2018 the Groundbreaking of the new 96-room Hampton Inn by Hilton for a second, high quality hotel, to be located on Fletcher Parkway. This new project will also include a combination of food and retail components to serve our residents and visitors alike.
Business continues to thrive in the City. In recent years –
Fox Shocks has completed a major expansion of its factory in El Cajon and has brought hundreds of new jobs to our City
GKN has signed multi-million dollar deals with Rolls-Royce and the US Air Force, resulting in even more jobs at their facility in El Cajon
Panera Bread, Chipotle, Dunkin Donuts have all opened or are about to open new stores in the City!
In addition, the City is partnering with MTS to create an exciting mixed use development at our major Trolley Station
New residential developments in the City
Along with the housing projects in downtown, El Cajon is experiencing a boom in quality residential development throughout the City unprecedented since the late 1970's. Almost 300 new homes are either under construction or currently being processed for approval in El Cajon.
Making Government Work Efficiently
Business
Project Assistance Center – New Public Works and Community Development Customer Service Initiative that combines all of the City's development departments into a single, streamlined process
Worked with Habitat For Humanity and the Jimmie Johnson Foundation on a new phase of excellent single family homes on Foundation Lane
El Cajon continues to be the only growing city in San Diego without development impact fees, thus enabling us to attract more business and great development to our City.
Residents
New City Website launched this past year!
Makes the City attractive to residents and businesses
Allows business to be carried out in a much more efficient manner through online payments and forms
Has made it easier and quicker for residents to access important information
And, we have now added live streaming of our City Council meetings for our public
Taxpayers
The City of El Cajon Pension Reform was adopted by the City Council in 2013 and we continue to implement this important policy initiative. We have had great success in contracting out numerous former city jobs to the private sector that has sustained services to the public and significant taxpayer savings. We expect to continue this trend in 2018.
Proposition O successes – With the expiration of the half-cent sales tax from Prop O in 2015, the City is in the final stages of completing all promised public safety capital improvements. These improvements have included the new Police Station, new Fire Station on Madison Avenue and upgrades to our headquarters Fire Station 6, and, of course our great new Animal Shelter which had its Groundbreaking in June and is scheduled for its Grand Opening coming this new year! It will be the finest Animal Shelter in the region (opening in the summer of 2018) and something the entire community will be proud of.
District Elections – Last November, El Cajon voters approved Measure S, a City Council led initiative to create District Elections. The process to create four voting districts in the City was successfully completed and our very first district elections will be held this coming year.
Homelessness
As we know, this region and indeed, the entire State of California, has been affected by the significant rise in homelessness. The City of El Cajon has responded in a strong and meaningful manner.
In 2017, the City of El Cajon, has implemented unprecedented strategies to address the growing homelessness in the region.
We are fortunate to have strong community partnerships, especially with the East County Homeless Task Force, the East County Chamber of Commerce, the East County Transitional Living Center, the Salvation Army, Crisis House, and our community churches.
Over the past decade, the City has financially supported the East County Transitional Living Center, Crisis House, Meals on Wheels, and other support organizations to the tune of almost $2 million, an enormous amount for a community of this size.
In addition to this on-going support, earlier this year, the City's launched six programs that aim to reduce the number of individuals who are homeless and to mitigate the negative impacts that homelessness has in our community.
Specifically,
The City funded a Housing Navigator who will help secure permanent housing for homeless individuals.
To help the Housing Navigator secure housing, the City has designated $80,000 to be used as housing assistance.
The City has partnered with the Salvation Army by funding its "A Way Back Home"—a family reunification program.
The City initiated a "Real Change, Not Spare Change" campaign, encouraging residents to not give money to panhandlers, but rather to support organization that provide aid to the homeless.
The City funded the launch of a homeless services phone application that helps connect homeless individuals with services.
The City is offering to shelter the pets of homeless individuals seeking treatment or assistance. These bold actions have drawn attention from those in the region and SANDAG and the San Diego Regional Task Force have recognized El Cajon for its efforts on the Homeless.
Public Safety Improvements
Crime has decreased significantly in the City of El Cajon over the last 5 years. However, we are not resting on our laurels – the City Council has added 5 new police officers and 3 new firefighter positions during that same time period to ensure improved public safety.
Our Police crime lab has now received coveted national accreditation. One of only four in the county to be so certified.
Our Police Officers have greatly strengthened their community outreach efforts during the past year, such as the development of the Homeless Outreach Team and our efforts with our newcomer community.
Our Fire Department has implemented a new Call Triage System with an average 13% decrease in emergency medical responses, freeing those resources up to better protect the community.
And also, has introduced a new First Responder unit, called Squad 6, to significantly augment safety to the community for emergency calls that may not need a full engine or truck company. This new vehicle will be on display just outside the City Council Chambers this afternoon.
Several Safe Routes to School Grants have been obtained to make our City's streets more pedestrian friendly and safer for our children.
We completed a major safety and street improvement project on Greenfield Drive
We have developed over the years one of the most successful and aggressive street paving programs in the region, in which the City Council has invested over $30 million into during the past decade
Our great Police Department has initiated several programs to improve the safety of this City
Crime Free Multi-Housing
Crime Free Hotel-Motel
Expanded Bike Patrol Teams
Outreach to our immigrant community
Homeless Outreach Team
Officers at Parkway Plaza
Citizens Patrol Program
Neighborhood Watch
National Night Out
Community Forums – Pedestrian Safety
Heartland Fire & Rescue continues to educate the community through various citizen engagement programs
Our outstanding CERT program – 3 academies occurred with over 22 graduates in 20161-17
The Department was awarded a Class 1 ISO Rating
Only one of 97 in the Country (out of 48,000 fire departments total), which is in the top .2 percent!
City Ordinances created specifically over the past few years continue to improve the safety and quality of life in this City
Deemed Approved Ordinance
Second Hand Dealers, Pawn Shops, and Money Lenders Ordinance
Hookah and Vaping Ordinance
Updating City Code to maintain a ban on Marijuana dispensaries, cultivation, and deliveries within the City.
Successfully supported new State Law allows for more local control
Rebranding El Cajon as a Family Friendly Place
The public events held in the City have continued to expand, hosting tens of thousands of people each year!
Currently the City has 5 major events that are geared towards brining families and the community together.
Saint Patrick's Day Run-EC Half Marathon (March)
America on Main Street (May)
Fourth of July Picnic and Firework Show (July)
Hauntfest on Main (October) – over 40,000 attendees!
Mother Goose Parade (November) – the largest crowd this year in memory
The City also has weekly events going on in Downtown El Cajon – put on the by Downtown Business Partners
Car Shows
Dinner and A Concert Series
Farmer's Markets
A new event added just recently was the "Holiday Lights on Main" event, which is also put on by the Downtown Business Partners.
Reopening of ECPAC – Live Nation
Finally, perhaps nothing more exciting has occurred recently in El Cajon than the announced agreement with Live Nation to manage and market the East County Performing Arts Center. It is appropriate that final approval of this agreement will be heard by the City Council later this afternoon. Live Nation is the premier live entertainment producer in the world and we are incredibly excited to have this great organization partner with El Cajon to bring top quality entertainment and events to our downtown.
All of these items together show that El Cajon is on the move and it is clearly the best place for people to live, work, and play in all of East County. I am very proud of all that the City has accomplished and I am looking forward to the very bright future that is ahead.
With all the positive things that have occurred over the past several years, I can truly say that for the City of El Cajon – the best is yet to come!