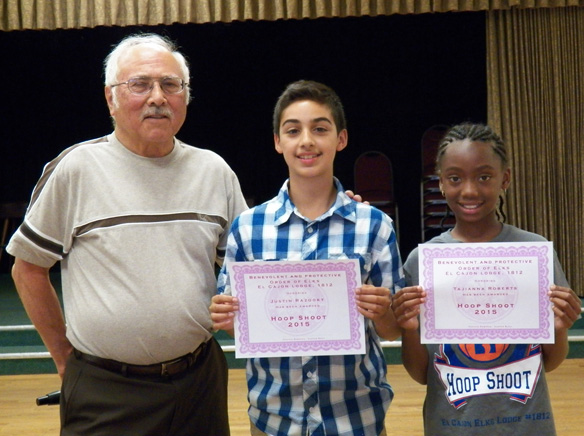 Among today's youth are tomorrow's leaders. Acknowledgement of this truth was central throughout the ceremonies on May 1, as the El Cajon Elks Lodge honored exemplary East County young people at the organization's annual Youth Awards Scholarship Banquet.
Among today's youth are tomorrow's leaders. Acknowledgement of this truth was central throughout the ceremonies on May 1, as the El Cajon Elks Lodge honored exemplary East County young people at the organization's annual Youth Awards Scholarship Banquet.
The focus from the beginning was on the future and on encouraging character development and leadership accomplishments for the next generation, with the opening prayer's mention of "honoring our children because they are our future leaders," and master of ceremonies Don Sauter, a past exalted ruler of the Elks Lodge, noting in welcoming remarks that Elks raise more money for children and veterans than other, similar volunteer service organizations.
Volunteer servers assisted diners at tables and donated the gratuities they earned to future youth activities. Then, the awards were announced and presented. Emcee Sauter revealed to the audience that he had joined the Elks 20 years ago for a specific reason, said, "The main thing is, I wanted to help kids."
The awards given spanned the gamut of accomplishments from sports excellence to civic patriotism and academic achievement. Elks first presented the Hoop Shoot awards during 1972-1973 to boys. Girls were included in the category the year after. The El Cajon Elks this year had young Tajianna Roberts and 13-year-old Justin Razooky as their on-hand awardees. Razooky has racked up an impressive five trophies to date in this basketball-sporting category.
Awards in the Americanism category were chosen for two age levels. Division 1 was for 5th and 6th graders. Division 2 was for competitive essayists in 7th and 8th grades. Receiving honors at the ceremonial dinner presentation were: Aryanna Hoefler, Division 1, 4th place; Owen Locke, Division 1, 2nd place; Vito Russo, Division 2, 3rd place; and Charlyne Rebeiro, Division 2, 1st place.
Elks' award presenter in the Americanism essay category was current Exalted Ruler Patricia Hamilton. She said that the judges for this year's competition said they were "very touched by the quality of essays" as well as by the high level of community participation. Essayists in the contest represented 11 schools, and more than 150 young writers put together their thoughts on the assigned topic, "What the Pledge of Allegiance Means to Me."
Similarly, the Drug Awareness Poster and Essay competition was a big draw for 2014-2015. A total of 105 posters and 65 essays were entered in the category for middle schoolers. Winner present to receive her winning essay award was Kayleen Zungo, of the Cajon Valley School District. Elks' awards presenter described the contest as "a lot of fun," with posters chosen for awards based on number of pennies laid down on posters.
The Elks have been selecting winning Teenagers of the Month on a rotating basis by East County high school. Emcee Sauter revealed the experience had been "really a challenge selecting the Teenager of the Month" from among applicants at each school. Recent winners included Carol Owen, Samuel Alper, Lucy Laube, Rita Tran, Spencer Crouder, Michael Starrett, Alex Torres and Elayna Cary. The awardees receiving the Brian Bowers Scholarship for Teenager of the Year were Nagham Adeeb and Brian Yeager.
Featured speaker of the evening was Jim Cunningham, an Elk who is also an award-winning author and novelist. Cunningham began his working life at the age of 12. He served in the Marine Corps, worked at the El Cajon Police Department in a variety of assignments and law enforcement roles, and then rounded out his career with six years at the El Cajon Mortuary. He delivered heartfelt remarks to the honored youth and their parents.
"Success is built on a solid foundation of mistakes," Cunning ham said. He informed the youngsters that he could not share everything he had learned, because that would take the 60 years he had needed to acquire his own knowledge. "But listening to your teachers and parents will help you avoid mistakes. Remember that leaders have advisers that are smarter than they are."
And he counseled the honored youths to keep in mind how central good communication is to success in life. He observed that he believes computers and technology have actually impeded communication by replacing direct person-to-person relationships. He advised the audience members to learn the skills of good communication, including speaking, writing, listening, feedback and body language. He asked these youthful leaders-in-training to make a special effort to reach out to their isolated peers who are "not in the mainstream."
"You can make a huge difference in someone's life. Being kind costs you nothing," he said. "I thought I could change the world. I eventually realized what you can do is change one life by helping one person at a time."
Nationwide the Hoop Shoot is the largest co-educational sports program in the country, with over three million children participating this past year. Hoop Shoot scholarships totaled $11.8 million last year. Annually the Elks National Foundation provides more than $2.3 million in scholarships. The organization's motto is "Elks Care, Elks Share."
The El Cajon Elks Lodge #1812, located at 1400 E. Washington Avenue, was established 1950 as a "Benevolent and Protective Order" for fellowship and charitable volunteering. More information on this East County fraternal organization is available by calling (619) 444-1812 or by reviewing the group's website at www.elcajonelks.net.