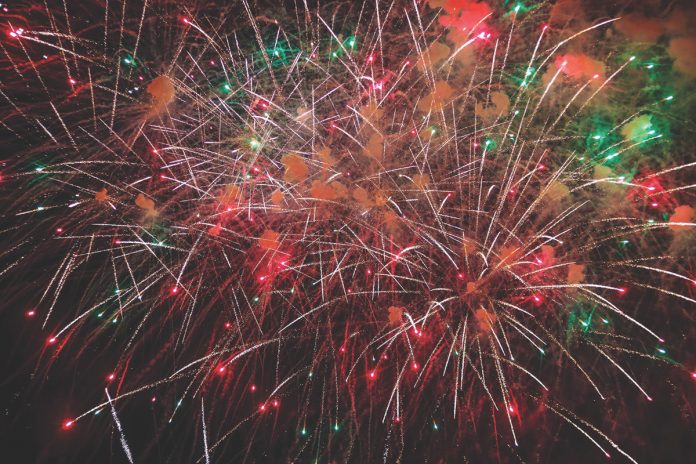 Both the cities of El Cajon and Santee are moving forward with their annual Fourth of July fireworks with restrictions due to the COVID-19 requirements.
El Cajon
The city of El Cajon is hosting its annual fireworks show on July 4 at 9 p.m. at Kennedy Park. Due to the current physical distancing restrictions in place, the park will remain closed and no public gatherings are allowed at or near the park area.
El Cajon City Manager Graham Mitchel said that the city is proud of its long tradition of its firework show at Kennedy Park and recognized that this year, due to the state and county's restriction, the city recognized that the event needed to be modified due to current restrictions on social gatherings and social distancing.
"There will be no gathering at Kennedy Park, including no community celebration held throughout the day," said Graham in an email. "In fact, the park will be closed to the public the entire day and neighboring streets will be blocked off later in the day. There will be no public gatherings allowed at or near the park area. We encourage all residents to stay in their neighborhoods to watch the fireworks, the best they can. We know that this is not perfect, but we feel the birth of our nation deserves some sort of celebration."
Santee
In the city of Santee, immediately following a virtual concert that begins at 7:15 pm., Santee will launch two simultaneous live fireworks at 9 p.m., with one show of each side of the city at Town Center Community Park East and West Hills Park so that residents can view the aerial displays from their homes and yards. The fireworks soundtrack will be simulcast on KSON at 103.7 FM. Both parks will be closed to the public.
The at-home celebration "The 80z All Stars" is a virtual concert, including a patriotic flag ceremony and more. For the virtual celebration visit https://bit.ly/Santee4thofJulyconcert to register.
Santee Special Events Supervisor John Shellhammer said that the "80z All Stars" virtual concert "will rock the Fourth of July" in a press release.
"You'll get to enjoy their high-energy show from the comfort of your own home," said Shellhammer. "Fireworks are such an iconic part of this holiday and we are excited to be able to provide them to our community."
In addition to the concert and fireworks displays, the city of Santee is hosting a decorating contest to see who has the best of Fourth of July decorations in their home or yard. Residents can submit their photos to SpecialEvents@CityOfSanteeCA.gov. The winner of this event will receive a reserved canopy at the next in-person Santee Salutes event.
For more information about Santee's Fourth of July events, visit www.SanteeSalutes.com.