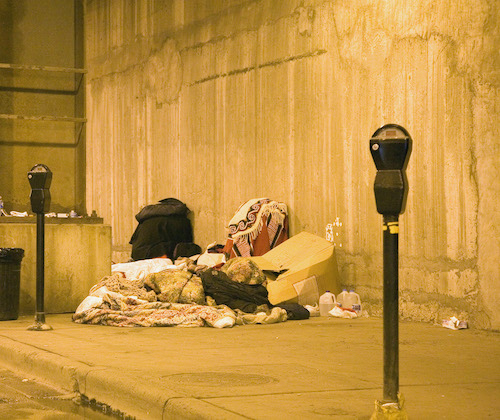 Representatives from the San Diego County District Attorney's office, employees of the county's Department of Homeless Solutions and Equitable Communities and Live Well Mobile Office, and representatives from partner agencies gathered at an East County homeless resource fair held March 12 at East County Transitional Living Center where information on support services for homeless East County residents was available in one accessible setting.
ECTLC Director of Family Services James Merino said people who attended were told the facility is "like an embassy," that nobody was going to arrest them on site and the day was one where everyone could get the help they needed.
District 2 Supervisor Joel Anderson, whose district includes more unincorporated county miles than any of the four other districts, stopped by the event and discussed four approaches he believes will reduce homelessness across East County.
Anderson recapped a Feb. 8 county Board of Supervisors decision to create a pilot rent subsidy program for older adults who are at risk of homelessness. He, along with District 3 Supervisor Terra Lawson-Remer worked together on the plan to supplement senior citizens' income— the fastest growing homeless cohort, according to Anderson— and keep them housed.
"Besides helping someone's grandma or grandpa, it just makes sense. Most of the people at risk only need about $300- 500 more each month to get by. If the person hits the streets it is going to cost more," Anderson said.
Anderson said he is also trying to push for small homes and safe overnight parking areas.
"Safe parking areas work. Many people in East County who are homeless have jobs, they just have no place to live. We're trying to dissect the problem— there is no one-size-fits-all solution," Anderson said.
A third initiative, he said, involves reaching out to specifically cut down on first time homelessness.
"We have teams on Magnolia trying to get people over here to help them with services. We also have hotel vouchers available to help get them off the street," Anderson said, referring to one of the largest growing homeless encampments in East County.
Merino confirmed the El Cajon Police Department sent their Homeless Outreach Team in an effort to draw people into the event.
"HOT teams know there are people with a high level of need and everyone in HOT has a heart for outreach. The approach is changing from moving people out of sight to providing resources and it's very effective," Merino said.
Finally, Anderson said, the county is working to develop more permanent solutions with services and shelters in different neighborhoods. For years, Anderson said, El Cajon has been "going it alone" but without a shelter in different areas, help is isolated and possibly inaccessible.
"We want to address the issue but we're somewhat handcuffed if we can't place a shelter in, say, Lakeside," Anderson said.
Ideally, he would like to see them assembled quarterly.
"I understand the county is planning on doing events like these quarterly, which helps with consistency and helps us organize more each time. Also, having them in South Bay, then North county and so on, that helps people from all over but we can also connect people with shelters throughout the county, it is more helpful that way," Merino said.
This iteration had two sections: agencies on hand outside the facility to help with specific needs and potentially help someone get off the streets, and a room inside the facility with representatives from San Diego City Attorney's office, the County District Attorney and the department of Child Support Services where individuals could begin clearing up lingering legal matters.
Outside, People Assisting the Homeless, a county-wide agency that provides homeless outreach, housing navigation, interim housing, rapid rehousing, and permanent supportive housing was on hand to direct people in finding shelter, as well as groups like the Center for Employment Opportunities.
CEO provides people returning from prison immediate paid employment, skills training, and ongoing career support in an effort to reduce recidivism and increase employment.
Homeless Outreach Specialist Heather Sandy handed out bags from Crisis House with a day's supply of food and accompanying information on how the agency can help people sort out their lives. The organization, Sandy said, primarily has two divisions: case workers who deal with domestic violence, and an outreach team that goes out with hygiene items and food as a first step in guiding someone toward permanent help.
"I think it is the best opportunity to be out in the field, not behind a desk with a pile of MediCal paperwork," Sandy said.
Obtaining trust, she said, is key to building a trusting relationship so outreach specialists can further help someone with their particular needs.
Meanwhile, inside the facility, county and city representatives helped people clear legal hurdles. Reentry Liaison Robert Bird, who works with the District Attorney's office, said the outreach was an approachable way for people to address outstanding legal issues, but also a timesaver for everyone involved.
"I think one of the most positive things was being able to offer a one-stop legal shop and remove a lot of barriers that homeless families and individuals have to face, especially for those who don't know how to navigate the system. For someone who is overwhelmed or suffering from depression— they could move forward in one day with something that might have taken a month," Merino said, and having Child Support Services on hand alongside the Department of Motor Vehicles was especially helpful.
"Everyone needs an identification card in life but a lot of times, when people are displaced, they lose their documents. Yet, if people owe child support, the DMV won't give them an ID card. It's a huge hurdle to overcome and moving those barriers was huge," Merino said.