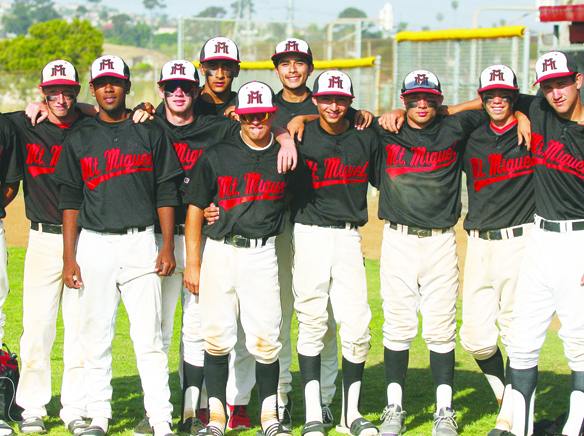 Baseball season should feature competitive races for both Grossmont Hills, Grossmont Valley league titles
The Grossmont Foothillers were a surprise Grossmont Hills League champion last year. Both Granite Hills and Grossmont will be fighting for the top spot this year. All of the squads in the league should be equally balanced and quite competitive this season.
Baseball season should feature competitive races for both Grossmont Hills, Grossmont Valley league titles
The Grossmont Foothillers were a surprise Grossmont Hills League champion last year. Both Granite Hills and Grossmont will be fighting for the top spot this year. All of the squads in the league should be equally balanced and quite competitive this season.
Grossmont and Granite Hills posted 11-4 records at the end of 2013 in league play, with the Hillers having a slight overall edge, finishing 27-8—two games better than the Eagles. Look for a complete turnaround from last year, as the Steele Canyon Cougars will join the mix in the quest to capture the Grossmont Hills title.
Cougar coach Dan Nerat will be taking over the reigns, with quite a resume, including a few years in the majors as an Oakland Athletic. The Cougars have almost the entire team returning as all-league star Tanner Perry will lead the way both offensively and defensively.
El Capitan, Mount Miguel and Santana all competed last year as El Cap edged out the competition to win the Grossmont Valley League by a game. All three of those teams should compete this year, and the only rebuilding team this year, as usual, will be El Cajon Valley.
El Cap under second year skipper Jordan Abruzzo should be a threat once again this year, almost as if the Vickery years have continued without his actual presence in the dugout. Mount Miguel, Santana and Monte Vista should also be above 500 this year.
Grossmont Hills League
Granite Hills Eagles
Although the Eagles don't have the duel power punch of the Rose brothers, as Josh Rose, who was one of the key outfielders, went on to the University of Utah on a baseball scholarship, Jayson Rose will be joining him in 2015, at Utah as well. Granite Hills should still grab the league title this year.
Returning standouts include pitchers Daniel Vasquez, Jordan Verdan, Robery Bosted and Justin Mitchell. One of the newcomers who should flourish at shortstop is Michael Diffleys.
"Losing Shawn Walker and Noah Cummings were huge losses, however, we have 18 juniors to start the season with," GHHS coach James Davis said. "With five Division 1 teams and an Open Division team, this should be once again a very competitive league."
The Eagles look to rebound this year after coming up one game short of winning it all. The Eagles will open up the season against a well-coached and highly competitive Rancho Buena Vista team.
Grossmont Foothillers
The defending league champions look to uphold their crown and win the league title yet again. Coach Chad Williams is in his second year as the Hiller skipper, and really helped turn this club around after a horrendous season the year before.
The Hillers have four returning high-octane seniors, including right-handed pitchers Peyton Lindsay, J.T. Barnes and Brandon Weed, who also plays third base.
Grossmont finished last season with an impressive 26-8 overall and posted an 11-4 in league, so look for the Hillers to once again tough to beat.
Steele Canyon Cougars
The Cougars were not very competitive last year as they finished 12-17 overall, 4-11 in league. There is a new sheriff in town, however. First-year skipper and former Oakland Athletic Dan Nerat takes over at the helm. According to Nerat, the 14 returning seniors have improved their game in every aspect.
Shortstop Tanner Perry leads the squad and was selected first-team All-East County last year, and looks to lead the team this year while only a junior.
"We have played well in winter ball as we held our own against Cathedral and Vista," Nerat said. "This group of kids are coachable and eager to improve."
Look for the Cougars to steal quite a few sacks this year as they are a speedy group as well.
Valhalla Norsemen
The Norsemen are in a rebuilding process in all of their athletics. This ball club will compete, however, they are in a talent filled league which makes it tough. The bulk of the team's talent are all seniors, including utility man Jordan Qsar, lefty Mitch Combs and arguably the best catcher behind the dish, Chris Hudgins.
Qsar has been a .300 hitter and last year posted 21 RBI and three home runs. LHP Mitch Coombs will add to a great pitching staff with a 2.59 ERA. The Norseman should be able to compete, especially with an effective pitching staff.
Helix Highlanders
The Highlanders finished last season at .500 at 16-16 overall and 8-7 in league. Helix finished just above Valhalla. Super star first baseman Jorge Garcia (five game-winning RBI) and outfielder-LHP Nico Alcoser will both assist the Scotties' hope of battling for the league title.
Garcia, who also plays for a travel ball team, the San Diego GameFace, was named to the 2013 Power Showcase All-America Team.
West Hills Wolfpack
Just as last year, this will be the second year in a row the Wolfpack introduce a new coach. Mike Harwell will be taking over the managerial duties. Harwell, a San Diego native, has played baseball for 25 years, and currently plays for several adult league teams.
Key players returning for West Hills include senior centerfielder Chase Parsons and senior right-handed pitcher Will Bennett. The Pack looks to improve from the 14-15 overall and 4-11 record in league that left them in the cellar last year.
Grossmont Valley League
Mount Miguel Matadors
Senior pitcher/outfielder Brad Moreno will no doubt continue where he left off last year by leading his team in multiple categories —most hits at 53, batting at .486, just one point behind the league leader, and in second with an astounding 83 strikeouts. Moreno's extreme work ethic should help the Matadors win the league title.
"We have the pitching staff, the offense and the defense, the full package to win the league title," Moreno said.
Moreno is eyeing a possible future at at San Diego State at the conclusion of this season.
El Capitan Vaqueros
Coach Jordan Abruzzo did a fine job with this young group last year and, after one successful year under his belt, the Vaqueros should only get better. Three key returning players include junior first baseman Travis Baker, who batted .339 with three home runs, senior Austin Curo-Ruis, who is volatile at the third base and outfield positions.
Sophomore Tristan Duncan also brings key utility greatness as a triple-threat. Duncan plays third base, shortstop and right-handed pitcher.
With a great combination of timely hitting and a solid pitching staff, the Vaqueros could tame yet another league title.
Monte Vista Monarchs
Although they have talent, it will be tough for the Monarchs to outlast El Capitan and Mount Miguel. The Monarchs should finish at least .500. Monte Vista finished 8-19 overall and 5-7 in league play last year.
The cornerstone of this squad is senior left-handed pitcher/outfielder Reilly Diaz. Junior third baseman/outfielder/right-handed pitcher Austin Caole hit .315 and had 15 RBI last season. Infielder Paul O'connor added to the offense and will continue to do so in 2014. He finished a spectacular 2013 for the Monarchs batting .465, with six doubles and a pair of long balls. The Monarchs might just surprise the skeptics.
Santana Sultans
The Sultans should also be in the mix for the league title as they have three returning seniors. Leading the way is shortstop Tommy Logan, who should once again pace the team's offense this year after batting. 388 with 26 hits last season.
Two honorable mentions who will assist Logan are senior right-handed pitcher Alan Strong (5-6-3 last year with a 2.05 ERA and 74 strikeouts) and senior left-handed pitcher Ryan Browning (3-4-1with and an impressive 2.57 ERA).
The Sultans finished 2013 with a 14-14 overall record and 8-4 league record, just one game shy of winning league behind El Capitan. Look for Santana to make a move this season.
El Cajon Valley
The Braves will once again be in the rebuilding process after finishing an ugly 2013 season 2-19) overall and 0-12 in league play. This should be a long season for the Braves, who may win just three or four games this season and just one or two in league play.
Central League
Christian
Veteran coach Mike Mitchell, who boasts a career record of 404-254-2, has his Patriots poised as favorites to win the league title. This a team that lost only three seniors from last year's 23-12 team.
Outfielder Brandon Tardiff, who is committed to Biola University, returns after hitting .369 a year ago. Nick Jarvis is the ace of the pitching staff as he posted a 6-0 record with one save and a 2.63 ERA last season.
Citrus League
Foothills Christian
Versatile junior Daniel Luckett, who plays first base, catcher and right-handed pitcher, is coming off a season where he batted .487 for the Knights (17-11) a year ago. Ryan Quinn, who also is a versatile member of the squad, batted .470 last year as a sophomore.
The Knights should challenge for the Citrus League title.