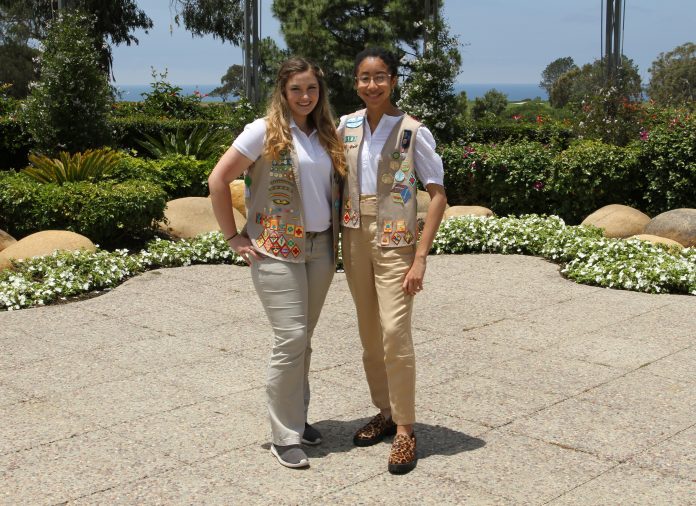 Giselle Littleton and Sarah Uran of El Cajon and Alpine resident Riley Bromma-Diplock have earned the Girl Scout Gold Award. They were among 61 young women honored by Girl Scouts San Diego during a recent ceremony at the Hilton La Jolla Torrey Pines.
Achieving the award is the pinnacle of the Girl Scout leadership experience. To earn it, Girl Scouts change the world by creating sustainable solutions that address society's greatest challenges. 
For her Gold Award project, Littleton educated the community about homeless women's need for brassieres, a problem that contributes to a lack of comfort and confidence within that population. She partnered with a nonprofit organization called Think Dignity and a local store to create a program through which customers donate bras. Her efforts helped meet the identified need, and also heightened awareness about the overall health and wellness challenges faced by homeless women.
A Girl Scout for seven years, Littleton was a member of Troop 6180. She previously earned the Silver Award, the highest accolade for Girl Scout Cadettes (6th-8th graders). She graduated from Valhalla High School in 2018 and now attends UCLA as a communications major with a minor in digital humanities and music industry.
Uran developed a program at the Water Conservation Garden to introduce elementary school children to nearly 60 local endangered species and how to protect them. She also taught participants about native plants they can grow at home and the importance of recycling and conservation. Uran has been in Girl Scouts since kindergarten as a member of Troop 6388, led by her mother Rhonda Uran. Named an Emerging Leader Girl Scout of 2018 and 2019, Sarah Uran participated in Girl Scouts' Cool Women events.
Her extracurricular activities include photography and volunteering for the San Diego Zoo. She graduated from Grossmont Middle College High School this year and plans to continue her studies at Grossmont College before transferring to San Diego State University to earn a degree in public administration with a minor in leadership.
Bromma-Diplock established a club called "Dance Included" for all students, including those with special needs, a population often directed to separate programs. In addition, she conducted outreach in the community to address misunderstandings about youth with special needs and help change people's perceptions. To encourage others to create programs that promote inclusion, she also created a website and blog.
Bromma-Diplock joined Girl Scouts as a Brownie in Troop 6226. She previously earned the Bronze and Silver Awards as a Girl Scout Junior and Cadette, respectively. The Alpine resident, who was in the top five percent of her class, graduated with honors from Steele Canyon High School this spring, and has been accepted into the University of California, Santa Barbara. She aspires to become a physical therapist.
Hundreds of family members, friends, community leaders and Girl Scout volunteers attended Girl Scouts San Diego's Gold Award event.
The keynote speaker was Coreen Petti, associate vice president of advancement marketing and strategic partnerships at the University of San Diego, and board chair emeritus of Our Lady of Peace Academy. She is a Gold Award Girl Scout, a Girl Scouts San Diego Cool Woman of 2019, a former troop leader, and member of a multi-generational Girl Scout family. 
"Gold Award Girl Scouts change the world for the better, and change it for good," said Girl Scouts San Diego CEO Carol M. Dedrich. "Our 2019 honorees embody everything this achievement stands for." 
The Gold Award enables young women to distinguish themselves in the college admissions process, earn college scholarships, and enlisting in the military at a higher pay grade. Gold Award Girl Scouts are an elite group of individuals, and many have gone on to become change-makers and prominent leaders in their communities.  
Girl Scouts is the world's best leadership development organization for girls.
Through programs focused on the outdoors, STEM, life skills, outdoor adventure and entrepreneurship, Girl Scouts prepares girls for a lifetime of leadership. All girls in grades K-12 and adult volunteers are welcome join any time during the year.
For details, contact Ana Luisa Ponce, 619-610-0715, or aponce@sdgirlscouts.org, or visit sdgirlscouts.org.