The San Diego Section's top high school divers gathered last weekend at Granite Hills High School to determine place-finishes in the Division I and Division II finals.
The competition field included 37 divers between the two divisions, which are based on school enrollment size.
East County, which is one of the hotbeds for the sport locally, was well represented.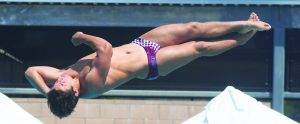 El Capitan senior Isaac Liddle finished third in the Division II boys field while teammate Filip Dominique finished fifth.
Santana freshman Riley Goar placed sixth in the Division II girls field.
Goar won the girls championship at this year's Grossmont Valley League finals while Liddle was the boys champion.
"My senior year, it felt really good," Liddle said. "A good way to go out."
"It feels pretty amazing to place at CIF my first year," Goar said.
Liddle finished ahead of Dominique at the league finals while Goar out-pointed El Capitan's Marina Rose, who finished undefeated in dual meet competition.
"I just wish we (Liddle and Dominique) could have placed closer on the podium," said Liddle, who competed at the 2019 CIF diving finals. "I want to credit him with pushing me on the board and pushing myself."
Grossmont Hills League champion Kaila Getch, a sophomore from Grossmont High School, finished third in the Division I girls field with 281.90 points — higher than the 274.4 point total she turned in to win the league title.
Steele Canyon senior Ty Hunt led East County divers with a third-place finish in the Division I boys finals with a score of 231.55 points. Cougar junior Samuel Mascari followed on his heels in fourth place with a score of 227.30 points.
The preceding week, Mascari had placed second at the Grossmont Hills League finals with 231.75 points, while Hunt followed with 222.7 points in third place.
"Today was my day," Hunt said. "I had never beaten my teammate Cole Stock (reigning Grossmont Hills League campion) before. To get third in CIF is amazing."
"I expected to place at least top five," Mascari said. "It was good competition. I was trying to focus on myself. To place fourth was empowering. Now I want to come back and win it. I have higher expectations for myself next year."
San Pasqual senior Jacob Rewa, a state qualifier in 2019, won the Division I boys title with 281.95 points.
San Ysidro senior Eva Reyes set a new section record for six dives with 347.20 points to win the Division I girls individual championship.
The top six divers were recognized in the post-meet awards program.
Valhalla High School junior Jordan Alstad, who turned in an impressive performance, finished seventh in the highly competitive Division I girls field with 254.45 points. She had placed runner-up to Getch at the league finals with 249.20 points.
Helix Charter senior Avery Baker placed seventh in the Division I boys field with 205.65 points, followed by classmate Stone Eastman in eighth place with 179.85 points.
Baker and Eastman were unable to duplicate the success they had the previous week at the Grossmont Hills League finals when Bakers scored 221.45 points and Eastman scored 195.75 points.
Diving depends on many factors, including the weather, though last Saturday's CIF finals were held under warm, sunny conditions.
Steele Canyon's Stock, a senior, won the Grossmont Hills  League boys dive title with 254.90 points but scored just 176.40 points last weekend to finish ninth in the 10-deep field.
With the 3-4-9 finish Steele Canyon won the Division I boys team diving competition with 27 points to place ahead of runner-up San Pasqual (16 points). Torrey Pines and Poway tied for third place with 13 points while Helix finished in fifth place with 12 points. Fallbrook finished sixth with nine points.
Westview won the Division I girls team title with 17 points.
"It was a great end to the season," Steele Canyon dive coach Tori Denlinger said. "No one knew for sure that it would happen. Everyone had fun. We had not practiced since league finals. It was a great experience."
Section co-tournament director Brian Wilbur, who serves as the Grossmont Conference president, lauded the efforts of the divers in attendance.
"I think diving is a small community, but we have some national-caliber kids here," Wilbur said.
"We're excited to have it continue."
"It turned out to be an excellent weekend," Granite Hills dive coach Ron Ortiz added. "Having swimming and diving together on the same day was the way to go. It was exciting."