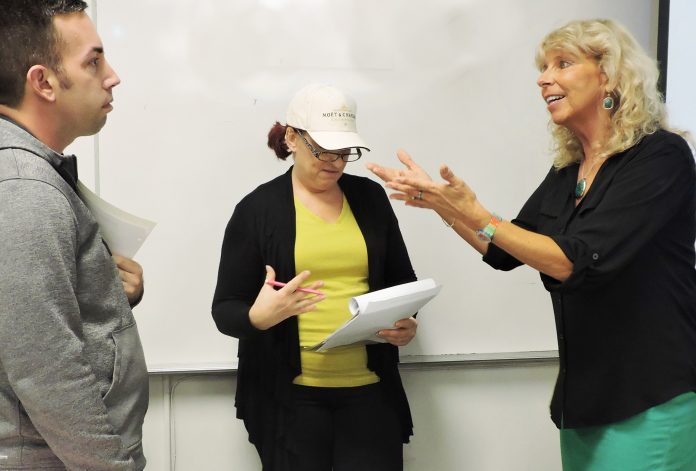 Three instructors from Grossmont and Cuyamaca colleges and an administrator from the East
County community college district are recipients of a national award recognizing community college teaching and leadership.
Three instructors from Grossmont and Cuyamaca colleges and an administrator from the East
County community college district are recipients of a national award recognizing community college teaching and leadership.
Biology professor Michael Golden and German instructor Astrid Ronke of Grossmont College; math department chair Tammi Marshall of Cuyamaca College, and Associate Vice Chancellor Chris Tarman with the district office will be presented the John and Suanne Roueche Excellence Awards March 21 at the Innovations 2018 conference in National Harbor, Maryland.
The award is from the League for Innovation in the Community College, a consortium of nearly 500 community colleges and their districts worldwide.
Tammi Marshall
Cuyamaca College math department chair Tammi Marshall, who began teaching at the Rancho San Diego college more than 20 years ago, understands the trepidation many students feel toward math. She said she is still prone to occasional bouts of math anxiety and struggles with a subject that never came as second nature, even when she previously aspired to become an aerospace engineer.
While working on her doctoral dissertation in 2008, Marshall became interested in exploring why so many community college students sent through the usual remedial math pipeline were failing, with only four percent advancing to transfer-level math. She and other Cuyamaca College math faculty decided to tackle the problem in 2010, and have since set many remedial students on an accelerated path to successfully complete college-level math. Their efforts, which resulted in a seven-fold increase in student completion rates for transfer-level math courses and closed equity gaps between and white and minority students, have drawn national recognition.
"A belief in student capacity is imperative and empowering, and has transformed me as an educator," Marshall said.
Michael Golden
A biology teacher at the college since 1993, Michael Golden's contributions to Grossmont College have been many. He taught the college's first online course in 2000 and introduced the Bridges to the Future program, a partnership with San Diego State University to increase the number of minorities transferring to four-year colleges to study biology.
Golden said his working-class background and his own discovery of the promise of higher education through community college have engendered a special relationship with his students.
"As an underprepared, working-class student out of high school, I wasn't really ready for higher education," said Golden, who went on to earn his bachelor's and master's from San Francisco State University. "Laney College in Oakland was the place I discovered I could actually be successful in school. I was so impressed by the support I received from all of my teachers that I thought, that's what I want to be, a community college instructor."
Astrid Ronke
The Berlin native, an adjunct instructor of German at Grossmont College since 2002, also incorporates drama and music in her classroom. Her innovative approach led to her being selected as the adjunct recipient of the 2017-18 Distinguished Faculty Award. Ronke, who has a doctorate in German as a foreign language from Technical University of Berlin, established a four-week German immersion and scholarship program in her native country for Grossmont College students.
Christopher Tarman
As the associate vice chancellor of research, planning and technology at the college district, Christopher Tarman's duties are too many to list.
With a bachelor's from California Polytechnic State University, San Luis Obispo, a master's from the University of Delaware and as a doctoral candidate at UCLA – all in the field of political science – Tarman had aspirations of becoming a university professor and has held part-time teaching positions at CSU Fullerton and Long Beach; the University of Nevada, Las Vegas and Palomar College. But family obligations intervened and in 2004, he began a new career as a research analyst in the private sector, collecting and analyzing data for school districts, cities, government agencies and private corporations. In 2009, he began a three-year stint as a research and planning analyst at Irvine Valley College.
"I like that I head departments at this college district that have tangible impacts and I find satisfaction in being at the center of helping to develop a well-implemented strategic plan with strong focus on student success," he said.
Marketing and Communications
Phone 619-644-7842
www.gcccd.edu