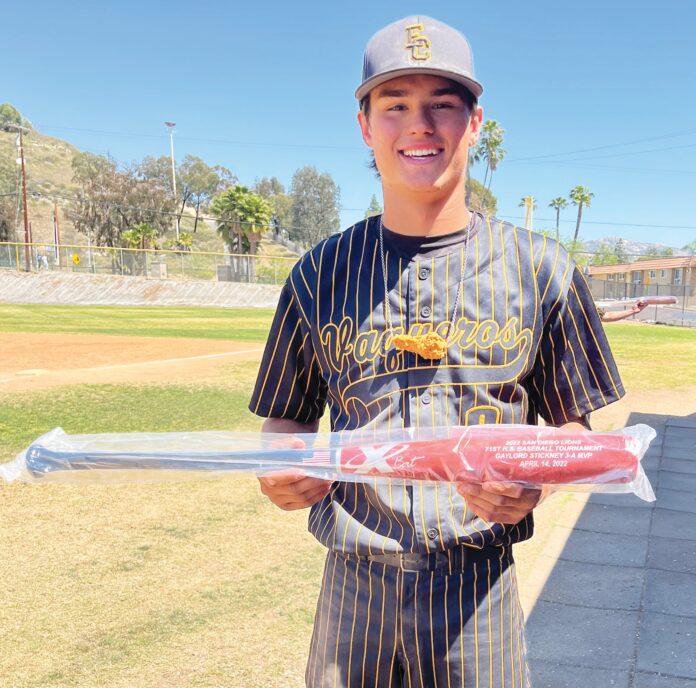 The 71st Lions Baseball Tournament wrapped up its annual four-day stay in San Diego County April 11-14 with five East County teams advancing to the championship round in their respective divisions.
In finals on April 14: Helix Charter hosted Granite Hills in an Open Section A Division title clash while Santana hosted El Camino Real in an Open Section B matchup.
West Hills hosted Mission Vista in a Division 4-A title game while El Capitan hosted Alpha Charter in a 3-A division final.
Granite Hills doubled up Helix by a score of 4-2 to win the Open Section A title while Santana edged El Camino Real by a score of 6-5 to come out on top to win the Open Section B championship.
Make no mistake, winning a Lions tournament division championship is no easy task with four games played in as many games.
Teams will find their pitching stretched and every run counts.
The Granite Hills duo of senior Ethan McNish-Heider and freshman Brenden Lewis combined for nine strikeouts. McNish-Heider struck out four batters in his five innings of work on the mound while Lewis pitched two shutout innings with five strikeouts.
Seniors Isaac Cota and Leyton Wirschem both pitched three innings for Helix.
The Eagles topped the Highlanders with an early rush on the scoreboard.
Granite Hills went up 3-1 in the first inning. Lewis doubled, then came around on a ball hit to the right side by junior Camden Sos. Senior Spencer Davis singled, then senior Tanner Vielguth doubled to score two more runs. Junior James Whitman and senior Wyatt Laub plated Helix's opening run on a pair of doubles.
The Eagles (15-3) scratched across an unearned run in the second inning and Whitman later hit a solo home run in the third inning to keep the score tight.
The Scotties saw their record dip to 8-8. Both teams finished 2-1 in pool play.
The Eagles opened the tourney with a 5-1 win over Sage Creek on April 11, then dropped a 3-1 decision to Torrey Pines the following day. Granite Hills slammed Elk Grove, 12-2, on April 13 to advance to the division final.
Davis collected three RBI in the win over Elk Grove while Sos had two doubles and two RBI to brace the Eagles' 16-hit attack.
Six players were each credited with one RBI: Lewis, junior Jacob Embleton, senior Cody Macias, Vielguth, senior Grant MacArthur and McNish-Heider.
Junior Nico Tomasello pitched 5.1 innings while allowing 10 hits and two earned runs, striking out six batters, while Lewis pitched two-thirds of an inning, striking out both Thundering Herd batters he faced.
Helix finished 2-1 in pool play with a 2-0 win over Rancho Bernardo, a 4-3 loss in eight innings to Cathedral Catholic and a 9-8 win over Carlsbad.
Whitman had one RBI in the loss to Cathedral Catholic while Laub and fellow seniors Benjamin Haar and Cameron Tarling all scored one run.
The Highlanders overcame an early 3-0 deficit in the ensuing game against Carlsbad to tie the game in the bottom of the second inning and later take a 7-5 lead in the bottom of the fifth inning.
The Scotties added a pair of runs in the bottom of the sixth inning to lead 9-7 before the Lancers scored once more in the top of the seventh frame.
Senior Trevor Young keyed Helix with three RBI in the win while senior Demarae Woods and Whitman (four hits, two doubles) both drove in two runs. Tarling had three hits and one RBI.
Laub hurled 5.2 innings with nine hits allowed and five earned runs while striking out five batters. Senior Caleb Thomas pitched 1.1 innings with one hit and one earned run allowed.
Helix head coach Cole Holland was pleased with his team's showing in the elite division but acknowledged he'd like to see more after his team got off to a 0-2 start in Grossmont Hills League play.
"I was happy the way we competed in the top division of the Lions," Holland said. "It was a tough four games but we found a way to give ourselves a chance to win all four. We are just not getting that one big hit."
There's still plenty of baseball yet to play this season.
Sultans of swat
Senior Jason Gonzalez drove in three runs with a pair of doubles while seniors Ethan Wright and Bowen Sanford both drove in one run and freshman Cody Cappelletti had one RBI as the Sultans improved to 15-3 on the season.
Sanford, senior Tyler Begg and Cappelletti also stroked doubles in the championship game.
Santana built a 4-1 lead in the game with single runs in the first, second, fourth and fifth innings before the Royals rallied with three runs in the top of the sixth inning to tie the game at 4-4.
El Camino Real went ahead, 5-4, with a run in the top of the seventh inning but the Sultans rallied with two runs to stake themselves to a clutch come-frombehind 6-5 victory.
Santana used four pitchers in the game. Senior Ethan Moutaw went 2.2 innings and allowed one run on three hits. Junior Destin Allen-Fox pitched 1.2 innings and allowed three runs on four hits.
Senior David Rodriguez pitched one inning and did not allow a run. Cappelletti closed out the contest with 1.2 innings of relief, allowing one run on three hits with two strikeouts.
The Sultans, who entered the week 3-0 in Grossmont Hills League play, finished 2-1 in pool play to advance to the division final. Santana clubbed Las Vegas Desert Oasis, 9-2, in the teams' tourney opener on April 11, then dropped a 7-6 decision to top-ranked St. Augustine in nine innings on April 12. The Santee squad rebounded with a 5-1 win over La Costa Canyon on April 13 to close out pool play.
The Sultans received RBI from five players in the loss to the Saints, who received three RBI from senior Franklin Carney (one home run).
Moutaw pitched 2.2 innings and allowed one run on two hits.
Senior Caleb Harris pitched 6.1 innings and allowed six runs (four earned) on four hits while striking out six batters.
Senior Manny Butler picked up the win for St. Augustine by hurling six innings while yielding three runs on four hits and striking out three batters.
The Sultans pushed across four runs in the bottom of the third inning to do in La Costa Canyon.
Wright collected three RBI in the win on three hits, including one double and one triple.
Senior Koda Alto tossed a complete game six-hitter while striking out three Mavericks. He faced 26 batters and tossed 89 pitches.
The Open Division finals were named in honor of the late Dennis Pugh, a legendary coach at Mission Bay High School and CSU San Marcos.
Vaq attack
El Capitan (12-8, 3-0 in Grossmont Valley League play) completed a perfect 4-0 run through the tournament with wins over Bakersfield Christian (6-5 on April 11), San Ysidro (8-3 on April 12), Foothills Christian (12- 6 on April 13) and 7-3 over Alpha Charter from Elverta in the division championship game on April 14.
The Vaqueros overcame an early 3-0 deficit in the championship game by scoring three runs in each of the second and fourth innings. El Capitan out-hit Alpha Charter 12-5 but the teams combined for five errors.
Senior Cole Winsor and junior Jett Hayes both led the Vaqueros with two RBI while senior Clayton Brown, sophomore Talon Tucker and senior Ethan Curo each drove in one run.
Winsor, who earned MVP honors in the division, pitched a complete game five hitter with 10 strikeouts.
"This year got off to a shaky start to say the least (1-3), but the boys have bounced back in a strong way the past few weeks," El Capitan coach Jonathan Meyer said. "The team at the beginning of the year set very high goals and is still set on achieving these goals. We have done very well against the teams ranked highly in Division IV and know we can do well against the competition in the postseason if we play how we played this past week in the Lions tournament.
"In the Lions tournament we played four quality teams. San Ysidro has been playing great baseball all season and we jumped out to an 8-0 lead after two innings. The bats came alive that day and have continued to stay hot.
"The Bakersfield Christian team had three players committed to highly ranked Division I NCAA schools and Bakersfield themselves were ranked within the top 150 schools in the state. The comeback victory that day proved to the team that they could compete with anyone. This included Alpha Charter, who was coached by former MLB manager Jerry Manuel.
"Alpha Charter had high quality bats and strong arms. They were 16-1 coming into the game and were beating teams with ease prior to that game. After starting the game down 3-0 after one inning the Vaqueros rose to the occasion and put on seven unanswered runs.
"Cole Winsor pitched a complete game allowing only two hits and no runs after the first inning. He struck out 10 batters while only walking one. He threw his best game of the year that day and by far the best game of his career. He is in his senior year and third year on varsity."
Winsor picked up the win over San Ysidro by allowing one hit in
three innings with five strikeouts. He also had a triple in the game.
Brown led the Vaqs with two RBI, also with a three-bagger in the game.
Winsor had four RBI in the win over Foothills Christian after finishing the game with two hits, including a home run. Sophomore Brody McAuliffe was the winning pitcher by allowing one run in 5.2 innings with six strikeouts.
Junior Jett Hayes is hitting .400 on the season while freshman Landon Harbach is hitting .412. Winsor has three home runs this year and has an on-base plus slugging percentage of 1.107.
The Vaqueros returned to league play with a 16-0 home game win against El Cajon Valley on Tuesday before traveling to Valhalla on Thursday. El Capitan plays at West Hills on Tuesday, April 26.
"Our toughest opponents in league will be West Hills and Valhalla," Meyer said. "If the bats stay alive like they were during the Lions tournament this team could make a run at the league
title."
Hungry like a wolf
West Hills (13-7-1, 3-0 in Grossmont Valley League) went 3-0 in pool play with victories against The Meadows School from Las Vegas (16-0 on April 11), La Jolla (14-0 on April 12) and Oceanside (4-1 on April 13).
But the Wolf Pack came up on the short end of a 12-0 score to Mission Vista in the division championship game on April 14.
West Hills returned to the win column with a 9-0 win over Monte Vista on Tuesday.
Junior Eron Drake led the Wolf Pack with a 0.412 hitting average through nine game appearances.