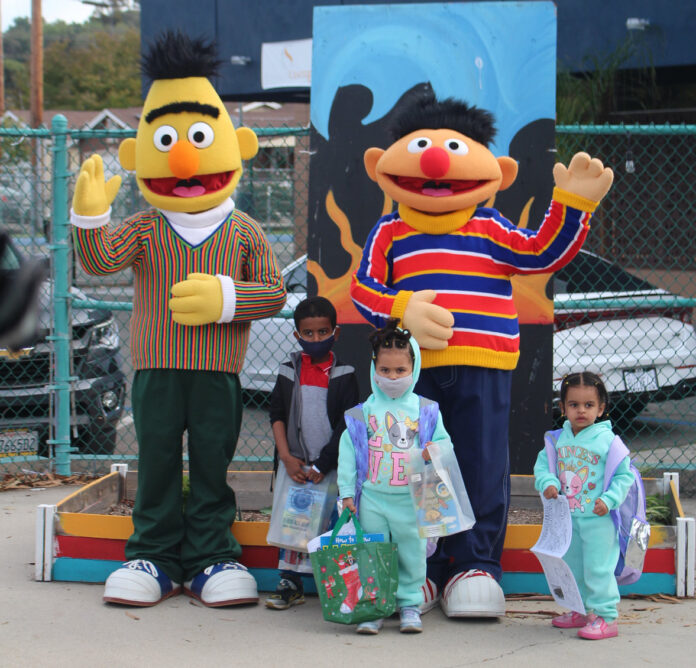 District 79 Assemblymember Akilah Weber and members of her office held the district's first annual Winter Literacy Book Giveaway Event on Dec. 20 at Encanto Boys and Girls Club. Sesame Street's Bert and Ernie made an appearance at the event courtesy of SeaWorld as well, dancing the Cupid Shuffle alongside retired educators from Phi Delta Kappa sorority and teen volunteers from Jack and Jill of San Diego while young children joined in the fun.
"Reading is so much fun and those early literacy skills are important. Even on winter break, our kids can be reading books and practicing their math skills," Weber said.
Area families were invited to stop by the event and pick up a few new books to enjoy over winter break from school, along with some activity kits at an adjacent table.
Originally, Weber said, their goal was to collect about 500 books but the drive ultimately took in over 2,000 new and gently used books, many of which were brought to the event and loosely divided by age groups on long tables.
The books, collected during the first few weeks in December from about ten different donation sites across the county as well as donated by local bookstores, were given out by teens involved with the Jack and Jill program. Jack and Jill of America is an organization of mothers who strive to nurture Black chilren as future leaders through chapter programming, community service, legislative advocacy, and philanthropic giving.
Jack and Jill San Diego chapter Program Director Jahari Weir said the
teens volunteering on Monday were doing so in part to fulfill 25 hours of giving back to the community.
Ramona the Pest was on hand, along with Spy School, Mother Goose, early reader hardback books and an entire stack of young adult fantasy novels.
Phi Delta Kappa sorority members Cheryl McClellan, Diana Dent and DebraMaxie manned a table next to the book giveaway where they took pledges from students promising to read at least one hour during the third week in January, timed to coincide with Martin Luther King Jr. day on Jan. 17.
Dent handed out stickers to kids who made the pledge to read, while McClellan took down just enough information to get back in touch with parents about the event. The sorority, McClellan explained, is entirely composed of educators who believe strongly in the power of literacy.
"I'm proud of my constituents for giving so freely and I'm so glad we can do this," Weber said.
In addition to the books being handed out at the event, local schools and other partner organizations will receive some of the donated books.