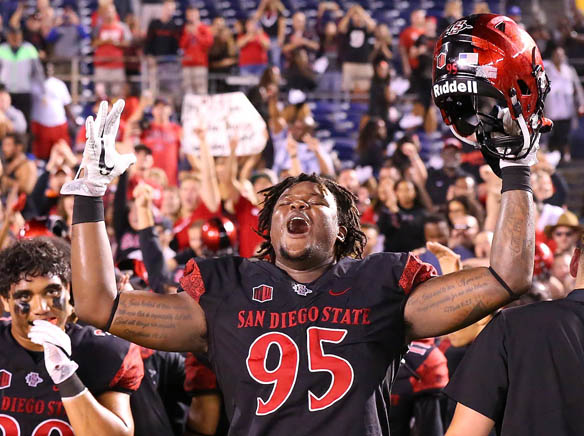 San Diego State University's 45-40 non-conference win over the University of California-Berkeley Golden Bears last Saturday may not have been the biggest in school history, but it had to rank up there with the best.
Certainly, the 42,473 in attendance at Qualcomm Stadium were in a state of near delirium when senior cornerback Damontae Kazee intercepted Cal quarterback Davis Webb's pass on the 17-yard line with nine seconds left in the game to secure the victory for the host Aztecs.
San Diego State University's 45-40 non-conference win over the University of California-Berkeley Golden Bears last Saturday may not have been the biggest in school history, but it had to rank up there with the best.
Certainly, the 42,473 in attendance at Qualcomm Stadium were in a state of near delirium when senior cornerback Damontae Kazee intercepted Cal quarterback Davis Webb's pass on the 17-yard line with nine seconds left in the game to secure the victory for the host Aztecs.
Certainly, it gives SDSU confidence that it can play with the upper echelon teams in the NCAA Division I. So many times before the Aztecs had challenged the nation's "big boys" but never quite found a way to finish with a win.
This time, they finally knocked off one. No, the Bears weren't No. 3 Ohio State or No. 4 Michigan or even No. 18 Notre Dame (teams that SDSU had played tough against in the past). But they had definite "name" value and that goes a long way.
Saturday's win avenged last year's 35-7 drubbing in the Bay Area. It also kept alive hopes for an undefeated season for SDSU, which improved to 2-0 following Saturday's win.
Defense, of course, won the game for the Aztecs.
"That's about as good a team win as there's been," SDSU head coach Rocky Long noted in his post-game press conference. "If we don't intercept three passes and cause a fumble, we don't have a chance to win. In the first half, the fumbles all turned into points. In the second half, we scored on defense."
The win was the 12th consecutive for SDSU dating to last season. It is the second longest active streak in the nation after 14 by Alabama and broke an eight-game losing streak against teams from Power Five conferences.
The Power Five conferences are regarded to possess the nation's top collegiate football programs. The Power Five conferences include the Atlantic Coast Conference (ACC), Big Ten Conference (B1G), Big 12 Conference, Pac-12 Conference and Southeastern Conference (SEC).
The Football Bowl Subdivision (FBS) consists of the Power Five conferences, a subset of five more conferences known as the "Group of Five" and smaller independent schools such as Notre Dame.
Last Saturday's win was the first against a Power Five opponent with a winning record since 1981. No wonder there's so much to hoot about!
"There was a lot of excitement out there – a lot of drama," Long underscored.
Long was obviously proud of his team.
"When we don't get the onside kick, our defense goes out there and gets the win," he said. "If we don't return a kick-off 100 yards for a touchdown, we don't win. Let's get the story straight … this was a team win.
"There were about 20 plays in that game that were important to us winning."
All this drama occurred on a night when star running back Donnel Pumphrey set a new school career rushing record. Pumphrey rushed for career-best 281 net yards on 29 carries and scored three touchdowns to eclipse the career mark of 4,589 yards established by former Aztec great Marshall Faulk (1991-93).
Pumphrey enters this coming Saturday's game at Northern Illinois (0-2) with 4,651 career-rushing yards. In two games, he has rushed for 379 yards (7.6 yards per carry) and scored four TDs.
The Aztecs' Heisman Trophy candidate said last Saturday's win wasn't the biggest in his career at SDSU. "It ranks number two behind winning (last year's) conference championship," he said. "It was great to be part of this game. These are the type of games you want to be in. Cal is a great opponent. We knew the game was not going to be over until zero on the clock."
He called breaking Faulk's career rushing record "definitely a major memory."
"It's just unreal," he explained. "Now that I have passed it, we can move on; it's just victories we are just worried about right now. It is one game at a time. We are on to the next. My whole offense and defense was doing their job – they all picked me up. I wasn't even thinking about the record during the game. I was just letting the game come to me – everybody did great. Now we got the record."
"I think it's great," Long said in regard to Pumphrey's accomplishment. "We all knew it was going to happen. I think any time you do something that unique with a player that good, it's something special. I'll tell you who is really happy is his offensive line."
The Aztecs never trailed in the game, though the score was tied three times in the first half before the hosts eventually took a 31-21 halftime lead.
SDSU opened the scoring with 6:11 left in the first quarter as quarterback Chris Chapman hit Rashaad Penny on a 25-yard scoring pass. However, Cal matched that with a 33-yard touchdown pass from Webb to Bug Rivera with 4:19 to play in the opening quarter.
Penny scored his second touchdown of the game on an ensuing 100-yard kick-off return to place the Aztecs in a 14-7 advantage jt 16 seconds later.
But Webb hit Chad Hanson on a 49-yard scoring pass to once again tie the game with 1:31 to play in the quarter.
Pumphrey then stamped his name on the game by scoring on a 33-yard run to put the hosts ahead 21-14 just 38 seconds into the second half. Following a Webb to Raymond Hudson 21-yard scoring hook-up, it was time for the SDSU defense to stamp its collective name on the game as Ronley Lakalaka picked off a pass and rumbled nine yards into the end zone to make the score 28-21 in the Aztecs' favor.
SDSU did the rest of the scoring in the third quarter. John Baron kicked a 39-yard field goal to put the hosts up 31-21.
SDSU's then took its biggest lead of the game late in the third quarter when Pumphrey bolted 57 yards for a touchdown to put the Aztecs ahead 38-21.
The hosts then weathered 13 unanswered points by the visitors (a 59-yard scoring reception by Demetris Robertson and two field goals by Matt Anderson) before scoring a much-needed insurance touchdown (a four-yard run by Pumphrey with 2:47 left in the game) to extend their lead to 45-34.
But the game was far from over. Cal scored with 56 seconds left on the stadium clock on a two-yard pass from Webb to Hudson. A missed two-point conversion left the Bears facing a five-point deficit; had the two-point conversion been successful, Cal would have only needed a field goal to tie the game and sent it to the overtime tie-breaker.
The Bears then lined up and executed a successful onside kick to almost immediately regain possession.
An uneasy groan welled up from Aztec fans. They had been this close before only to have defeat snatched from the apparent jaws of victory.
That uneasiness increased as Cal promptly proceeded to march down the field an appeared ready to score the game-winning touchdown with only a handful of seconds remaining.
But Kazee intercepted the tipped pass and, after gathering it in, raced halfway around the stadium with arms outstretched before collapsing in joy behind the Aztec bench.
Cal fans simply stood in disbelief when the four-hour pigskin marathon finally ended.
"After the game was over, we were tired and they were tired," SDSU senior defensive lineman Alex Barrett explained. "It took every play, every down."
The epic encounter produced 11 touchdowns, three field goals, 52 first downs, 164 offensive plays, 85 points and 1,067 yards between the teams. The Aztecs won despite yielding 604 yards in offense to the Bears.
Webb passed for 522 yards in a losing cause. He threw 72 times, completing 41, with five touchdowns and three interceptions. He was sacked twice.
Hansen caught four of Webb's aerials for 190 yards and one touchdown.
The Aztecs collectively rushed for 334 net yards with three touchdowns while Chapman passed for 129 yards with one touchdown, one interception and one sack.
Former San Diego High School standout Eric Judge had four catches for 47 yards.
The Aztec defense racked up three picks, two sacks and recovered one fumble.
Penny had one catch for 25 yards and a touchdown while rushing eight times for 28 net yards to go with his 100-yard kick-off return for a touchdown.
"Once I saw Penny with two touchdowns, I knew it was time for me to score," Pumphrey offered with a smile.
For their performances, both Pumphrey and Penny earned recognition as MW offensive and special teams players of the week, respectively.
Pumphrey said he prayed to God after the Bears recovered the onside kick.
"I had faith in my defense, and they did what they had to do to get us that victory," he admitted. "This is the most confident team I've been around. We always stick together; we always keep our heads up."
Senior linebacker Calvin Munson made 14 tackles in the game, including nine solo stops. He said he relished being on the field at the end of the game when it mattered most.
"I wish we could have got it," Munson explained of the onside kick. "But personally, as a competitor, I wanted the game in my hands. I wanted to be on the field to make a play … to be the guy that stops them."
"It was a big game, big stage," Munson acknowledged. "We tired to mix it up and make them make plays. I've never been that stressed in my life."
Long said the large crowd kept his team pumped up the whole game. "People think that doesn't matter but it does," he explained. "It gives your team some energy and it makes it harder for the other team to change plays. No one realizes how important that is. You get tired and hear the crowd going crazy, you get energy from the crowd. (Our fans) were very energetic and helped us win the game."
Despite the emotional rush following the win over the Bears, Long cautioned his team cannot become complacent. NIU has won 35 of its last 37 home games.
"This is a team that is more about the team than it is individual records," Long stressed in regard to his squad. "We can play so much better than we did tonight. We have a chance to be a real good football team."