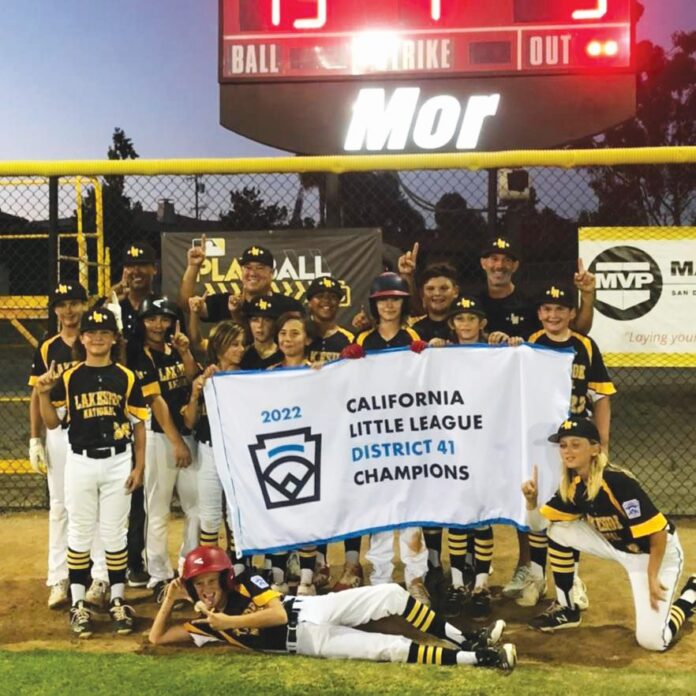 The Road to the Junior League World Series Aug. 14-21 in Taylor, Mich., continued for California District 42 champion Park View Little League after sweeping through this year's California Section 7 championship tournament at Spring Valley Little League.
Park View defeated District 22 champion Holtville, 16-1, in opening round action last Friday. Park View then rocked District 41 champion West Hills, 23-0, in Sunday's winners bracket final to advance to Monday's championship game against Holtville.
Park View won the rematch, 24-0, after leading 12-0 through two innings, to improve to 5-0 in all-star tournament play.
District 42 didn't have the corner on championship game qualifiers this week on East County ballfields. Lakeside National advanced teams to both the 10U and 12U title games representing California District 41 while Rancho de Oro secured a berth in the 11U Division final.
Lakeside National dueled District 42 champion Chula Vista American in Tuesday's 10U championship game at Fletcher Hills Little League while Rancho de Oro met District 42 champion Eastlake in another section matchup at Spring Valley Little League.
Chula Vista American pulled out a clutch 1-0 win while Eastlake prolonged its season with a 15-2 victory to force a championship replay on Thursday. In another series played at Spring Valley Little League: Sweetwater Valley's 12U all-star team had to put its championship game celebration on hold — at least for another day — after coughing up a grand slam by Gavin Kelly in Sunday's 11-7 loss to Lakeside National.
Lakeside National advanced to Wednesday's Section 7 championship game awaiting a rematch with Sweetwater Valley after the District 42 champs eliminated District 66 champion Spring Valley, 19-0, on Monday. Should Sweetwater Valley defeat Lakeside National on Wednesday, a double-elimination replay would be required on Thursday.
A Lakeside National victory on Wednesday would catapult the District 41 champions into
the Southern California regional tournament and a step closer to the hallowed Little League World Series.
Sweetwater Valley opened the tournament with an 11-0 win over Spring Valley on Saturday while Lakeside National edged Calexico 1-0. Spring Valley eliminated Calexico from the tournament with a 2-0 win on Sunday.
10U Division
CVA blasted Yuma (District 22), 18-0, while Lakeside National topped Las Palmas, 13-1, to advance from Saturday's openers.
Las Palmas eliminated Yuma on Sunday while Chula Vista American defeated Lakeside National, 5-3, to advance to Tuesday's championship game.
Lakeside National eliminated Las Palmas, 19-2, on Monday to advance to Tuesday's rematch.
11U Division
Rancho de Oro dropped Eastlake into the elimination bracket with a 4-2 win in Saturday's opener, then topped District 66 champion Lemon Grove, 10-0, on Sunday.
Eastlake defeated Lemon Grove, 15-0, on Monday to draw a rematch against Rancho de Oro.