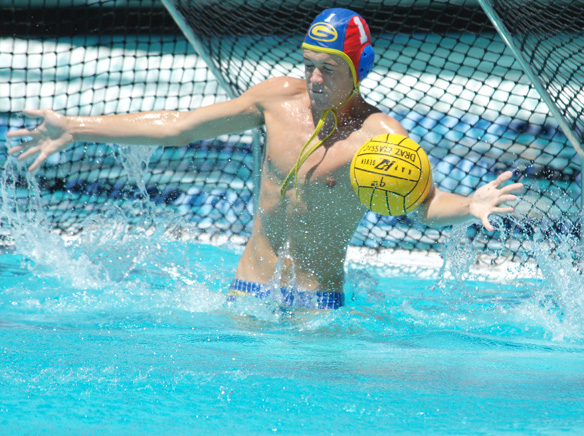 Overall, this is Kent Houston's 3oth year coaching boys water polo at Valhalla High School. During that time, he's seen both dominance and drop-off by teams from the Grossmont Conference. The sport in East County now appears back on the rise.
Overall, this is Kent Houston's 3oth year coaching boys water polo at Valhalla High School. During that time, he's seen both dominance and drop-off by teams from the Grossmont Conference. The sport in East County now appears back on the rise.
"We were strong there for a while in the 1980s and early 1990s," said Houston, whose team faced off its 2014 season with an appearance in Saturday's ninth annual Draz Classic at Granite Hills High School. "(The conference) then dropped off for a while. But last year I thought the conference had a lot of success. I think all but two teams made the (CIF) playoffs."
The Norsemen are fielding, in Houston's words, "a very young" team this season. But the team is still looking to generate a fair amount of success.
"We have 17 players on the varsity—four seniors, three sophomore and the rest, 10 players, are juniors," Houston explained. "It's my second year back (with the team after a break), so the kids are still learning my system."
The Grossmont Hills League will have a different look this season with the addition of the Santana Sultans from the Grossmont Valley League. This should make for a stronger and more challenging schedule for all GHL teams this season.
Conversely, Helix moves from the GHL to the GVL. The Highlanders should be an instant contender there.
"Our league is going to be tough," Houston noted. "I think Granite Hills still has to be favored and then I see Grossmont behind them and Santana, Valhalla and Steele Canyon all pushing those two.
"If we are going to be successful, it will have to be through defense."
Top returners for the Norsemen include senior two-meter set Jake Gilmore, junior driver Brandon Persky, senior driver Brandon Sipes and junior two-meter guard Reed Minter.
Houston noted that replacing All-American goalie Rockne O'Brien (341 saves, 52 steals, 14 assists and 11 goals in 30 games in 2013) will be extremely difficult but he expects newcomers D.J. Avalle and Rodger Dougherty to perform well in the cage.
"But we'll still have to play well as a team," the VHS coach underscored.
The Norsemen face off Grossmont Hills League play Sept. 30 with a home game against neighborhood rival Steele Canyon.
Making waves
Grossmont is coached by former Norseman standout Clint McLaughlin, who is entering his seventh season as Foothillers coach. It's been a good fit for the ex-VHS star player.
Top returners this season for Grossmont include junior goalie Bradley Justice, senior utility players Juicy Smith and Jake Zolina, junior utility players Tony Murphy and Mark Hazlebeck, and junior two-meter guard Jacob Niskey.
Sophomore Ben Mussey has been the team's impact newcomer so far.
"Most everyone is returning, the outlook is good, not too many newcomers," McLaughlin noted.
Niskey collected three goals in the Foothillers' 10-6 win over Serra in Saturday's Draz Classic while Murphy and Smith both scored twice and Zolina, Hazlebeck and Mussey each were credited with one goal.
Justice clearly impressed the fans by making 10 saves and dishing out two assists.
The Foothillers open what could be a very promising season when they visit perennial section power Carlsbad (last year's Division I champion) in the team's regular season opener on Sept. 10.
Grossmont faces off league play Sept. 10 by hosting Santana.
McLaughlin called the GHL schedule "definitely tough."
"Granite Hills is always there and they have to be picked again," the Grossmont coach said. "We hope to challenge. I think we have the core guys to make a run at the league title."
The section playoffs will take on a different look this season with the shift from a student enrollment-based three-division structure to one based on four competition tiers.
The top eight teams, as determined by the section, will compete in the inaugural Open Division playoffs. Remaining teams will be allocated to post-season play in competition-based Division I, Division II and Division III brackets.
The Foothillers received the eighth seed in Division I last season and could move up in seeding position this season based on teams that move up to the new elite Open Division.
"It's always a goal to compete in the Open Division," McLaughlin said. "You want to get as high as you can."
Water world
Saturday's Draz Classic provided an entertaining field for fans, with each game seemingly better than the previous. In the two opening games, Rancho Bernardo defeated Hilltop, 8-7 on a goal with 31 seconds to play while Eastlake topped Patrick Henry, 11-8, in comeback fashion.
Defending Division II champion Scripps Ranch, meanwhile, played to an 8-8 tie against Canyon Crest Academy to highlight the competitiveness of Saturday's slate of games.
The San Diego Open varsity tournament is scheduled Oct. 20-25.
The section playoffs are scheduled Nov. 12-22.