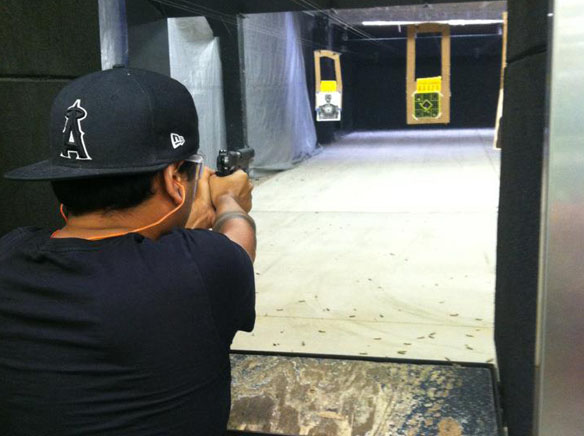 Battle lines are being drawn locally – and nationally – over what could – or should – be done about gun control in the wake of the recent Sandy Hook Elementary School tragedy in Connecticut.
The national dialogue set in motion by Sandy Hook has gun proponents, and critics alike, buzzing throughout East County.
Battle lines are being drawn locally – and nationally – over what could – or should – be done about gun control in the wake of the recent Sandy Hook Elementary School tragedy in Connecticut.
The national dialogue set in motion by Sandy Hook has gun proponents, and critics alike, buzzing throughout East County.
Owners/operators of retail firearm sale outlets in East County, and region wide expressed serious reservations that adding more regulations and bureaucratic red tape with enhanced gun control is the solution to the problem of protecting our society from mentally ill people who gain access to weapons to commit heinous crimes.
"The only thing that will stop a bad guy with a gun is a good guy with a gun," said Louis Baldridge of El Cajon Gun Exchange, located at 427 Broadway, in El Cajon, who described legislation being proposed by California Sen. Diane Feinstein that would ban the manufacture, sale and importation of more than 120 types of semiautomatic and other weapons with high-capacity clips as "draconian."
"Every time something happens, everyone blames the guns," said Baldridge. "Unfortunately, it's the people that use the guns that are the ones to blame."
Baldridge said discussion in the wake of the Sandy Hook tragedy in Newtown, Conn., in which 20 elementary school children and seven adults lost their lives, shot to death by a deranged man using semiautomatic weapons taken from a family member, has accomplished one thing.
"We've had a run on guns – all guns," he said adding that Feinstein's proclaimed ban has "started a firestorm."
"It's probably doubled at least," said Baldridge of gun sales in the few weeks since the senseless Sandy Hook massacre.
Marc Halcon, a Kearny Mesa gun retailer who is president of the California Association of Firearms Retailer, contends firearms sales is a reputable business with enough checks and balances, including licensing and background checks, in place to protect the public by ensuring that only qualified people purchase firearms.
"Who's fault is it that we only hear about the crazies?," asked Halcon adding, "The politicians and the media don't want the public to hear that guns are used to save lives 2 million times a year in the United States."
Halcon argued that homeowners rarely actually use guns in self-defense when protecting their property from criminals. "Less than one percent of the time is the firearm ever discharged," he said.
Characterizing the cry for more gun control in the aftermath of Sandy Hook as "knee-jerk" and "sensationalized," Halcon noted that deranged people have taken the lives of innocent people without using guns, most notably the Twin Towers, 911 and the Oklahoma City terrorist bombing of a federal building in 1995.
East County legislators, the ones charged with making the rules gun dealers, and owners, alike have to abide by, had decidedly mixed feelings on gun control.
To illustrate, La Mesa City Councilman Ernie Ewin characterized Sandy Hook as "not a simple sound bite singular issue/event, but a stream of evil acts with a long history of questionable reactions."
"Have we come to the point where the solution is to label the many because of the evil activities of a few?" asked Ewin. "This tragedy must be looked at within the context of reviewing the past reactions/actions to like events and what did those rules and regulations actually accomplish?"
Ewin said what's needed to address the situation is not "elected official/legislator reaction," but instead "a proper venue for action protecting our children and ensuring good parents and citizens can continue to take action to protect their own as well."
"Constitutionally, where does the legal and moral responsibility and authority reside?" queried Ewin adding, " Must we always wait for a new 'tragedy' to be reminded of just how many special interests there are on both sides of issues, not just the NRA, the ACLU, churches, police chiefs, editorial boards and PTA's that mold the final compromise – for now?"
Ewin's colleague on La Mesa City Council, newly elected attorney Kristine Alessio, had a measured response to the Sandy Hook tragedy and the call for tougher gun control.
"I believe that the tragedy in Newtown underscores a serious need in our society for better mental health resources," said Alessio. "Although I am not sure that every American needs an assault rifle, I am not convinced that a ban on the same will necessarily result in increased public safety. Gun control is not the only issue at play here."
Alessio, who said she owns a licensed gun, not an assault rifle, for personal protection, said, "A ban on assault rifles may or may not have prevented this terrible, terrible loss of life. People who have mental illness and have access to weapons are a threat to all of us."
Yet, in the final analysis, Alessio concluded, "I do not believe you can separate the two issues."
As the debate locally over what amount of gun control is proper and necessary has been rekindled by Sandy Hook, the Obama Administration, in the wake of the national tragedy, has made gun control a top priority of its agenda heading into 2013.
And the latest word from Washington, D.C. suggests new gun control measures about to be proposed in the coming year could go well beyond just reinstituting a ban on automatic weapons and high-capacity clips, setting up a Congressional showdown over the issue.
In an article by Philip Rucker published Jan. 5 in the Washington Post, Rucker is quoted as saying, "A working group led by Vice President Biden is seriously considering measures backed by key law enforcement leaders that would require universal background checks for firearm buyers, track the movement and sale of weapons through a national database, strengthen mental health checks, and stiffen penalties for carrying guns near schools or giving them to minors," according to inside sources within the Administration.