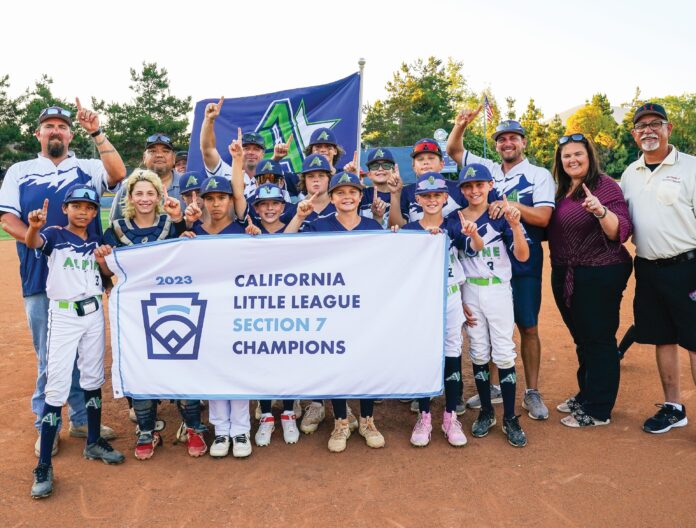 The end of an era could be at hand if California District 41 champion Alpine American Little League has any say in the matter.
After what has seemed like ages, a team from California District 42 Little League will not send a 12U all-star team to the Southern California divisional tournament.
Alpine American Little League's intrepid squad took care of that after derailing District 42 champion Eastlake Little League, 3-0, in the California Section 7 championships game July 18 at Eastlake Little League in Chula Vista.
Alpine American instead carried the torch on that long and winding road to the Little League World Series.
The Section 7 tournament is the next step up from district championship tournaments. Section champions advance to the Southern California divisional level, the last stop for the 10U and 11U age groups and one step closer to the West Region Little League World Series qualifying tournament in the 12U age group.
Road to the LLWS
Alpine American opened the section tournament on July 15 by defeating District 22 champion El Centro, 11-0, and then tamed District 42 champion Eastlake Little League by a narrow 1-0 score in the semifinals on July 16 to improve to 2-0 in tourney play.
Cash Wise homered in the tournament opener as Alpine American pounced early and often on the District 22 champions.
The semifinal pitching matchup featured Alpine American's Carson Reis against Eastlake's Eddie Acosta. The only run in the 70-minute game was scored by Alpine American's Cash Calderon on a close play at the plate.
Reis earned the win while scattering five hits to go with five strikeouts.
Eastlake had opened the section tournament with a commanding 22-2 victory against District 66 champion Spring Valley as Isaac Enriquez blasted a grand slam.
El Centro topped Spring Valley in an ensuing elimination game before meeting up with Eastlake in another elimination game on July 17. Eastlake eliminated El Centro, 17-0, in three innings to rematch with Alpine American as Ryan Nicolaus and Saul Gross each hit grand slams.
Eastlake had a chance to advance to the SoCal tournament but had to defeat Alpine American twice in double-elimination play. It proved to be tall order as both teams hunkered down for a climactic battle.
In two games against Alpine American, Eastlake (6-2 overall) failed to score a run while being shut out by a combined score of 4-0.
"This team is definitely built on pitching and defense," Alpine American manager Johnny Dominguez said. "We have a handful of pitchers who have a national presence at the 11U and 12U levels. They came back for their final year of Little League and that allowed us to be competitive with extremely talented teams like Eastlake and those from District 42."
"Alpine is a phenomenal team," Eastlake manager Matt Fischer said in obvious respect. "They made all the plays. Our boys didn't give up and fought to the end. I'm proud of the boys for the effort they put in. Alpine deserved to win. They were the better team."
Alpine American extended its all-star record to 8-0 after winning another pitcher's duel in the championship game against Eastlake as both teams combined for seven hits in the game.
Reis once again proved to be the big man on the diamond after clubbing a two-run home run in the first inning and later scoring an insurance run in the fourth inning on a bases-loaded walk in a tight 3-0 victory.
Silas Entrekin threw 87 pitches while allowing four hits and striking out five batters. Calderon struck out the final batter in the game in short relief duty.
The newly minted section champions mustered just three hits of their own in the encounter. Alpine American now advances to the SoCal divisional tournament July 22-31 at North Mission Viejo Little League.
It is believed this is the first time since 2007 that a team from Alpine American has advanced this deep into postseason play.
"We couldn't even find the old banner," Dominguez said. "None of these guys were even born when we won it then. It's definitely a big deal for the league."
Carson Dominguez reached base before Reis launched his first-inning homer. Reis reached base in the fourth inning before the next three batters – Calderon, Jason Esquibel and Diesel Haynes – each drew consecutive walks to push another run across the plate.
"It feels great," Reis said about winning the team's latest championship banner. "A shout-out goes to my teammates for getting on base for me when it's my turn to bat. When we went up 3-0, I thought we kind of had it. But it's never over until it's over."
The District 42 champions put runners on first and second bases with one out in the top of the sixth inning but one runner was erased on a force-out and the next batter struck out amid chants of
"Alpine! Alpine" from the large visiting contingent.
Eastlake used two pitchers in the section championship game:
Enriquez and Nicolaus.
Fischer called the semifinal game "the greatest pitching duel."
"It was a one hour, 10-minute game — that tells you it was a great pitching duel," the Eastlake manager said.
Players on the Alpine American roster include Ryan Wilson, Caleb Adkins, Brayden Moore, Tristan Danczak, Gio Martingetti and Garrett Lomas in addition to Reis, Wise, Calderon, Dominguez, Esquibel and Entrekin.
Besides the elder Dominguez, Alpine American's coaching staff includes Dale Entrekin and Craig Reis.
Eastlake's section runner-up lineup included Kane DeJesus, Nicolaus, Malakai Maestas, Joey Ziomek, Dante Baca, Hunter Pierring, Isiah Cortez, Jaciel Gonzalez and Johnny Lopez besides Gross, Enriquez, Nicolaus and Acosta.
District 41 qualified teams in all three Section 7 championship games: 10U, 11U and 12U. Both the 10U and 11U divisions went the distance with double-elimination games required on July 19.
District 42 champion Sweetwater Valley defeated District 41 champion Santana National, 20-4, to claim the 10U banner while Sweetwater Valley's 11U team topped District 41 champion Rancho de Oro, 5-2, in another "if" game rematch.
Santana National forced a double-elimination replay with a clutch 19-13 win on July 18 while Sweetwater Valley prevented Rancho de Oro from claiming the banner outright with an 8-2 win on July 18.
David Mendoza spun a three-hitter at Rancho de Oro in the 11U championship game.
Sweetwater Valley Little League president Arturo Maldonado lauded the league's valiant effort to claim both section titles from the jaws of possible defeat.
"To come back like this proves the talent we have at Sweetwater Valley and the support we have from the families," he said. Maldonado serves as the SVLL 11U manager.
"We had all-around hitting in the championship game," he said, "But our defense played a key role. Defense wins championships and defense won us the championship."
10U All-Stars
Santee National Little League advanced to meet District 42 champion Sweetwater Valley in a game scheduled to be played at Brawley Little League in Imperial Valley.
Sweetwater Valley defeated Santee National, 9-8, in the opening round, with Santee National winning two elimination games to draw a championship game rematch with the District 42 champs.
Santee National defeated District 66 champion Lemon Grove on Sunday and topped District 22 champion Brawley on July 17 to remain in championship contention, though still needing two wins over Sweetwater Valley to advance to the divisional round.
Sweetwater Valley advanced to the SoCal tournament being hosted by Norco/Corona in Eastvale.
11U All-Stars
Rancho de Oro advanced to meet District 42 champion Sweetwater Valley in a game scheduled to be played at Spring Valley Little League.
Rancho de Oro opened section play with a 13-0 win over District 66 champion Spring Valley and notched a berth in the title contest with an ensuing 7-3 conquest of Sweetwater Valley after the District 42 champions had defeated District 22 champion Yuma in their tourney opener.
Spring Valley defeated District 22, 12-11, in a fiercely contested elimination game on July 16 and Sweetwater Valley won an elimination game the next day 7-0, over Spring Valley to rematch with Rancho de Oro, which needed one win to advance to the divisional round at Newmark Little League in San Bernardino out of a possible two-game series.