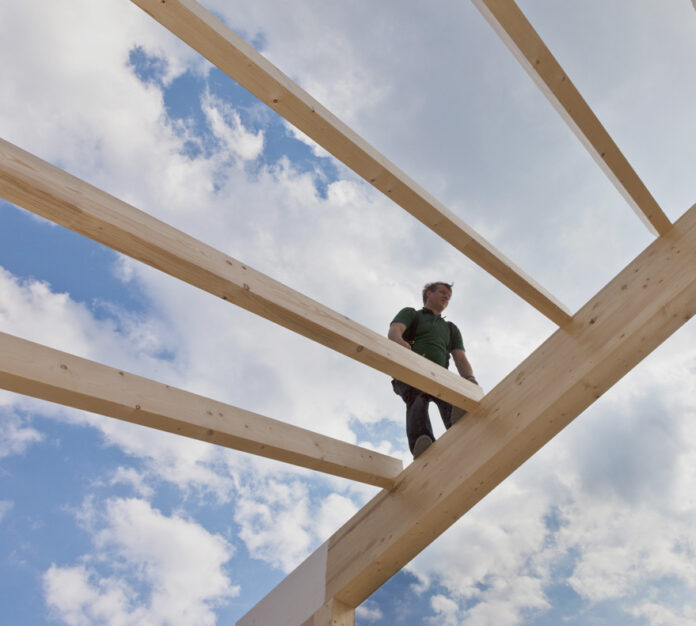 An old paved lot at 8181 Allison Ave., home to the former La Mesa Police Department building and now barren but for some old fencing and a few curbs, is slated for a 147-unit affordable housing apartment complex.
USA Properties Fund, an agency that has developed several complexes in San Diego county presented plans along with La Mesa Director of Community Development Kerry Kusiak at an Oct. 19 City Council meeting.
Under the Disposition and Development agreement between the city and USA Properties, the city would lease the property to the development agency for 65 years at fair-market value of $6,620,000 plus interest. USA Properties would develop the site at a projected cost of $55,233,000 using conventional loan dollars, a tax-exempt bond, Low Income Housing Tax Credits and the CalHFA Mixed-Income program.
"This site is close to many uses for residents of the site, including less than a quarter-mile to downtown and Vons, less than a tenth of the mile to the trolley station. If you're familiar with walk scores, this site does have a walk score of 90, which is very high," Kusiak said.
The property is currently zoned for Civic Center use, which does not carry property development standards and rethinking the area for affordable housing would require rezoning the land as Downtown Commercial use.
The building itself would be four stories over one level of partially subterranean parking with 117 spaces and stand approximately 53 feet tall. Designed with a common open space, the project would include two outdoor courtyards and a skydeck.
Other than the manager's unit, 100% of the units would be considered affordable. Because the project would be zoned Downtown Commercial and located within half a mile of a  major transit stop, the city could not apply density controls.
"You'd have 60 units sitting in the low category and 86 units sitting in the very low category," Kusiak said, and rents would remain restricted for at least 55 years.
The Affordable Housing designation allows for a few waivers that emerge in the design: the usual 9 x 9 parking spaces with a 25-foot drive typically found on a standard apartment are reduced to 8.5 x 8.5 with a 24-foot drive to save space, along with a reduced setback from the standard 10 feet to five feet and no required upper story setback. It also comes with an additional height allowance— that allowance is what makes the semi-subterranean parking lot possible.
The project, Kusiak said, is consistent with the city's General Plan as it anticipates residential use of the property, emphasizes residential development near transit and supports affordable housing. It is also consistent with La Mesa's Downtown Village Specific Plan that puts emphasis on pedestrians and reinforces commercial activity through residential development near downtown.
The project is also consistent with the Climate Action Plan, Kusiak said as it places residents closer to public transit opportunities, utilizes solar-ready construction and will include all electrical, Energy Star-rated appliances for units, and 10% of the parking area pre-wired for electric vehicle charging.
"It's a model community for the lifestyle that the state of California is encouraging with energy efficiency, sustainability, increased public transit use, all helping to reduce greenhouse gas emissions," USA Properties Vice President of Development Entitlement Milo Terzich said.
Vice Mayor Jack Shu asked why, if the units are being built to benefit low-income residents, the actual workers on the project would not be paid prevailing wage under the development agreement. He also asked if project labor agreements would be included in the development.
"Of the three projects we have in construction, though none in San Diego, all three have a 22-33% contracts and subcontracts are with union-affiliated contractors," Terzich said.
Shu also asked if it would be possible to charge for parking spaces, questioned whether transportation passes would be meaningful in the future, and if planned retrofits are a wise choice if and when new energy developments are available, but said he would ultimately support the project.
"We need to raise the bar," Shu said.
Mayor Mark Arapostathis said he is also a teacher by profession who cannot afford to live in some La Mesa apartment buildings, and believes the project— although not the initially imagined Civic Center— will ultimately benefit the community.
"What our responsibility is and what the law requires is to push through with this type of project," Arapostathis said.
USA Properties has already begun community outreach, and was on hand to provide information at the La Mesa Rocks luau, the July Chamber of Commerce business expo, five sessions of the La Mesa Car Show, two rounds of the Farmer's Market, Concerts in the Park and other public engagements including an onsite Open House held Oct. 5, giving residents a chance to review plans.
Over 50 individuals and non-profit agencies voiced support for the project including the East County Homeless Task Force, which touted potential partnership programs that might be included with the development like financial literacy training.
The Sierra Club also chimed in with support, citing the benefit of public transportation for residents, as well as a SD350 representative who said they supported the project but would like to see an energy microgrid included on the property to generate solar power.
All resolutions related to the project passed 3-0 with City Councilman Bill Baber recusing himself due to prior involvement with the County of San Diego Redevelopment Successor Agency.
Development is required to commence by Aug. 30,  2022.