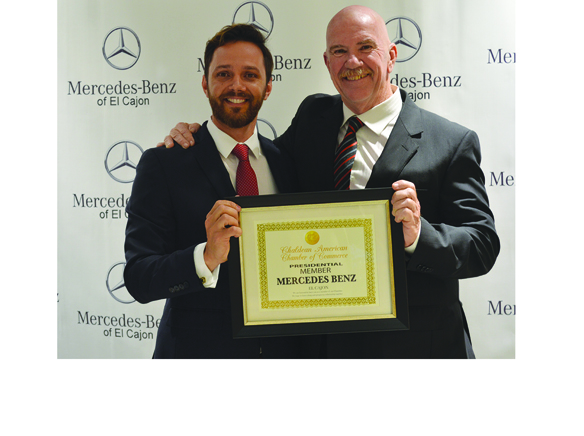 A Mercedes-Benz S Class Coupe, a couple of Jamul fashion designers and the Chaldean American Chamber of Commerce created a red carpet grand opening, welcoming Mercedes-Benz of El Cajon to East County. With the Chamber's first Annual Socialites Fashion Event, Ben Kalasho, president, said teaming up with Mercedes-Benz, and adding the fashion of Fashtique was a "win, win, win."
A Mercedes-Benz S Class Coupe, a couple of Jamul fashion designers and the Chaldean American Chamber of Commerce created a red carpet grand opening, welcoming Mercedes-Benz of El Cajon to East County. With the Chamber's first Annual Socialites Fashion Event, Ben Kalasho, president, said teaming up with Mercedes-Benz, and adding the fashion of Fashtique was a "win, win, win."
Jeff Gerken, Mercedes-Benz, general manager, said the Chamber is a good group with great customer service. He said it needs the Chamber and its associates to bring their new energy millennium culture to the table, infuse it and keep it lively and contemporary.
And Mercedes is looking to reach out to the millenniums, said Gerken. He said with the large Chaldean community in El Cajon and East County, to collaborate and do business with the Chamber is "an honor."
"But more importantly, Mercedes-Benz has always been the champion of the big cars," he said. "The S Class, the $100,000 car, $60,000 to $100,000 cars—we have always been the champion. Recently they redesigned its entry-level car, the C Class, and what they are looking to do is to reach out to millenniums."
"The Chamber gives us that dynamic opportunity to introduce new thoughts, ideas and energy," he said. "And this is illustrated by what is going on here tonight. Ben's philosophy is let's put a different spin on this. Let's look at things differently and mix it up a little bit. And I believe that is our role here as the new Mercedes-Benz dealer in the nation is to mix it up a little. We are not your father's 'strike out the Oldsmobile' Mercedes-Benz dealer. We are the new kids on the block and we want to be the happening place."
On Feb. 27, with everything provided for a stylish evening of dining and networking, the fashion show by Fashtique took the runway, with its latest collections of elegant day and eveningwear. Fashtique, owned by Bessma Loussia and Sylvia Toma, from Jamul, showed their eyes in creating a trendy chic look.
Loussia said they used to design our own clothes, have seamstresses make it. But they saw a need for Australian designers domestically. She said they love the labels that Fashtique carries. In creating Fashtique, the went to Australia and met with the labels to sell wholesale, fused in some American and London designers and created a personal styling concierge service and an online store.
"What we do is create looks," said Loussia. "We get the pieces together. Sylvia and I style the looks together. We photograph, shoot them on a loop video on our website where it can show a woman how to dress. We go out to homes throughout Southern California and we style them based on their needs. Long-term clientele is what we serve the most. It's kind of like a community."
Kalasho said with Mercedes' history, having it in El Cajon, meeting Gerken, that this "marriage" with Mercedes was excellent for everyone involved.
"The millennia, the people that are going to drive the CLA, the C Class, even if it is not new they go over on the other side to the used-cars lot," he said. "We want them not to go to San Diego and spend their money over there as we are catering primarily to East County."
Kalasho said a ribbon cutting is easy, but he and the talented people in the Chamber that think out of the box wanted to bring a better flavor than just shaking hands and saying, "Welcome to the community." He said when you think of Mercedes, you think of sophistication.
"And this fashion show we are putting on, the clothing line is for the sophisticated woman. Everything is in line, this is going to be annual," he said
"People are going to remember," said Kalasho. "From my perspective this is not a onetime thing. An annual event just like they have in New York. But it starts up with a genesis starting a little bit at a time. Mercedes' has great staff, they say yes to anything and that is how you have to be is to have an open mind. They don't have cookie-cutter thinking, so they are flexible and they can do a plethora of things just like we can."
Gerken said that Mercedes-Benz is obviously one of icons in automobile styling with fashion ingrained into its brand and a great partnership. Mercedes-Benz USA, is title sponsor of Fashion Week in Manhattan, the number one premier fashion event in this country and the western hemisphere.
"We are not on its coattails, but we are running alongside that idea," said Gerken. "The cars are beautiful, the fashion is beautiful and we want you to have that beautiful experience."
Gerken said Mercedes-Benz as a manufacturer, distributor is a great ambassador, and everything is first-class. He called it a customer first, retailer second, manufacturer third type of organization.
Its current location on El Cajon Blvd. is a temporary facility.
"In two years, we are going to be on the other side of the freeway (I-8 in El Cajon). We bought eight acres and 60,000 square feet," he said. "That tells you two things. Mercedes-Benz has that much perspective for the market here the allowed us to open up a temporary facility lesser than its standard and they have big anticipation for success in the market, build a market share that we would plan—it will be a $20 million investment."
Mercedes-Benz left El Cajon in the early nineties, but the Oremor Group, a family owned and operated company teamed up with Gerken.
"We have 3.4 million people in San Diego," he said. "There are only three Mercedes-Benz dealers, two to the north, and one central. There was a demand for service and sales in East and South County. So our area of responsibility is exactly that."
Gerken was in El Cajon with the Cunningham family in the 80s, with Sunroad Automotive in 2006 and moved the BMW store across the street in May of last year to come back and open up this Mercedes-Benz location on Dec. 1.
"So this is my first Mercedes-Benz venture, but I was with BMW for 33 years and East County," he said. "So I understand the premium brand and East County and know how to do business with both."