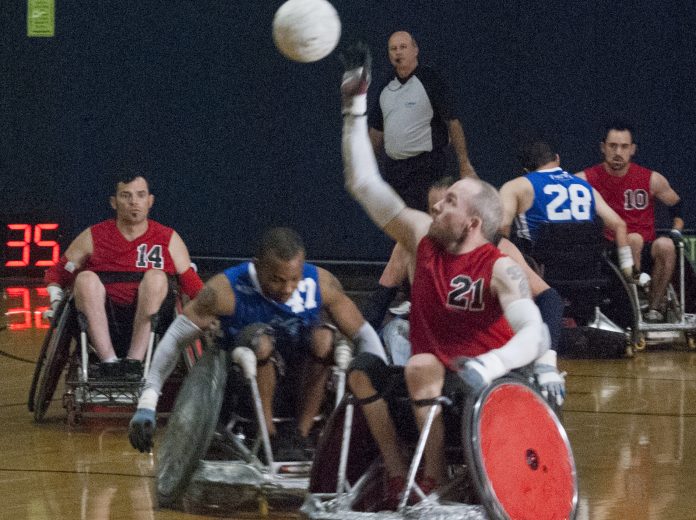 Jeff Odom
On Nov. 8, Balboa Park's Municipal Gym hosted the 25th annual Best of the West Quad Rugby Tournament. La Mesa resident Jeff Odom, 38, and his team, the Sharp Edge, finished fifth, although his wide grin as the team shared beers in the parking lot might have duped passersby into believing they had finished first.
Jeff Odom
On Nov. 8, Balboa Park's Municipal Gym hosted the 25th annual Best of the West Quad Rugby Tournament. La Mesa resident Jeff Odom, 38, and his team, the Sharp Edge, finished fifth, although his wide grin as the team shared beers in the parking lot might have duped passersby into believing they had finished first.
Odom, however, would be quick to correct them. He has a competitive streak longer than the line of cars circling to find a parking spot and spent years training as an athlete, travelling the world while playing in the Wheelchair Tennis Tour and as a member of the U.S. National Quad Rugby team.
Odom said he credits quad rugby and tennis for his current healthy lifestyle.
"I got hurt 13 years ago, 2001," he said. "I actually met another player who was in Phoenix at the time, he's on our current team now. He just told me about the game and said it was going to be part of the rehab process. Sports are an easy way to do that, to get back into life and gain some independence."
That player was Andy Cohn. Cohn said he is proud of Odom's progress since those early days in rehab.
"You could tell right then, the first time I talked to him, that he's not a quitter," he said. "He's a tough guy that's overcome things and he's got a great beautiful wife, he's got a beautiful life and he's one of my good friends."
Cohn introduced Odom to the world of quad rugby, a sport invented by a trio of Canadians in the late '70s. The chairs resemble something out of "Mad Max"—some have metal picks attached to the front, others just have heavy bumpers and they all feature spoke guards to protect their wheels from vicious hits that can knock players to the ground. Even the original name, Murderball, was fit for the Thunderdome.
Odom said a prospective player took in the tournament and, like most first-time spectators, was shocked at the violent nature of the game.
"This game is super-physical," he said. "I think a lot of people don't sense it. You take a new injury and they come out and they're not really sure. That guy that came here, his mind was blown when he saw just how physical you can be and how fast you can be. It was quite an eye-opening experience and it gave him hope."
In order to qualify as a participant, athletes must have both upper and lower body disabilities, hence the name quad rugby. Odom, a veteran of both the Air Force and the Air National Guard, said his eligibility for the sport stems from a single mistake. While on temporary duty with the Air National Guard in Klamath Falls, Oregon, he got into a car with a drunk driver.
"The driver was driving kind of crazy and sideswiped a car," he said. "We hit a house going over 70 miles per hour."
Odom said he was wearing his seat belt, however, that likely contributed to the severity of his injuries.
"I must have fallen asleep and went out of my shoulder harness. I just had the lap belt so my body just, whoosh, and I broke my spinal cord," he said. "So I broke my back and they put me in an induced coma. I also suffer from Compartment Syndrome and that's what affected my hands."
Quad rugby introduced Odom to his wife, Carolyn. She was managing Team Force, a national team she described as a stepping-stone to Team USA, when Jeff joined the roster. Jeff Odom said Carolyn had recruited him to move to from Tucson, Arizona to Austin, Texas in order to get more playing time. He said he was on the fence about the move because he needed a roommate.
"Carolyn was like, 'Well, why don't you move in with me? I need a roommate. I like roommates. We can make this happen,'" he said. "So I moved to Austin, we were friends for about two months and we were more than friends after that. It just kind of blossomed."
Carolyn Odom is currently the director of Programs for the Challenged Athletes Foundation and oversees five programs including Access for Athletes, which awards grants for equipment and travel expenses to disabled athletes, and Project Next, a peer-mentorship program. She said the athletes learn more from each other than they do in the hospital.
"You can have an able-bodied doctor talking at you until they're blue in the face," she said, "but it's not until you actually see somebody else in a wheelchair… get out of their chair down onto the floor and then transfer back in. It's worth so much more than what any medical professional out there can tell you to do."
Cohn concurred.
"Sharp hospitals, our sponsor, they're awesome here," he said, "but there are some things you can only learn when you go through it yourself. You've got to walk a mile in somebody's shoes, for us you've got to push a mile in the chair."
Teammate James Sa said Odom, his mentor through Project Next, and the other members of the Sharp Edge were an instrumental part of his real-world education.
"When you first get injured, you look at your weaknesses and your problems," he said. "Meeting Odie and going to my first practice was the first time that I got recognized for my strengths instead of my disability. People were aware of my height, my long arms and my upper body as opposed to focusing on the things I couldn't do."
Like Sa, Cohn said quad rugby is not just a hobby.
"Yeah it's a sport, but it's so much more," he said. "You're trying to redefine who you are, rebuild your self-perception and all that. When I first found the sport, that's what did it and I think that's similar to what happened with Jeff. This sport has been a great conduit to leading him to the great life that he has now."
Sa said Odom's positive attitude and mentorship made him optimistic enough to pull through the initial shock of getting injured.
"Odie was the first person I met in a wheelchair outside of rehab who was like, 'Yes, I'm in a wheelchair. I'm not sick. I'm independent. I have my own life,'" he said. "He was the first role model I had for what a healthy life in a wheelchair should look like."
The Challenged Athletes Foundation is currently accepting grant applications for Access for Athletes. For more information, email programs@challengedathletes.org.
Sean Brady
In 2001, a West Hills High School senior suffered a tragic, life-altering injury. Defensive back Sean Brady broke his neck trying to make a tackle against Granite Hills.
Thirteen years later, the 31-year-old has found his niche playing a sport that he says is just as physical as football, if not more so—quad rugby.
"It is more intense than any other sport I've ever played," he said. "It's harder, it takes more focus, it's non-stop action. When you're done, you just want to do it again."
Brady plays for the Sharp Edge, San Diego County's lone quad rugby squad, and placed fifth in last weekend's Best of the West tournament held in the Municipal Gym at Balboa Park.
Also known as wheelchair rugby or Murderball, the sport is relatively simple. Each game consists of four 8-minute quarters and carrying the volleyball across the goal line within the eight-meter key scores points. Four players from each team are allowed on the court.
Compensating for the different levels of impairment, however, is a little more complicated. Each player is classified from 0.5 to 3.5 and the four players on the court cannot have a combined classification higher than 8.0. According to the program available at the tournament, a 0.5 rated player, like Brady, is comparable to a C5 quadriplegic while a 3.5 classification is comparable to a C7-8 incomplete quadriplegic.
Carolyn Odom, director of Programs for the Challenged Athletes Foundation, said the classification system allows athletes with higher-level disabilities participate.
"I think it's one of the great equalizers for the sport and it's one of the reasons why this sport was created in the late '70s up in Canada," she said. "There were no other sports for individuals with impairment to all four limbs. At most, maybe you were playing tennis with a racquet strapped to your hand but it was nothing even near what we see right now."
Brady said his role with the Sharp Edge is a stark contrast to his days as a defensive back and kicker.
"I'm there to set the blocks, to help the ball up the field," he said. "It's almost like an offensive line position or a defensive line position. My job is to get in the way of someone going up the court or get in the way of the guy trying to get the ball from our team."
Teammate Andy Cohn said the physical nature of the game, with players ramming their chairs into their opponents hard enough to knock them over, destroys any preconceived notions first-time spectators have about the athletes.
"I think it totally changes the perceptions of people in wheelchairs and especially quadriplegics," he said. "You see the smashing and crashing and I think there's such a misconception that people in wheelchairs are weak, that they're unable, they're disabled. I think this really promotes the ability of the disabled and how much we can do."
As one of lower-classified athletes, Brady said he enjoys competing against the stronger players.
"It does take a toll on you," he said. "Especially being one of the smaller guys out here, they're going to pick on you and move you around. But we can take the hits just like the rest of them. Bounce back, shake it off and do it again."
Charles Brady, Sean's father, said the most beneficial part of the sport is not the enjoyment, but rather the community and camaraderie that accompany it.
"It gives him an opportunity to ask people who are in similar circumstances how they overcame an obstacle that he's got at this point in time," he said.
"A lot of the things are simple, like how to adjust something, weld something, or sew something that makes your life easier. That stuff is invaluable."
Charles Brady said because teammates are at different ability levels, his son has to focus on what the other 0.5 classification players can accomplish.
"You kind of gear it to the people you know who are at that point," he said. "So ask the guy who has no fingertip control, 'How did you open up your beer? I want to know how to do it on my own.'"
Cohn said the common experiences shared by the team make it difficult for players to feel sorry for themselves.
"When you're in a wheelchair and your peer group around you isn't, it's easy to say 'You don't know what it's like, it's so hard for me, blah, blah, blah,'" he said. "Well around us, everybody knows… You see all of these people living great lives out there and doing stuff, so it erases the excuses."
The elder Brady said being a part of a team again has motivated his son to better himself every day.
"When I go to work in the morning, I want to know that he's going to get up and do something physical and work towards improving his independence in his life," he said. "He did that because he feels committed to being a part of the team, anything I could have said would have been secondary to that."
Charles Brady said his sons' injury pushed him to the brink.
"Before Sean's accident, he thought of himself as an athlete," he said. "When you have an accident that's as tragic and life-changing as this one, it's like a death. It's the death of the future you thought you had. So he had to figure out how he figured into the future with his body the way it was functioning."
Sean said rugby was a resurrection, allowing him to continue competing as an athlete after all hope was lost.
"It's eye opening," he said. "You go from one minute thinking that everything's over to finding out that you can still thrive and pursue dreams, aspirations, goals and enjoyment. It helps lift the spirit, it helps lift the mind. You just keep going."