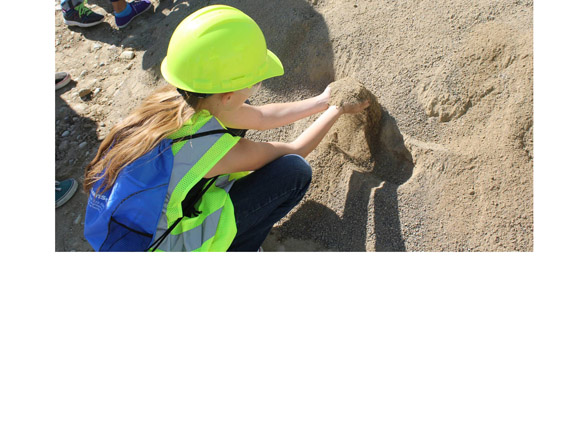 A trip to the landfill isn't your ordinary field trip. How does a "dump" tie in with geology, ecology, and conservation? The question presented to local students is, how does it not.
A trip to the landfill isn't your ordinary field trip. How does a "dump" tie in with geology, ecology, and conservation? The question presented to local students is, how does it not.
Driving along highway 52 in Santee, it's easy to miss the 491 sprawled out acres of the Sycamore landfill. There is not even an offensive odor to hint at the landfill's presence. Just big trucks seen at a glance coming around the bend of hills – hills filled with rocks that get broken, pounded, ground into construction aggregate (otherwise known as concrete), and find their way into highways, driveways, buildings and other infrastructure. The dirt and soil from the hills are combined with other materials and cover the waste brought to the landfill.
So there is plenty to learn about geology at the Sycamore landfill. Students also had tangible encounters with construction and environmental processes. Wasting as little as possible and utilizing as much as possible was an underlying theme for the middle schoolers on the field trip, but it wasn't all heavy, and it was far from boring. It was hands-on fun.
"We're currently studying rocks and minerals, it's just a unit. It ties in with the landfill, the reduce and reuse. They [students] monitor their own natural resources they use. They graphed it.
They're seeing the text come to life," said middle schoolteacher Susan Bond.
The text came to life for the students at three different stations, all on top of a hill overlooking the landfill "cells," trucks, stone-crushing machines and many piles of rocks. At Station 1, students participated in gradation examples. With sieves and scales, students learned about gradation. At Station 2, students took pictures with large trucks, parked around piles of rocks—like younger versions of themselves playing at the park with Tonka trucks. Station 3 had the most excitement as students mixed together sand, gravel, cement and water then poured the mixture into butterfly and truck molds, which they get to keep.
When a student looks at that concrete truck or butterfly, it will hopefully keep their wheels turning about lessons from the landfill. There was a lot of information, not to mention interesting facts dispersed on the field trip. Like the fact that Romans, after witnessing geological reactions from volcanic explosions, created concrete two thousand years ago, and that concrete gets stronger over time. Or that methane gas from the Sycamore landfill powers up to three thousand homes in San Diego. The achieved objective was to get the students thinking—about future occupations, that science isn't so mundane, or environmental impacts, while enjoying themselves.
The landfill has been operational and has accepted waste since 1963. Sycamore landfill is licensed for almost 4,000 tons of waste daily. "Daily cover," the soil, dirt and other materials like felt that are put on top of the waste, or trash, keep the landfill from looking and reeking like a dump. Though Sycamore is a private landfill run by Republic Services, in 2003, Republic Services partnered with Lehigh Hanson. Lehigh Hanson, creates the void, they dig and pull the rocks out for the formation of concrete. Reclaimed water washes the aggregate on site. Sycamore landfill's example of maximizing natural resources made an ideal field trip, from more perspectives than geological.
When the landfill's time is through (no definitive date is set), the land will be given back to Mission Trails Regional Park.
Until then, all stones uncovered at Sycamore landfill transcend their geological history, first by being showcased in field trip experiments, secondly by becoming the cement in the foundation of their schools, houses, and roads. It doesn't really stop there. According to Marvin Howell of Lehigh Hanson, they recycle two million cubic yards of concrete every year. "The per capita consumption of aggregate is five tons of material per year," Marvin explained. That translates into this fact – every person uses five tons of concrete and asphalt each year. The potholes in the road, the bridges being retrofitted, the condos being built, start with potentially start as the rocks your shovel hits when you're digging in the garden. "The challenge is, people don't realize how much we depend on natural material."
That dependence was driven home to the young minds listening on their field trip. The students already have the future on their minds, even if they still like to climb on rocks. "It's fun to do new activities, to learn something for the future," said a student named Hayder. "Usually on field trips, you don't get to make stuff like this, you see people doing it but you're not able to, and this time we're able to," said middle school student Amaria.
To learn more about field trips to the Sycamore landfill, contact Alyssa Burley at Project Cornerstone, 619-284-8515.