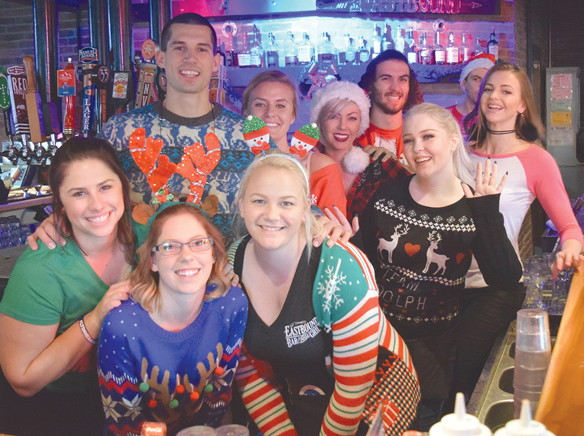 On Feb. 2, 14 men and women proudly graduated from the East County Drug Court. The completion of the 18-month program was celebrated with friends and family in a well attended ceremony at the Lakeside Community Center. The occasion was one of joy and hope as each graduate embarked on a positive course for a better future.
On Feb. 2, 14 men and women proudly graduated from the East County Drug Court. The completion of the 18-month program was celebrated with friends and family in a well attended ceremony at the Lakeside Community Center. The occasion was one of joy and hope as each graduate embarked on a positive course for a better future.
The first Drug Court was established in 1989 by Miami-Dade County in Florida, eventually coming to San Diego County in January 1997. The idea was to try something new in the old fight against crime and drugs, two societal evils that are intrinsically connected. The traditional criminal process was not having any impact in reducing recidivism and the cycle of crime was playing out time and again. Drug Court was created in an attempt to alter this cycle.
Drug Court targets addiction. Selected non-violent felony and misdemeanor cases are referred to the court, which is overseen by a collaborative team. The Court's mission is to improve the lives of drug addicts, as well as to increase public safety by reducing drug-related crime. National statistics show that 75% of graduates have stayed drug-free for at least two years after the program, compared to a 70% recidivism rate without the court.
Once admitted to Drug Court, treatment includes individual and group therapy, regular and frequent drug testing, and possible placement into an appropriate substance abuse program such as detox, residential or sober living, or a mental health program. Regular status hearings are held to evaluate the participant. Sanctions are imposed for relapse and failure. Successful completion can result in the termination of probation and, in some cases, reduction or dismissal of the original criminal charges.
The Honorable Judge Patricia Cookson oversees the East County team, supported by the offices of the District Attorney, Probation, and Public Defender. Judge Cookson was on hand to recognize and congratulate the most recent graduates. She pointed to "transformation" as the key to success for these 14 people, that with this graduation, their "… love of drugs and alcohol has been replaced with a love of self and family."
Roxy Walnum, program manager for the East County Center for Change, introduced the graduates, who were required to speak to the crowd. Each graduate shared a very personal story, without excuse or excuses. It clearly wasn't easy for them, but their struggle at the podium mirrored their battle with their addiction. The audience cheered and applauded in support – a reminder that these folks are not alone in their fight and they have friends and family to support them.
Donald B. said Drug Court forced him to stay clean and to realize how addicted he was. Thaddeaus C. learned there was more to life beyond drugs and alcohol, and that he could become the person he wanted to be. "Recovery is a lifelong process," he said, "sustained by support."
One graduate proclaimed, "Today is a good day." Another, who had suffered multiple relapses, said that "life continues to get better every day." Yet another – a self-admitted heroin user, explained he was "not planning much for the future" before, but that sobriety has changed that attitude.
Each graduate was accompanied with a "before and after" photograph on a large screen on the stage. Their physical transformations were evident and symbolic of their internal achievement.
These 14 new graduates have secured an important triumph in their lives. The individual stories of each man and woman are constant in one aspect: each began with a failure and ended with a hard-earned success. Their words were both sincere and heartening. As a group, they reveled in their achievement – and rightly so. The best of luck to them all.
New trees for Lindo Park Elementary
I love non-profits, especially the kinds that are geared toward community support and our kids. This is a tale of two such organizations.
The Lakeside Garden Club has been around for over 50 years. Their membership and fundraising has created Ornamental Horticulture scholarships and benefited community gardens at Lakeside Middle School, the Lakeside River Park, and the Water Conservation Garden. They are dedicated to promoting the use of plants in the landscape best suited for the hot, dry climate that is Lakeside.
Common Vision is a California-based group all about creating a "healthy and just society" by growing fruit tree orchards in low-income schools. Their vision is "a world where sustainable agricultural provides all people with access to high quality and culturally appropriate foods; a world where agriculture is a tool for reversing climate change and supporting social equity."
Put these two groups together and you get 20 fruit trees just planted at Lindo Park Elementary School this past February 1st. Angi Mosier of the Garden Club was the lynchpin that brought these two groups together to benefit this local school.
The new trees came in 17 different varieties (such as apple, peach, apricot, nectarine, and more). The project included an irrigation system and plans for future care visits. School Principal Nina Drammissi was happy to have her students help with the project, all learning a little about farming and eco-systems. Some kids helped with the planting while others made signs to identify the various trees, all overlooking the beautiful (and rain-filled) eastern basin of Lindo Lake. It will take a few years for the Lindo Park Orchard to bear fruit, but it will remain an ongoing learning tool for the current and future students of Lindo Park School.
Upcoming Lakeside stuff:
Eastbound Bar and Grill, the successful and popular Downtown Lakeside restaurant, is celebrating its seventh year in town on Saturday, February 11 with a little all-day anniversary party! Known for its great food and drink, the establishment also regularly allows local groups to host fundraisers there – a great way to support their community. So support Eastbound – the fun begins at 8:00 a.m. and goes until closing at 10:00 p.m.
Before or after your trip to Eastbound, head over to the Lakeside Branch Library at 2:00 p.m. for a Winter Concert featuring Alex Koeppel.
The Woman's Club of Lakeside is hosting the 24th Annual Children's Art Show at the Lakeside VFW on February 10 and 11. The Art Show hours are 9:00 a.m. until 1:00 p.m. There will also be performances by local school bands.